Almost three quarters of a million people have signed up for a spoof Christmas rave at Downing Street after it was advertised on Facebook by the DJ and filmmaker Jon Mancini. The event, which has gone viral online, was made as a response to the alleged lockdown-breaking Christmas Party at Downing Street last Christmas. On the event page, it claims to offer "no social distancing" and says partygoers can "bring who you like and your own nibbles and drink".
The spoof event, titled 'CHRISTMAS RAVE – 10 Downing Street', claims to have a line up of 'Boris Johnson and chums'. In response to the event, 282,000 people have said they are going and 435,000 say they are interested. The page has been flooded with humorous posts and memes mocking the Prime Minister, as well as elaborating on the original joke.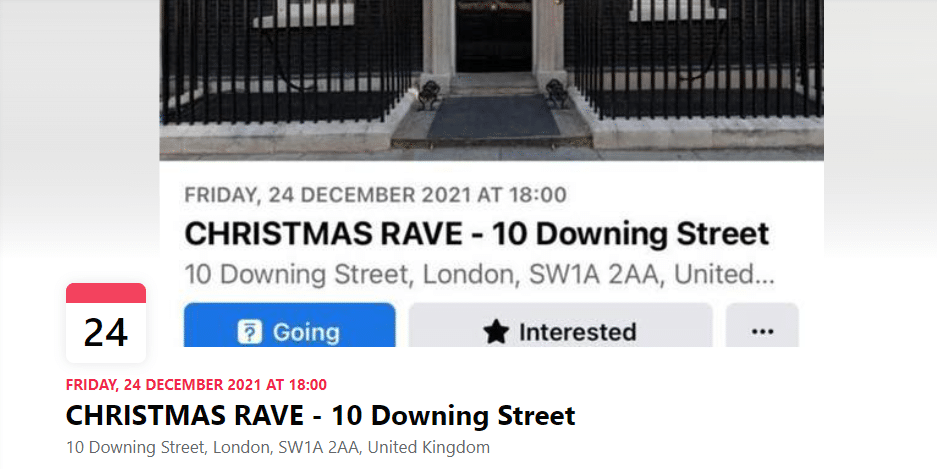 The spoof rave appeared on Facebook in the wake of a video leak of the Prime Minister's former spokeswoman, Allegra Stratton, joking about a Downing Street Christmas party at a mock press conference during December 2020. This party is believed to have taken place when COVID-19 restrictions were in place, preventing families from being together for Christmas. On top of this, there has been a series of further allegations about parties involving Tories and officials occurring during the UK's lockdown period last year.
Since the video leak, Allegra Stratton has stepped down from her role. She also offered her profound apologies, admitting that her remarks in the video were making light of the lockdown regulations. However, she said this was never her intention. Boris Johnson also came forward to dispel the rumors around the alleged party. He assured the public that allegations about the party are false and that no COVID rules were broken during any press conference during the lockdown. The Metropolitan Police also said there won't be an investigation into the party allegations.
The No. 10 Rave Has Become A Viral Meme Across Social Media
Despite the massive public outcry at those in power abusing the rules whilst commanding the public to obey them, the Downing Street rave has created a comedic way to poke fun at the situation. All across social media, people have been cracking jokes, making memes, and creating TikToks about the alleged rave.
Some of the funniest responses on the Facebook page included a user asking "How come we have to bring our own drinks and nibbles??? Are the taxpayers not paying like last year?" Others made jokes in reference to Allegra Stratton describing the "fictional party" as a "business meeting with cheese and wine". One user wrote, "I know it's a cheese and wine rave but it's not lit without a prawn ring." Another jokingly asked "Is it free booze? I'm a vegan though, do you think they might have some of that Applewood Mature vegan cheese?"
The huge spread of the No. 10 rave meme even caught the attention of the Metropolitan Police, after an Instagram user jokingly sent them the following message: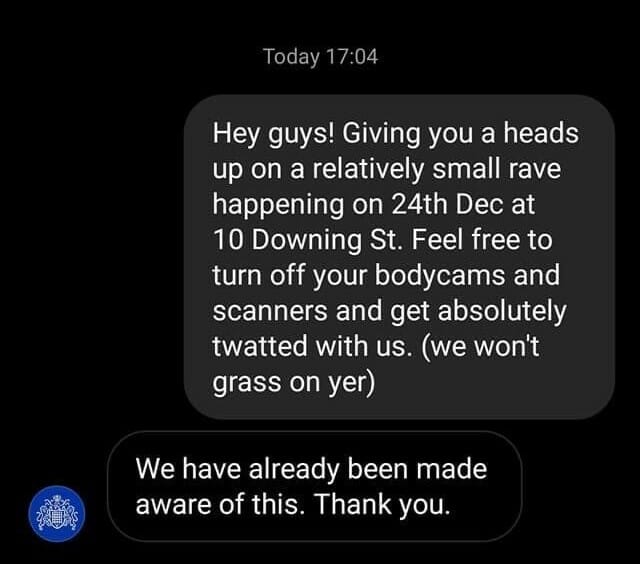 Even though the allegations of members of parliament breaking lockdown rules have caused great anger in the UK, the Downing Street rave has become a way to voice this frustration in a more light-hearted way. Despite both 2020 and 2021 being incredibly difficult years for everyone, it seems people have found a way to laugh at the situation, rather than creating more doom and gloom.