The household name condiment company has released a series of DIY ice cream making kits with a twist. The £15 kits are limited edition, and if you're willing to invest in them and take on the challenge, you could get your hands on five different sauce-flavoured ice creams. Yum.
The kits are made up of classic ketchup, mayonnaise, smokey BBQ (supposedly best topped with bacon), salad cream, and a 'saucy sauce' flavour that is a combination of ketchup and mayo.
For the £15 kit, you will get the recipe, a Heinz Creamz tub to serve your concoction in, and a keystone-engraved golden scoop with a spoon, and a bottle of your sauce of choice.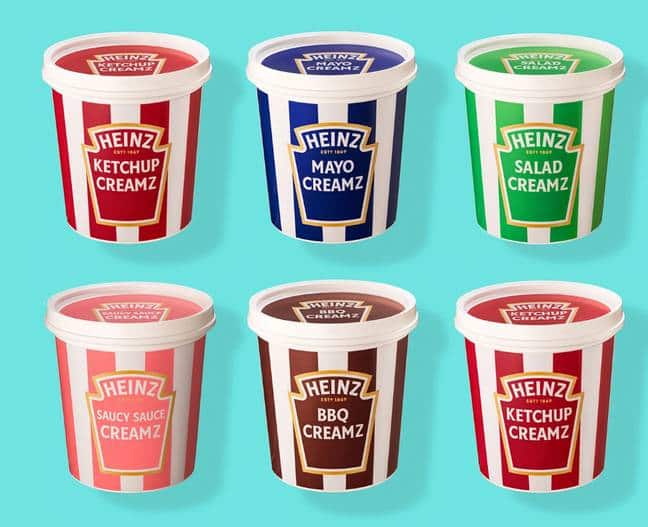 The new ventures come in celebration of National Ice Cream Month in July but are also a part of the company's innovative response to coronavirus. The growing Heinz to Home range is a way for customers to get their hands on their favourite products without having to leave the house. 
The unique venture appears to have divided the opinions of Heinz lovers on social media.
Many have shared their vocal opinions on the idea, with one Twitter user stating "Heinz making their sauce into ice cream is the worst thing I've seen today".
Another took it one step further, claiming that it feels like a personal attack.
However, some people do seem to be coming around to the idea. At least one person seemed to think that they would enjoy one of the flavours.
Heinz has taken to its website to provide further information on the product. They said: "This make your own Heinz Creamz kit includes the equipment you need to make a delicious Heinz ketchup ice cream or a refreshing vegan sorbet.". 
David Chalbert, Senior Brand Manager for Heinz Sauces, says:
"This summer is looking different for many of us, and while we might be staycationing or staying at home more than in other years, it doesn't mean you have to miss out on the joys of good ice cream. Heinz sauces are here to help."
"We know it might seem like a bit of a crazy combo to some – but with Heinz always at the forefront of innovation, anything is possible."
If you love your deserts but this isn't quite hitting the spot, check out an amazing opportunity that we have found to get yourself free doughnuts...
Featured image via Heinz.