Can Domino's Pizza really make you become more intelligent?
Pizza has never been described as a food that was good for you, is it amazing to eat? Yes! However, health-wise it could be better. But, Domino's is claiming that their new pizza can boost your brainpower!
This could be a deal-breaker, especially for January exams, dissertations, assignments and revision panic just around the corner.
The special edition 'crust to cram' menu was created to celebrate the opening of a new Durham Domino's, by the university. It was created by nutritionist Caroline Innes, BSc Hons Nutrition and Health Sciences.
It launches December 12 just in time for the new academic year.
Innes says that:
"The brain needs a number of different nutrients to function effectively, such as glucose, vitamins and minerals, and essential fatty acids. In collaboration with Domino's, we have looked to use a range of toppings to create the ultimate revision treat, proven to help with cognitive function."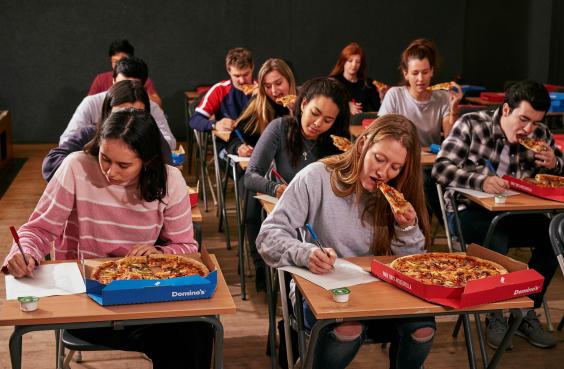 Well in that case, let's have a look at the toppings and their benefits:
Anchovies: Omega 3 fatty acids, supposed to aid mental development. Higher omega 3 levels also cause higher Iq's.
Chicken: Source of protein, offers choline and B vitamins which aid healthy cognition and provide neuroprotective benefits. It also helps memory. An imbalance of these vital brain chemicals has been known to cause anxiety, insomnia as well as cause an inability to focus.
Red Peppers: Contains B Vitamins, Vitamin C, as well as iron which helps transport oxygen around the bloodstream around the body and into the brain.
Red Onions: Contains B Vitamins and Vitamin C which helps eyesight.
Black olives: Iron, and Vitamin E to enhance cognition skills and memory.
Mushrooms: Iron and B Vitamins, which also helps to transport blood around the body to the brain.
Jalapenos: Capsaicin and Vitamin C, helps the metabolism of certain minerals associated with neural pathways and brain function.
Tomato: Vitamin C anthocyanins, lycopene which can help to slow down the destruction of brain cells.
Sweetcorn: Vitamin C plus antioxidants zeaxanthin and lutein which are good for eye health.
Herbs: Sage and rosemary are known to improve memory and concentration.
Dominos has also released a vegetarian option, which contains mushrooms to replace the anchovies and the chicken.
However, the consumption of Pizza as a revision snack is still up for debate.
As revolutionary as this Pizza may seem, should it really be endorsed as a regular in our diets, no matter the health benefits?
What do you guys think? Can Domino's Pizza make you smarter?
If you aren't sick of Pizza, check out NASA'S first ever Pizza Party!