Spooky season officially starts in October (sometimes late September, depending on your enthusiasm), but don't let that stop you from creeping yourself out at any time of the year.
From paranormal experiences to internet horror, there's no shortage of hair-raising clips out on social media. In general, the horror genre is one of the most popular genres to exist among books, games, and movies. Throughout time, it has only split into many different subcategories of horror.
Some people may prefer slasher horror, which is a particular kind of genre that includes gory chases and stalking. Some iconic examples of slasher films include Texas Chainsaw Massacre, A Nightmare on Elm Street, and Friday the 13th.
Others prefer to watch analog horror, which, as the name suggests, is watched through analog media. Some well-known examples of analog horror movies include WNUF Halloween Special and Skinamarink.
If you find yourself perusing on YouTube, you can also look into popular series like The Backrooms, Gemini Home Entertainment, and The Mandela Catalogue. You can find more about analog horror here.
Horror is just one category capable of raising your heart rate. Thriller, supernatural, mystery, and paranormal genres have also been notably popular. With dozens of horror subgenres to look into, you won't be short on content.
Without further ado, here are 13 spooky TikTokers to creep yourself out.
1. Lights.are.off
Gotta love strange creatures running after you at night, right?
Lights.are.off features 3D animations of horrifying creatures that haunt the area around you. Some creatures are creatively imagined and brought to life, while others are warped versions of well-known characters like Patrick Starfish and the Easter Bunny.
If you love their work, you'll be happy to know there is a game in the making. Check out Zoonomaly, a survival game on Steam.
2. Beeveekee
Much of their content includes amusing, relatable, or something a little eerie. But we're focusing on beeveekee's series, Not Your Normal Kid's Show.
Not Your Normal Kid's Show features a cheerful host named Dottie, the elusive Tall Man, and the host's mysterious mother. Sometimes, there are 'special guests', which may or may not be human. It's absolutely not a show for kids unless you'd like them to be traumatized.
The series also leaves clues for the watchers to decode, such as backwards speaking, morse code, and messages hidden in flashes of corrupted screens. If you're curious about other's reactions, GTLive has a video to Not Your Normal Kid's Show, which you can find here.
3. Zeenchu
If you're scared of what's hiding under the waves, you might not want to watch this.
Well-known for their 3D animations, their content features many eerie underwater creatures from the kraken to the mysterious famed Bloop. Some of their videos also include monsters on the moon and a skeletal being towering above the forest.
If that's not enough to creep you out, there's always information on some of these spooky myths, since most stories start from some truth.
4. The Curiosity Corner
Exactly as they advertise, "Nightmares unleashed one TikTok at a time"!
From paranormal occurrences to it's-creepy-because-it's-dark, The Curiosity Corner has you covered. With suspense and good ol' fashion jumpscares, they bring the scary with their collection of TikToks that are sure to make your heart race.
5. 15secondhorrorfc
15 seconds have never been so terrifying.
With artfully placed jumpscares and plot twists, you never know what's coming in each video. Monsters, maggots, and midnight surprises will accompany you in your dreams if you even manage to fall asleep.
Maybe don't go to the bathroom in the middle of the night. You never know what might be waiting for you.
6. CreepyTok
Whether you believe in paranormal activity or not, this will definitely spook you.
From haunted dolls to creatures in the dark, CreepyTok has them all. If that's not enough for you, there's more than enough footage to raise the fear factor.
Just keep on watching.
7. Spangerlookrey
Seemingly normal until the end, just as you'd expect it to be.
Doesn't stop your heart from taking off, though, as the horrors waiting for you are always something a little less than human. You don't need blood to make something horrifying, and Lackey plays up to that with suspense and frightening split-second scenes.
8. Creepy.shylady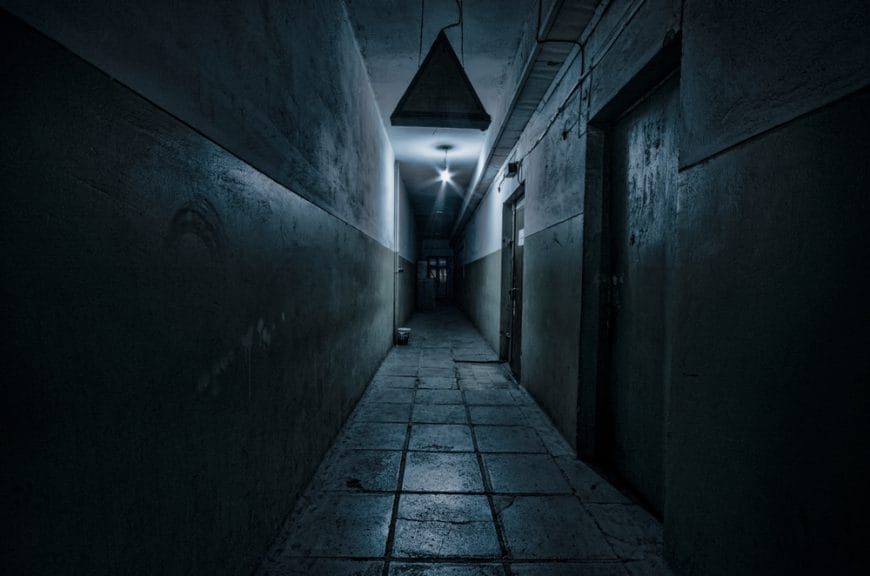 Just as written in their bio, they feature random creepy videos, horror slideshows, and paranormal videos.
It's less acting and more like true stories that will disturb you. One of their most popular videos happens to be pictures of people before and after a lobotomy. You can find it here.
If that's right up your alley, take a look for yourself. Who knows? Might creep you out more than creatures in the night will.
9. Itsmafin
Talk about eye-catching! We've seen actors in the making, paranormal stories, and animations, but let's look into a different kind of format.
Makeup isn't just an enhancer or a cover-up. It can also be considered an artistic medium with your skin as the canvas. Using various techniques and products, you can bring monsters to life, just as Maffin did with a Clicker from The Last of Us.
10. Coinflipenergy
There's enough eerie videos to binge-watch to your heart's contents. Some of them are more funny than scary, but it's a coin flip of a chance. Who knows what you'll get?
From possessed kids to 3D animations to cryptids in disguise, there's a plethora of stories to be told. If you weren't scared before, answer again after watching some of their TikToks.
11. Zoom.ghost
If you've binged through the other content and are looking for more, we've got you covered.
Zoom.ghost provides another source of mysterious videos that will have you tucked in bed with a flashlight. Featuring strangers banging on the walls and doors, unearthly animals, and paranormal kids, there's more than enough to send a chill down your spine.
12. Paranormalesmysterium
Step into the world of paranormal mysteries with these terrifying stories.
There are the classic haunted dolls, the mysterious anomalies in thermal imaging, and the eyes watching you in the dark. Can you feel their gaze?
13. Cvnela
While this may not be the kind of hair-raising content you're expecting, fear not.
If you're looking for horror recommendations, monse is up to the task. She talks about creepy myths and gives out titles for those looking for disturbing movies, documentaries, and books.
No gatekeeping here. Explore the wonders of the horror genre.
Be alert
Are you spooked yet?
I hope I got your heart racing because it's not over yet. There are thousands of terrifying videos that are sure to suit you. If you're too scared to watch them yourself, you better grab some friends and hunker down.
Remember to lock your doors. We wouldn't want anything to happen now, would we?