With their unique binge model formula, Netflix took "for your viewing pleasure" to a whole new level. Even though other streaming services have successful weekly episode releases, Netflix's devotion to its all-at-once release method poses an important question: In today's social media and entertainment culture, can Netflix originals keep up with the competition and keep viewers entertained?
When it comes to watching the latest season of Netflix's top shows, it's no secret that social media floods fast with the rave of what's new. If you don't watch within a few days of airing, you will likely run into a spoiler online. For this reason, I have always been one to plan accordingly for the day of release. Knowing the latest season of Stranger Things was dropping, I wiped my schedule to indulge in a whole day of binge-watching. It was amazing to finish it all in one go, but the problem only started there.
No wait equals no reward
The wait time in between episodes was missing and hurting the viewing experience. I couldn't believe ever missing the weekly model–I mean, who wants to wait in between episodes, especially leaving off on a cliffhanger! The pain of waiting a week for another drop of content was long gone, thanks to Netflix, but watching HBO's Euphoria earlier this year made me realize just how vital it truly was.
Euphoria's second season aired in January, becoming HBO's second most-watched series. I wished that the entire season was available at once only until noticing how fun weekly releases can be. Social media was always buzzing with excitement, theories, and discussions about what would come next. We all looked forward to Sundays at my workplace, or what we renamed 'Euphoria Day.' The suspense until 'Euphoria Day' made getting people hooked and involved in the conversation much easier. All of these factors helped the show go viral and kept viewers engaged for almost three months.
But for Stranger Things, unfortunately, the experience was much different. The premiere of season 4 broke the internet, but this didn't last nearly as long as Euphoria. Everyone watching at their own pace makes it harder for people to connect and discuss. Spoilers about the finale dropped online before most people could even watch the first episode, ruining the many surprises. This issue bleeds into the best part of tv culture: talking about it.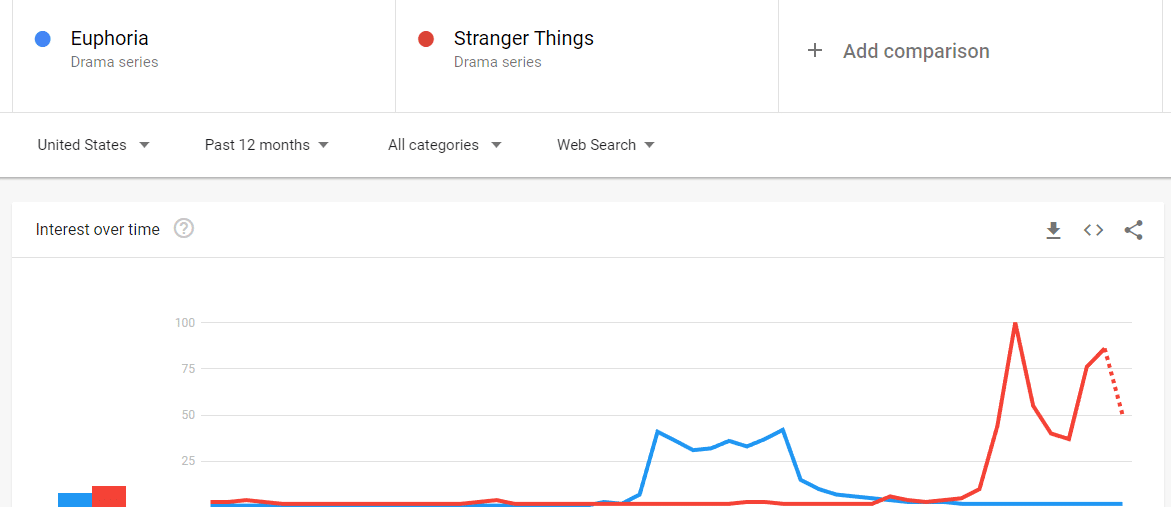 The Google Trends graph above showcases how much this issue hurts Stranger Things. This data is pulled from all over the internet and measures how much people are talking about a specific topic. Compared to Euphoria, Stranger Things peaked after just two weeks of being on the rise. It then plummeted in popularity in its third week since the season premiered. On the other hand, Euphoria stayed relevant for nine weeks, slowing down about a week after its season finale aired.
What does this mean for the binge model?
Stranger Things had no problem pulling in viewers and clearly had the internet raving. The issue with the binge model is how quickly the popularity dies and the quality of the viewing experience. It's easy for a season's episodes to blur together when there's no sense of community and discussion. Not to add to the spoilers, but ST4 left us with pretty intense cliffhangers throughout the season. This season particularly would have performed outstandingly well in the week-week release model.
So, yes, Netflix's biggest original hits are doing fine, breaking records and delivering the content, but the numbers speak for themselves. Are you getting sick of the 'binge-watch, rinse, and repeat' cycle, or is the week-to-week release something you pray never to experience again?
To read more about all things Netflix, please click here.