South Korea has recently announced plans for a city in which everything is just a short walk away. Dutch architecture firm UNStudio launched the plans for the so-called "10-minute city," more formally referred to as "Project H1."
Project H1 will transform former industrial location in the outskirts of Seoul into a 5.4 million square foot (504,000 square meter) metropolis. The space will consist of eight residential buildings, local parks, a movie theater, library, and co-working offices for work or study. Located near the mountains of Seoul, South Korea, the city will contain supermarkets, wellness facilities, medical services, a shopping center, and even a kindergarten for young student residents.
Project H1 is divided into density zones, connected by a network of plazas. In the high-density zone are the eight residential towers, the base of which is a terraced series of recreational, commercial, cultural, and professional spaces. The low-density zone hosts a hotel, office spaces, and co-living spaces.
The city was organized with the intention of maximizing the needs and comforts of residents. Part of the city's structure is the emphasis on community. The city's vertical living structure integrates common spaces and communal facilities that endeavor to reduce loneliness and enhance the individual experience through community connection.
Individual apartments are organized with myriad layouts to facilitate living arrangements of all varieties, from multi-generational families, to individual or two-person spaces. The proposal also includes many areas for community gathering. Residential living areas are compact but efficient, blueprinted to serve as dynamic spaces of movement and comfort. All apartments feature a balcony.
In addition to supporting the needs of its residents, this mixed-use 'smart city' is designed to promote environmental efficiency. The close-knit structure of the city means it is car-free. Intra-city roads are only maneuverable by foot or by bike, drastically reducing air pollution.
Although the city is designed to be car-free, there will be an underground parking lot for residents to store their vehicles as well as a metro station providing access to the rest of Seoul. Project H1 remains connected to the surrounding metropolitan area through a new railway link as well as several pedestrian and vehicle bridges which link the neighborhood with adjacent developments.
All city structures are integrated with technology that enhances energy usage, to maximize output while reducing consumption.
Also incorporated in the city are several communal green spaces for local food production. In addition to a hydroponic farm, residents are provided with opportunities for gardening and encouraged to grow their own herbs and vegetables. A huge water filtration system will collect and process rainwater for reuse and all food waste from personal or professional use will go to a composting site.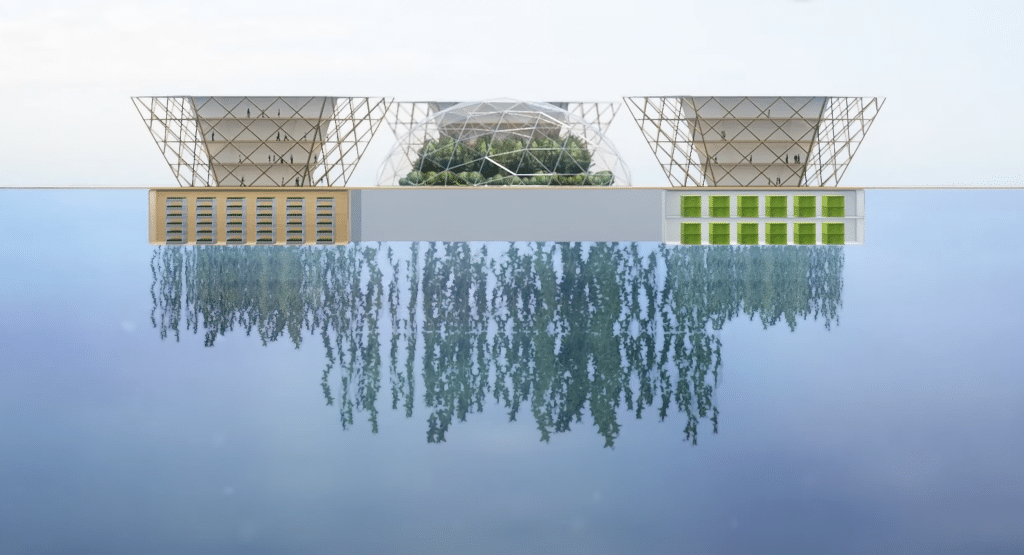 UNStudio is partnering with UNSense and Hyundai Development Company to launch this project, which had its start back in 2019. Their goal was to create an environmentally friendly and accessible city space that facilitates the burgeoning cybereconomy of the modern age.
About the city, UNStudio founder Ben van Berkel said "For the H1 masterplan we have aimed to create the ultimate contemporary 10-minute city, where the daily life experience of the residents is the top priority. We do this through the inclusion of a rich density of uplifting, curated on-site experiences that provide an extensive range of options for how they can spend their living, working and leisure time, thereby also saving them the time needed to travel elsewhere in the city––because with time that is saved, more time is created."
Interested in reading more about the latest scientific events? Click here to read about the eerie image captured by Chinese moon rover Yutu 2.