Jordan Peele's latest release is (in part) a dark and introspective look into the violent means of capitalism. The main cast of 'Nope' are all seeking profit at some point. Even – and sometimes, especially – when this involves capitalizing on death and destruction. Multiple massacres occur during the film's 130-minute runtime. And each one is monetized in some manner. It is, frankly, rather disturbing to watch.
At the (horrifying) center of this is a UFO. The UFO in 'Nope' provides the means for some of the character's most horrific actions. All of which are made in the name of profit. This UFO devours people – but only when it's been looked at. And it's no coincidence that it is often looked at because of some monetary impulse.
One of the film's main characters: the former child-star Ricky Park (Steven Yeun), has a whole show based around the UFO. He sacrifices horses in front of large crowds to draw the UFO out. And during one of these shows, a large crowd, including Ricky, gets devoured. It's horrific. But also a testament to the lengths people will go to make money.
And Ricky isn't the only example. There are a plethora of other UFO-related deaths. Peele plays on the sensationalism of UFOs in contemporary culture. And the money to be made for finding 'evidence' of extraterrestrial life. In 'Nope,' a lot of destruction comes from profit-hungry filming.
A TMZ reporter seeks out the UFO to headline a story. And he's still calling for his broken camera as the UFO begins to eat him. Antlers Holst (Michael Wincott) falls prey to his desire to capture the perfect 'shot' of the UFO. Even while he's inside the UFO and slowly being suffocated, he's still frantically rolling his self-made camera – whose footage will forever be lost.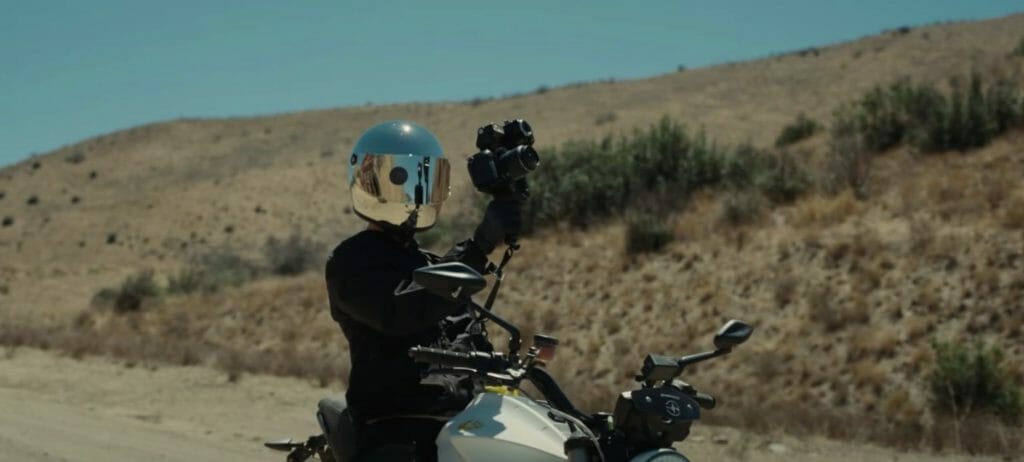 Even the central figures of 'Nope,' siblings OJ (Daniel Kaluuya) and Emerald Haywood (Keke Palmer), initially try to profit from the UFO. This is, at first, not a surprise. From her first time on-screen, Emerald is keen to make a buck. She bolsters her side-hustles constantly, hoping to gain traction in Hollywood. And OJ wants to buy back the horses he had to sell after their father's death.
They set up cameras across every inch of their ranch. But end up abandoning their endeavor when they begin to see what the UFO does. One of the film's final shots is a set of abandoned polaroid pictures taken by Emerald – containing evidence of the UFO. By the end of 'Nope,' the siblings have become a cautionary tale. And Peele has well and truly interrogated just how far we're willing to go to gain some profit.
The UFO is a very violent anti-capitalist metaphor. It exposes the destructive means of capitalism – and profit. As Antlers Holst notes: "This dream you're chasing where you end up at the top of the mountain, it's one you never wake up from." The horror of 'Nope' isn't located in the unknown but in what's right in front of us.