If you ask me "What is Everything Everywhere All At Once about?", I'd struggle to give you an answer. It's got martial arts, a heart-wrenching mother-daughter bond, hot-dog fingers, and trophies used as butt plugs. It's probably easier to tell you what it isn't about. Due to its bizarreness rather than in spite of it, the film has been massively successful.
Not a single person I know who has seen the film left the cinema emotionally unscathed. Regardless of their relationship with their parents, it touched them all. I went from laughter one second to tears the next, and then back to laughter. This is because at the heart of this multi-dimensional, genre-bending adventure is a simple message: there is always something to love.
Michelle Yeoh (Evelyn), Ke Huy Quan (Waymond), and Jamie Lee Curtis (Deirdre) all received an Academy Award for their performances. As a result of Jamie Lee Curtis winning Best Supporting Actress, Stephanie Hsu left without an award. However, many social media users (and myself) feel as though she was snubbed.
The Appeal of Everything Everywhere All At Once
Everything Everywhere All At Once came out last year to immense critical acclaim, averaging a score of 81 on Metacritic, indicating universal praise. Critics praised its innovative storyline and visual effects (which were done by 5 people using free online tools), along with its emotionally striking performances from the cast. Ke Huy Quan in particular garnered immense praise for his role as Waywond, perfectly translating his character's optimism into his performance.
Audience reactions to the film are also consistently positive, with many being touched by its depiction of an immigrant family and their troubled relationships with each other. The personal aspects of the film are amplified by its large-scale multiverse plot since the relationship between mother and child is the focal point, regardless of which parallel universe they find themselves in. The film's absurdist humour combined with its examination of love makes for a poignant viewing experience.
The 95th Academy Awards
It should come as no surprise that it won big at the Oscars, racking up 7 in total. All the nominated performers except one took home an award in their category, plus Daniel Kwon, Daniel Scheinert, and Jonathan Wang took home awards for their directing, storylines, and production.
Ke Huy Quan was the film's first big winner. His touching story was at the heart of his acceptance speech, having made a powerful return to the film industry after feeling like it had given up on him. Jamie Lee Curtis' paid homage to her own Oscar-winning parents when accepting her award. Michelle Yeoh won the last acting award of the night, whose inspiring speech encouraged women to "never let anybody tell you that you are past your prime."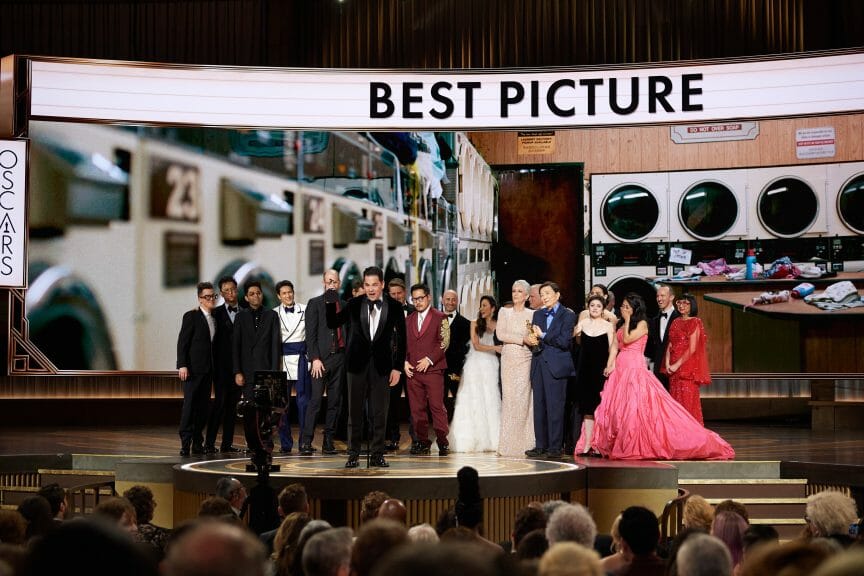 Jamie Lee Curtis is a phenomenal actress, but viewer reactions to her winning the award are rather divided. Some believe that she deserves the award after a long and successful career. Others assert that her performance in the film, whilst good, dwarfs compared to Stephanie Hsu's portrayal of Joy.
Stephanie Hsu as Joy
Although Jamie Lee Curtis may have been overdue for an Oscar, I do not think this was the occasion for a win. Stephanie Hsu's character Joy forms the emotional core of the film. Her performance is crucial to its emotional impact, with Joy's conflicting resentment of her mother amalgamating with her desperate need for her love. Without Jamie Lee Curtis' character, the film's sentimental impact mostly remains. Remove Joy and there is no movie at all.
Hsu herself seemed ecstatic at the awards ceremony, overwhelmed to the point of tears at her costars' wins. This role clearly means a lot to Hsu, who says that she and Joy "share the exact same heartbeat."
However, social media users do not seem as happy as Tsu. Jamie Lee Curtis' win over Hsu to them is merely a display of a white child of nepotism being favoured over an up-and-coming woman of colour in the industry. Tsu being overlooked in this fashion can be seen as another instance of white mediocrity being valued over POC excellence.
Perhaps Hsu's time will come again when she further establishes herself as an actress. Everything Everywhere All At Once as a film owes part of its success to her touching portrayal of Joy: a daughter seeking her mother's love in every universe.