Springfield's favorite family The Simpsons has been a part of Disney's streaming service, Disney+, for quite some time now.
With an astonishing 33 series, the animated show is no stranger to celeb cameos, and including Michael Jackson, Gordon Ramsey, and Lady Gaga.
But, after two years on Disney+, the creators behind the iconic show, and the people at Disney, have put their heads together to create a pretty interesting crossover short to celebrate The Simpsons anniversary with the platform.
In a new short titled Plusaversary, our favorite Simpsons' characters are joined by a star-studded cast to celebrate, where 'everyone is on the list… except Homer.'
The Simpsons host a Disney+ Day party and everyone is on the list… except Homer. With friends from across the service and music fit for a Disney princess, Plusaversary is Springfield's event of the year.#TheSimpsons #DisneyPlusDay pic.twitter.com/o7JYBZOpC0

— Disney TV Animation News (@DisneyTVANews) November 11, 2021
This new short will no doubt delight hardcore Disney fans, with characters like Tinkerbell, Winnie the Pooh, and Sully from Monsters Inc joining the cast.
You can clearly tell that the creators had a lot of fun creating it, and in true Simpsons style, they weren't afraid to get a little cheeky with the content. They poked fun at Disney+, which is a pretty common theme with the show's creators, who frequently made digs at Fox Network back in the day. Also, the characters included have a less than fairytale-esque depiction, which is another recurring Simpsons theme.
There's also a fantastical musical number, in which Homer flashes his long-time neighbor's, Ned Flanders, credit card, showing that he has no issue in rinsing Ned so that he can take advantage of what Disney+ has to offer.
In a recent press conference, long-time producer and writer of the show, Al Jean, spoke about how welcoming Disney+ have been, and how little they've interfered with the show itself.
Jean spoke about how "people like Kevin Feige [President of Marvel Studios] have been extremely generous with the use of their characters, letting us do silly things with them.
He helped us get Tom Hiddleston to play Loki. And it's been a pleasure. I mean, as you'll see in the short video, it's not exactly a reverential view of these characters.
One of the stand out parts of the short was Homer's unlikely friendship with Goofy. Speaking on their new relationship, Al Jean said: "There was this essence of an idea where we said: 'Hey, it'd be great if Goofy and Homer met at Moe's and we built it out from there. I would love for them to get together again… think they get along quite well as they have a lot of similar characteristics. Except, Goofy's less angry."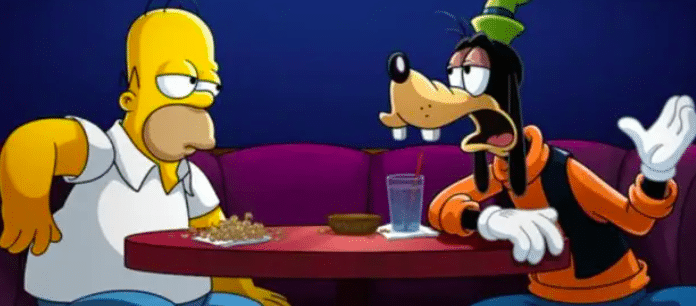 Speaking on the short itself, Jean spoke about how the idea for Plusaversary began: "We thought, 'why don't we get every character we could from Disney, Pixar Marvel and Star Wars and cram them into Moe's Tavern and see what happens'.
And that's pretty much the plot of the three-and-a-half-minute short. It's to celebrate the Disney Plusaversary and I think Disney wanted to create a holiday somewhere between Halloween and Thanksgiving."
Of course, Plusaversary isn't The Simpsons' first crossover short, and it definitely won't be the last. Al Jean promises that there are more coming, but until then, check out The Simpsons Plusaversary now on Disney+.