James Franco has been accused of inappropriate sexual behaviour following his win at the Golden Globes.
Franco won a Golden Globe for the Best Performance Of An Actor In A Motion Picture- Musical or Comedy as Tommy Wiseau in The Disaster Artist.
But, the film actor was accused via Twitter by a number of women. They all said that his sexual advances were in contradiction to the #timesup badge that he was wearing at the Globes.
The star-studded event on January 7 was full of celebrities campaigning for #timesup.
The phrase was used in Oprah Winfrey's acceptance speech, where she addressed the issue of female sexual harassment following the Harvey Weinstein scandal.
The first woman to accuse Franco was Ally Sheedy, star of The Breakfast Club in the 80s. She appeared in a Broadway production of The Long Shrift which Franco directed in 2014.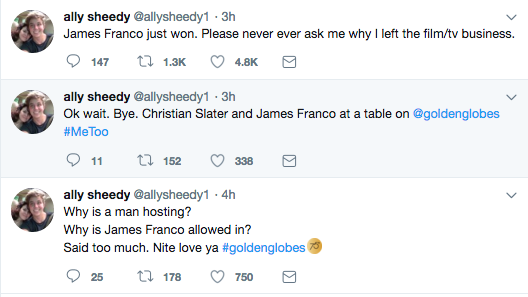 These tweets were quickly deleted, but not before her accusations had been noticed and more women took to Twitter;
Cute #TIMESUP pin James Franco. Remember the time you pushed my head down in a car towards your exposed penis & that other time you told my friend to come to your hotel when she was 17? After you had already been caught doing that to a different 17 year old?

— Violet Paley (@VioletPaley) 8 January 2018
quick ask Franco about the difference between skeezing on undergrads and sexual harassment

— Anne Helen Petersen (@annehelen) 7 January 2018
Whatever I still remember James Franco trying to pick up a teenager on Instagram

— Jessica Valenti (@JessicaValenti) 8 January 2018
None of these accusations have been confirmed, but we can definitely see that not everyone thinks Franco deserved that Golden Globe.
But, if you're interested, take a look at the actor's performance which earned him that award.