The popular Netflix original series Selling Sunset has recently premiered its sixth season, which is full of fresh faces (and drama).
The show, which features the Oppenheim Group, a famous Los Angeles real estate company, has gained a massive audience globally, with a huge viewership.
Since its release, it has been one of the most popular television series on Netflix. It has peaked at the #1 spot in the USA, UK, and other countries too.
Its popularity comes from a range of places. Some people watch for the insane house tours and insight into the glamorous homes of the Los Angeles elite.
Others prefer to watch as a peek into the fabulous and often insane lives of the alluring 'O Group' agents and the drama that follows them everywhere.
One of the most popular things that fans like to follow are the various relationships between the agents and their various partners.
The Relationships of Selling Sunset
There has been many different relationships on the show, each with their own problems which they challenge and overcome in the show.
But, season six contains a new type of relationship- one which is in the LGBTQIA+ community.
Chrishell Stause announced her relationship with G Flip, an Australian drummer and musician- who also identifies as non-binary- at the end of the previous season, during the Selling Sunse Reunion.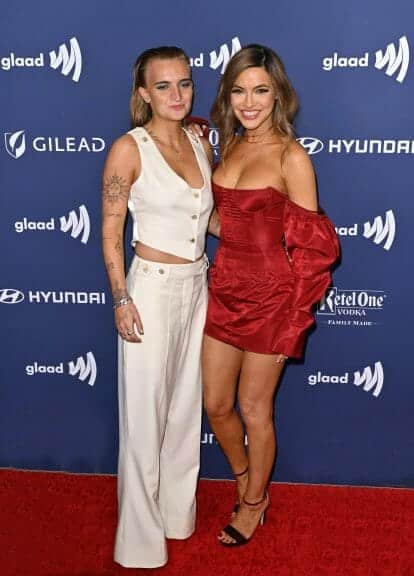 They recently had a private Los Angeles ceremony, where Chrishell shared an intimate video of what looked like a wedding. However, sources such as TMZ and Entertainment Tonight have confirmed that there is no official marriage license.
But, Stause shut down any criticism, claiming that she is 'Living her best life'.
Stause publicly announced her relationship with G Flip during the Selling Sunset Reunion , coming out as being in a queer relationship following her split with Jason Oppenheim.
The couple are being praised for redefining what queer relationships can look like. In the Season 6 trailer, she says, "I know people think I'm having a midlife crisis, but I'm having an awakening'.
Following her past two relationships, both with men, Stause is also helping those struggling with their sexuality at an older age find reassurance that it takes time to find yourself.
Chrishell is boldly and proudly representing the femme queer community simply through sharing and celebrating her relationship with G Flip so openly.
On a show where the majority of relationships fall under the heterosexual category, having representation for a different kind of relationship- especially one which falls under the LGBTQIA+ category can be so important for viewers.
For many queer people, there is simply not enough representation of themselves in pop culture, and where there is, they can often fall under harmful stereotypes.
But, by showcasing a real-world relationship to viewers, it creates a sense of authenticity and acceptance.
Season 6 premiered at the perfect time, as it provides an insight into a new LGBTQIA+ relationship, just as Pride Month approaches.
Other new relationships in Season 6
Another non-traditional relationship seen in season six was the relationship between new agent, Bre Tiesi, and her child's father, Nick Cannon.
Tiesi discussed her open relationship with Cannon throughout the show- despite some criticism from the other agents.
Nick Cannon is known for having many children and multiple partners, so it was not surprising that some people had a problem with their relationship, both on the show and from the audience.
However, Tiesi explains how her situation works for her and that she is happy with her situation.
Along with this, Jason Oppenheim also announced a new relationship on the show with model, Marie-Lou Nurk. The unconventional thing about their relationship was their age gap.
At the time of the release, Jason was 45, and his girlfriend was 25. Obviously, while age is not always a problem in relationships, people certainly had their questions and doubts about how long their relationship would last.
Sadly, the two have been reported to have split up as of now- but they sure did have a whirlwind romance while it lasted.