Featured Image Via
Coming as a sequel to the 2015 Fight Club 2 comic, author Chuck Palahniuk has announced a 12-issue part 3 book for the series. 
To state the obvious, Palahniuk's 1996 novel Fight Club is a successful book turned into a cult classic movie brought to life by the great David Fincher and starring Brad Pitt and Edward Norton. Dark Horse comics originally picked it up in 2015 for a 10-issue maxi series, and now Tyler Durden is back in 2018 with a fresh 12 part story.
Artwork by Eisner Award winner and returning Fight Club 2 artist Cameron Stewart looks as sick as ever: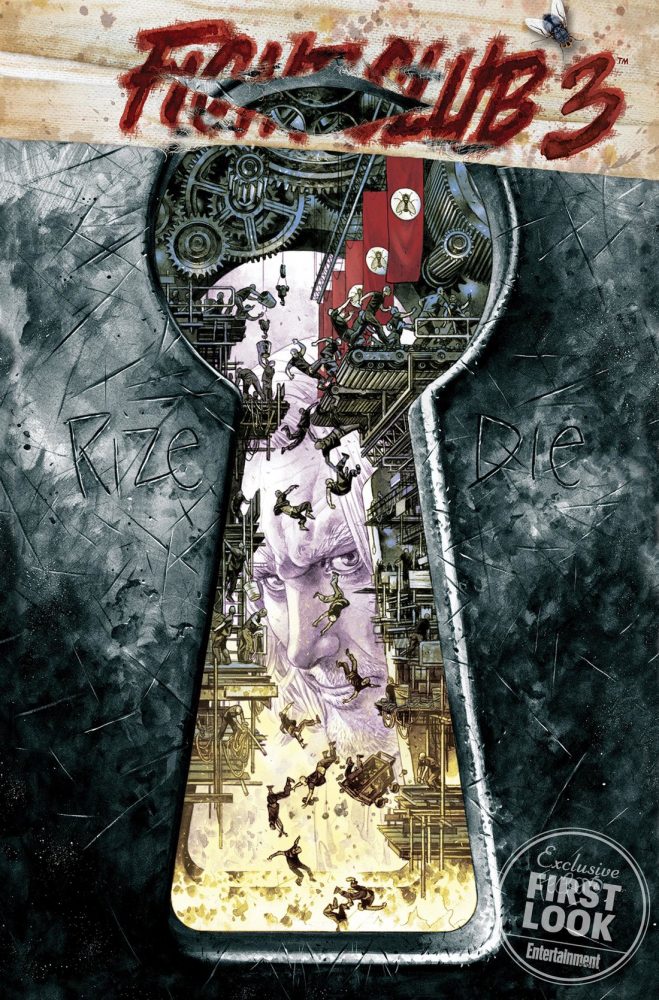 Image Via
The plot synopsis from comicsource.com also seems promising:
"What's the first rule of fatherhood?" is the question Fight Club 3 poses. This monthly 12-issue maxi-series will revolve around Marla Singer, who is getting ready to have her second child.
However, the baby's father is not the unnamed narrator from the original novel, who now goes by Balthazar, but rather, perennial agent of chaos Tyler Durden. Naturally, Tyler is very interested in his heir.
Marla, Balthazar and their first son are not exactly in the best of ways, as they are living in a dilapidated motel in a less-than-reputable neighborhood. Moreover, the effects of Tyler's antics from Fight Club 2 are still being felt, with Project Mayhem having been transformed into the terrorist organization Rize or Die.
However, when a new group sets their sights on reshaping society in their own twisted image, Balthazar is forced to join forces with Tyler.
According to Palahniuk, "Fight Club 3 is about what happens when you need to team up with your enemy. And the situation is even more complicated here, given Tyler Durden and Balthazar's unique relationship. And yes, bodily fluids will be exchanged."
Check out how Brad Pitt got in fighting shape for the film.