After long a year a half wait for season three, fans finally get another glimpse at "Sex Education" season three.
Netflix has released six new images teasing the long-awaited third season of "Sex Education." After season two aired in January of 2020, fans have been on the edge of their seat in anticipation of this third season. Aptly timed with the start of the school year, Netflix plans to release season three on September 17, 2021.
Until September, Netflix has left its fans with lots to talk about. This latest peak into the show features bowling dates, a surprising amount of two-toned pants, and what appears to be a mustache sprouting on Otis' (Asa Butterfield) face.
Season two left fans on a cliff-hanger, ending with Otis' grand confession of his love for Maeve (Emma Mackey) via voicemail. "It's you. It's always been you. I love you" Otis tells Maeve, asking her to call him back when she gets it. Fans watch in agony as Isaac (George Robinson) deletes the message, leaving the pair's fate uncertain.
When confronted with his very own love triangle, Eric chooses Adam over mysterious French student Rahim. Most important to many viewers was the last-minute discovery that Jean was pregnant.
After being left in the dark for the past 18 months, fans are understandably anxious to catch up on their favorites. Entering the cast are newcomers Jemima Kirke in the role of the new headmistress, Jason Isaacs, who will play Mr. Groff's older brother, and Dua Saleh, a new non-binary student named Cal.
After the images' release on Twitter the morning of August 16, fans immediately noticed the absence of their favorite sex-positive icon Jean Milburn (Gillian Anderson). At the end of season two, Jean was revealed to be pregnant despite her partner Jakob's (Mikael Persbrant) supposed vasectomy.
Season two also ended with Jean and Jakob's breakup, leaving fans bouncing with curiosity regarding the future of the couple and the potential new family. A glimpse at Jean's pregnancy belly –– or the lack thereof –– remains elusive, however, as she was not included in the released stills of the upcoming season.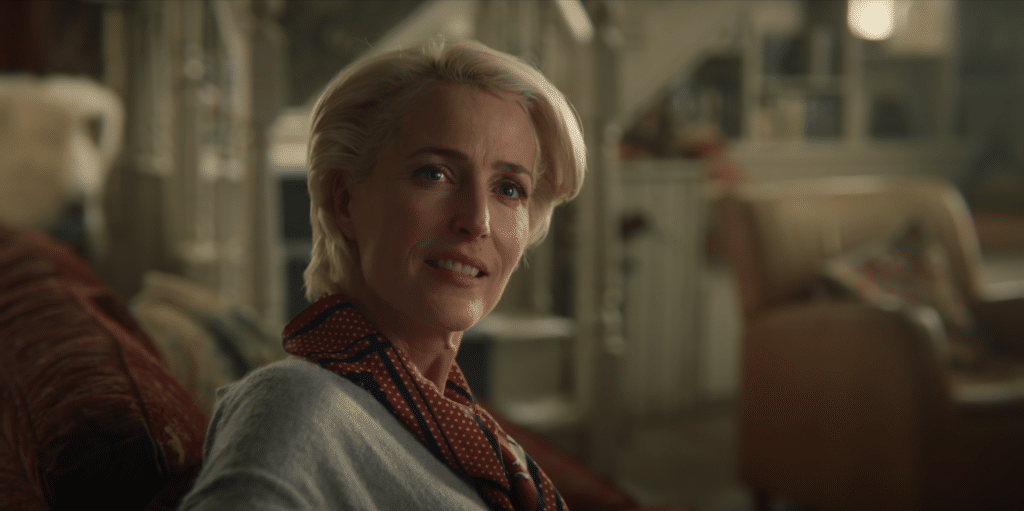 One of Netflix's most-watched and highly beloved teen shows, "Sex Education" exploded to mainstream success after widespread applaud for the candid and diverse portrayal of sex and high school. Devoured by teens and adults alike, the U.K. show was widely acclaimed globally and everyone is holding their breath for their next glance into the Moordale Secondary School community.
For all the updates on upcoming movie and TV news, click here to read all about the new Venom 2 movie, set to release October 15, 2021.