Drummer and founder of the nu-metal band Slipknot died on Monday the 26th of July.
The devastating news of his death was announced on July 28th by his family. In a statement to Rolling Stone, they said:
"We are heartbroken to share the news that Joey Jordison, prolific drummer, musician and artist passed away peacefully in his sleep on July 26th, 2021. He was 46."
His family added that his passing has left them with "empty hearts and feelings of indescribable sorrow". Jordison's cause of death has not yet been publicly released. However, he previously disclosed that he suffered from a neurodegenerative disease, which led to his departure from Slipknot in 2013, as it left him unable to play.
Without Jordison, Slipknot wouldn't exist
Joey Jordison was one of Slipknot's founding members, forming the band in 1995 along with percussionist Shawn Crahan and bassist Paul Gray. From then on, the band pioneered a new subgenre of metal, called Nu-metal. Slipknot brought fresh ideas to the metal world, combining elements of both hip-hop and metal in their songs.
Following their emergence in the '90s, the band became renowned for their super-aggressive, high-speed songs. They went on to sell millions of albums globally, gain mainstream US chart success and win a Grammy award. Slipknot is undeniably one of the biggest metal bands in the world, and their percussion is an integral part of that identity.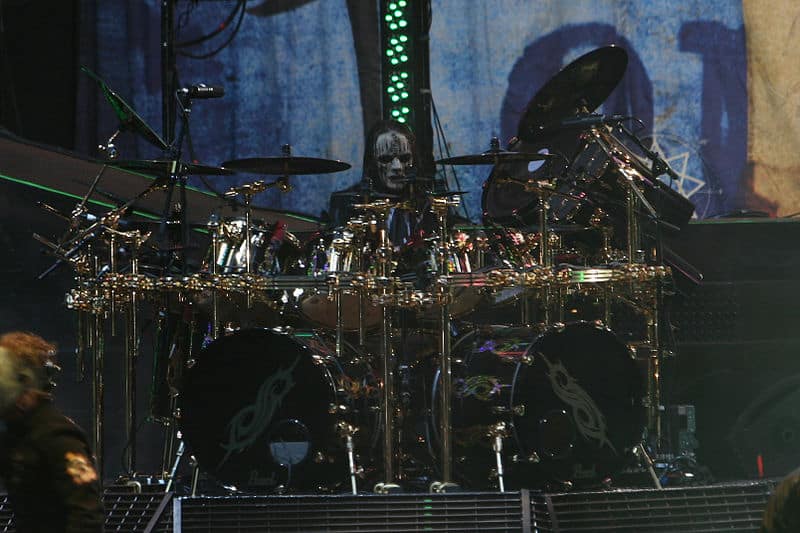 During his time with the band, Jordison was the motor that kept Slipknot running. Without his bone-rattling rhythms and rapid blastbeats, the band would be missing a key part of their unique sound. Beyond his drumming, Joey was instrumental to Slipknot's songwriting. He co-wrote many of their top hits with the lead singer, Corey Taylor.
On stage, his thunderous yet precise playing was enhanced by daring stunts. He would be strapped into his drum chair as he played while spinning round and tilting at a 90-degree angle. These hair-raising feats were vital to Slipknot's theatrical and shocking stage presence. Performing in jumpsuits and nightmarish masks (Jordison's was modeled after those used in Japanese kabuki theatre), the band always aimed to leave concert-goers with their hearts pounding.
Watch Joey's electrifying performance at the legendary 'Disasterpieces' concert in London in 2002.
Fans are hailing Joey Jordison as 'one of the greatest drummers of all time'
With the announcement of Jordison's death, Maggots (that's what Slipknot fans call themselves!) are sharing their belief that he will go down as one of the greatest drummers of all time. Countless people across the globe are posting outpourings of praise, love, and admiration for Jordison. Many have named him as the inspiration for their own interest in drumming or love of metal. One fan tweeted:
"This man changed the game forever and formed a generation of kids who were inspired by him. We love you. There was NO ONE like you."
These floods of praise for Jordison are not unfounded. He gained recognition and awards for his skills on the kit during his 18 years with Slipknot. In 2010, Jordison was voted the best drummer of the past 25 years by the readers of Rhythm magazine. He was awarded the Drummies award for best metal drummer also in 2010, voted for by an international poll of drummers.
Without a doubt, Joey Jordison will be greatly missed by his family, bandmates, and fans across the globe. Destined to go down as one of the best drummers in history, he has left behind a legacy in the metal world which won't be filled by anyone else.