How is it that despite only being a 5-minute-long music video, Pulp's Disco 2000 manages to tell an engaging and entertaining story that captures the essence of a night out? Let me explain…
A Different Class Of Music
In October of 1995, English rock band Pulp released the smash hit album Different Class, which I (and many others) would argue is one of the greatest albums of all time. Capturing the dirtier side of British life within the 90s, the album is full of songs about naughty nights out, the realities of nightlife love, and lives torn apart by drugs. However, one song is a clear standout for me, and that's Disco 2000.
The song tells the story of a man and his unrequited crush on childhood friend Deborah. As the song goes, the man grows sad and desperate, wanting one more shot with her, one more chance to finally score the romance he's always so desired. The song brings back memories of listening in my mum's car as a child, singing along to this sad story I didn't really understand, and it's stuck with me since.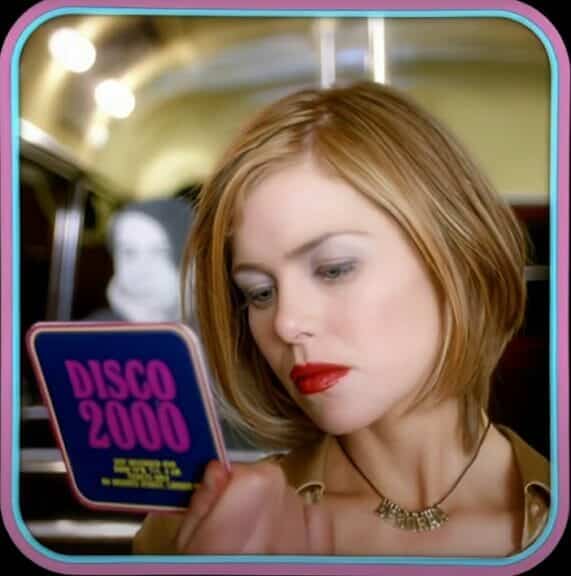 Silent Disco
However, my love for the song could fill an entire article, and I'm not here to talk about the song; I'm here to talk about the brilliant music video it spawned. Directed by Pedro Romhanyi, the video essentially set out to adapt the front cover of the song's sleeve, which portrayed a woman from the legs down dancing in a club.
The video tells the simple story of a man and a woman who both fancy each other, getting ready for a night out. They finish their work shifts for the week, dress up, stress about whether they'll see each other and then head off to boogie. It's a straightforward story, but one executed perfectly through intimate framing of shots that capture the emotions and anxiety of the protagonists despite having no dialogue.
Instead, the story is assisted by text at the bottom of the screen informing the viewer what the characters are thinking at any given moment. Some thoughts are mundane and inessential, some are key to the story, but all feel real and grounded. That's the important part here: the people we are spying on feel genuine and relatable, and I want to dive into why I think that is.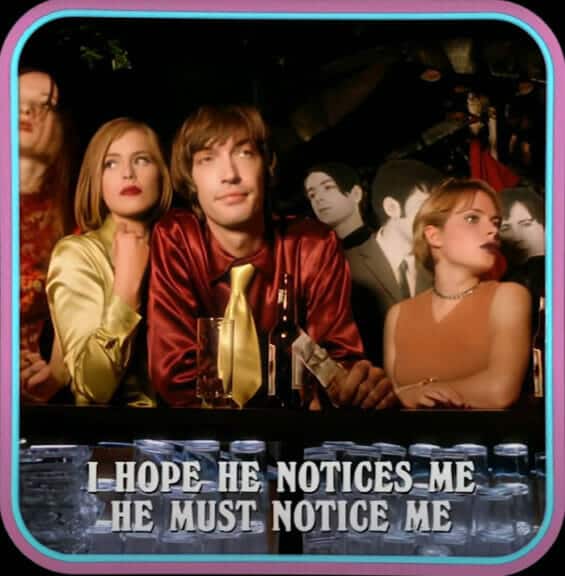 Common People
Now, in a dialogue-free story, displaying the character's thoughts on screen may seem like a cheap way to tell the narrative, and maybe it is, but the execution here is magnificent. The narrative device is used not to provide exposition constantly but to flesh out the characters, painting them as real people who approach situations relatably.
The video doesn't start off with both characters explicitly stating their love for one another. Instead, they fret and stress over whether the other person will also be out at the club. They don't pine for each other with melodramatic monologues, they act in a relatable manner, and the video uses their thoughts to convey this: "I could ring her mate to see if she's coming…", "I hope he notices me he must notice me".
Whether or not we want to admit it, we've all felt this way. They're embarrassing and desperate thoughts, but that is what makes them brilliant. It's a raw insight into their minds as characters, and for a dialogue-free story, this is a genius approach to building these characters. There are also less-relevant thoughts, mundane ones, but these are just as important as in seeing how the characters approach day-to-day situations, we can grow more attached to them as they become more relatable.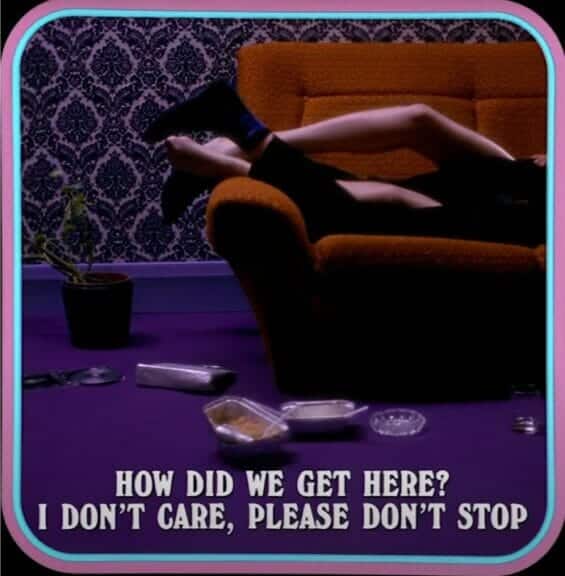 F.E.E.L.I.N.G.C.A.L.L.E.D.L.O.V.E
I think this level of depth for the characters makes their little 'will they won't they' night out so much more engaging. You become immersed in the everyday lives of these people, see what they get up to, see what they think, what they do, so of course we'd end up rooting for them. Relatability is important, and it's utilised magnificently here. Unless you are much of a clubber, in which case, you're out of luck.
I remember in my interview with young director Cai Barnard-Dadds that he took issue with the fact that UK and US romance stories always build up to nothing more than sex and marriage and that he preferred the beautiful simplicity of Taiwanese cinema instead, which builds up to a kiss. I bring that up because I think that this video finds a perfect melding of the two concepts of romantic payoff.
In the five minutes, we spend with these characters, they finally kiss at 3 minutes in, then go back to spend the night with each other for the remaining 2 minutes. However, we never find out the future of these characters, and thus I think Cai's desire for a simpler payoff is met. We spend one intimate night with them, and that's enough. They get their happy ending, at least in the short term, but the long term is beautifully ambiguous.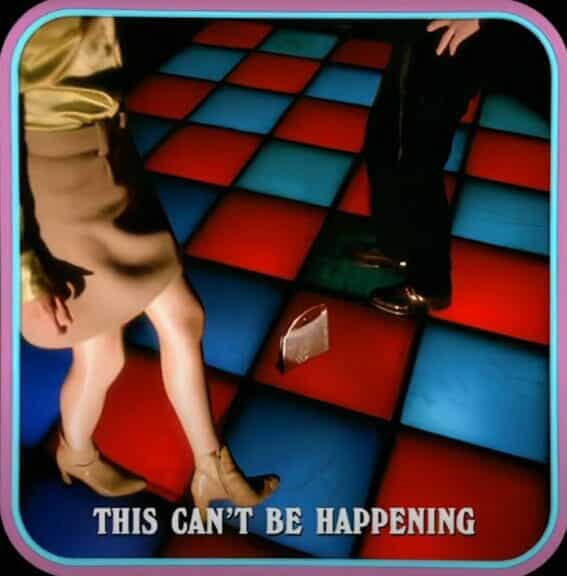 Pulp Fiction
Of course, I can't discuss what makes this video so good without discussing the visuals. As I stated earlier, the video's aesthetic is modelled on the song's single record sleeve, and the result is gorgeous. Presented in a 4:3 frame, the whole video feels like any shot could belong on the album cover, utilising brilliantly intimate and intentional framing reminiscent of the visual style of Wes Anderson.
The cinematography leaves no detail untouched, ensuring that we are always seeing what is important, from the dancing legs of the protagonists lit up by the dance floor to the cardboard cutout extras that feel at both times ominous and entertaining. We see what they eat, their subtle expressions, and their not-so-subtle ones too. This intimacy once again helps ground the video even more.
The video is colourful yet muted simultaneously, meaning it still feels a bit grungy and in line with the original song. It is a visual representation of the idealised vision of 90s Britain, blended with a light dash of what it was really like, creating this gorgeous, dreamlike quality that lingers throughout. It almost feels as if it was painting what the current generation envisions the nineties to look like…