Prince Harry and Meghan Markle have been in the spotlight since the world first laid eyes on her and Harry at a tennis match a few years ago. The British press has been hounding them ever since. Everyone has their own opinions about Prince Harry protecting himself and his family and moving to Los Angeles where they can have some peace. I think they made the best decision for their family. Putting all of that aside, James Corden taking Prince Harry on a tour of Los Angeles is the funniest video you will watch this week.
James Corden is known for having celebrities on his show for Carpool Karaoke as well as other segments that are always hilarious. Getting celebrities to loosen up and have some fun is always good but he has a way of making things even funnier and having them really speak their minds even more. Corden took Prince Harry on an open-air bus ride where they had tea while the bus was moving and went through a military obstacle course. It is nonstop laughs.
An Afternoon With Prince Harry and James Corden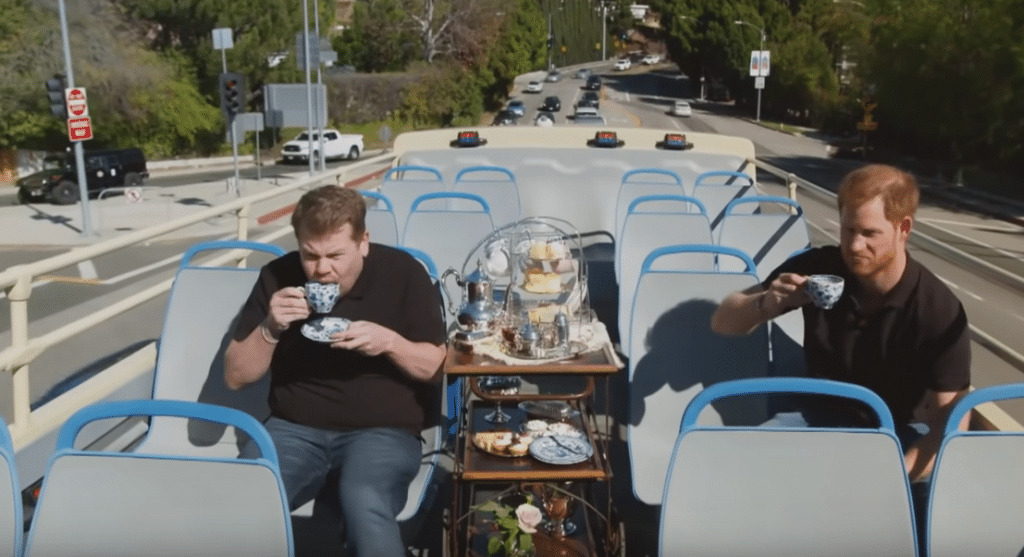 How funny is that? Also how amazing did Meghan Markle look on FaceTime? She's beautiful anyway but she's probably just at home with Archie and she looks stunning. Prince Harry sticking his head out of the window at the Fresh Prince house had me rolling. When Prince Harry opened up about taking a step back from royal life as he said and how his mental health was suffering being in Britain was so heartbreaking and inspiring. He did what he did for himself and his family. Those things always should come first. I hope he, Meghan, Archie, and the baby on the way have more peace in their lives and are able to have to solitude and happiness they deserve.
Click here to watch how a woman tried to get very close to Prince Harry just before his wedding.