With the last two episodes of Amazon Prime's Daisy Jones & the Six released, the show has quickly become an online sensation. Everyone watching is fascinated by the '70s rock n' roll lifestyle that Daisy and her bandmates live. 
The music and the acting are great, and it's impossible not to appreciate the fashion that comes with it. From fabulous fur coats to leggy denim cut-offs, the looks worn by Daisy, as well as characters Camilla, Simone, and Karen, give a laid-back, "I just so happened to throw on this amazing outfit" feel.
I don't know about you, but that is exactly the kind of vibe I want to emulate. I want to dress like I'm someone who drives with the windows down and the radio up, my hair free-flowing in the wind without a care in the world.
I'll be trading in my Lululemon crossbody and black biker shorts for cowboy boots and crochet tops. Doesn't a fringed suede jacket sound way more fun than an oversized white zip-up?
Free People has launched a line of clothing, accessories, and boots actually called the "Daisy Jones & the Six Collection." Lead actress Riley Keough models lots of the collection's key pieces. You can buy Daisy Jones-esc clothes from Daisy Jones herself!
The only problem is that the collection is definitely out of my price range. I, along with the majority of the population, cannot afford a $70 skinny scarf or $300 studded boots (though I really, really love them).
So, I have put together a more affordable (and environmentally friendly) Daisy Jones-style guide! An unlimited budget is not needed to have your free-spirit girl summer. 
Find your trademark boot
I have always thought that one of the, if not the most important parts of an outfit is the shoes. It's where you can incorporate colors, prints, and textures that combine the whole look.
When it comes to dressing like a '70s queen, the name of the game is boots. Daisy often sports cowboy boots, but you could go for some square-toe leather or suede ones too.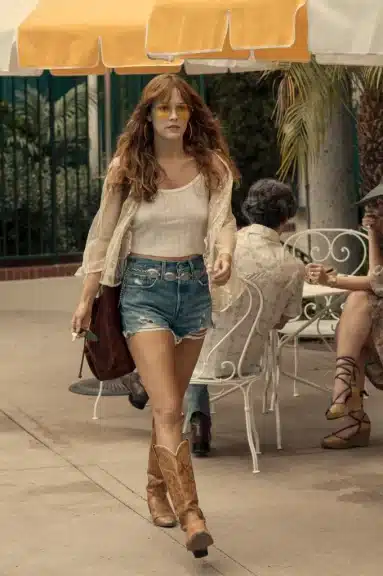 The great thing about a pair of boots like these is that they're meant to look a bit rustic and beat-up. There is no reason you should have to buy them new; search your local thrift stores, Depop, or Poshmark. I guarantee you will find some uber-cool, maybe even vintage, boots that are affordable and not currently being mass-produced by Princess Polly.
If you're going to splurge, do it on denim
I am a big believer that nearly any piece you may want for your closet can be bought secondhand. But, I am also the pickiest jeans shopper you will ever meet. If I'm spending money on a pair of jeans, they need to fit perfectly in allllll the right places. It's harder to find a good pair of jeans at a thrift store compared to, say, an oversized sweater or form-fitting tank.
So, if you're going spend significant cash on something new, do it on jeans or jean shorts. I recently bought a pair of flare Joe's Jeans (I found them for half off!) that are the most flattering pants I have ever put on my body. They are a staple item I can pair with pretty much anything, making them worth the price. 
To replicate Daisy's denim looks, search for bootcut jeans and cut-off jorts.
Mix gold and silver jewelry
Nothing says "free-spirited" like breaking one of the timeless fashion "rules," and as I like to say, rules are meant to be broken. Layering a couple of necklaces and bracelets in both gold and silver is a perfect type of Daisy Jones-esc rebellion.
Also, don't be afraid to be minimalistic when it comes to jewelry. Daisy is often seen with little-to-no jewelry in the show. In one of my favorite looks, Daisy is merely wearing some unconventional gold hoops and a silver studded belt.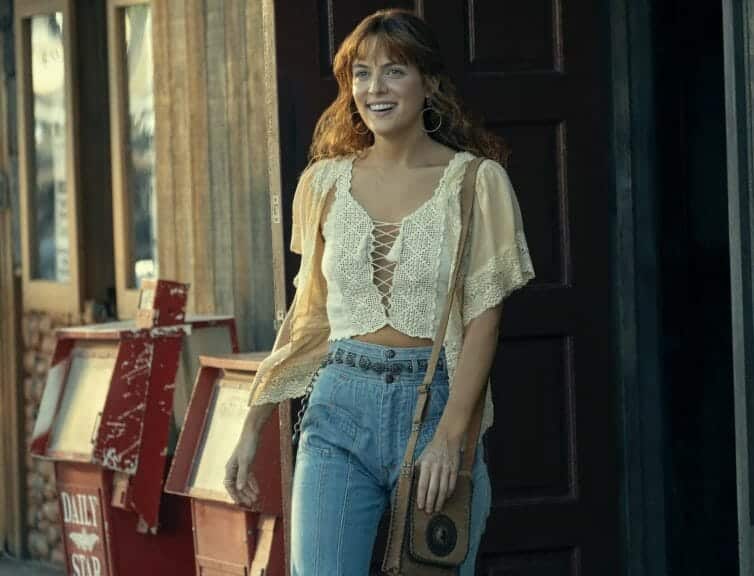 Your hair is a part of the outfit
While Riley Keough has beautiful ginger locks, you don't need your hair to look like hers to style it similarly.
If you've been searching for your sign to get bangs, this is it.
I'm not talking about going full-on Dora the Explorer, but some short curtain bangs can go a long way in helping to frame your face and make you look effortlessly chic.
Also, an effortless style that matches Daisy's can be created by sleeping with braids in your hair. Take them out the next morning to reveal waves, and use texture spray to give them some volume.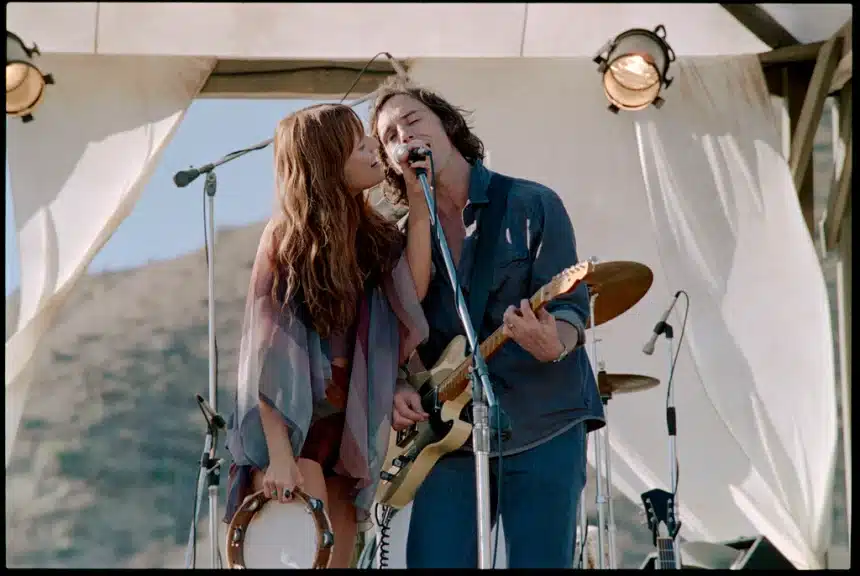 Don't be afraid to wear something a bit out there.
One of the things that inspired me to write about Daisy Jones' style is the fact that her clothes perfectly relay her personality. Her outfits are daring and racy, just like she is.
I find that when I wear outfits that project the energy I want to attract, it helps me to internalize that energy. Wearing clothes that are more likely to catch attention because they are unique makes me more confident, extroverted, and fun.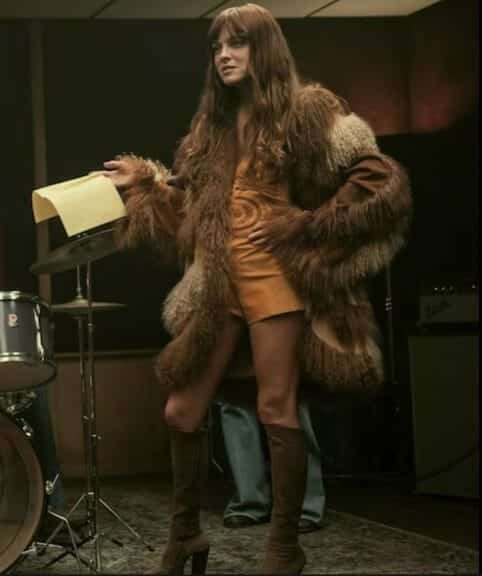 Dig out your grandmother's old fur coat and coat your eyelids in black eyeshadow. Look in the mirror and tell yourself you look fabulous. When people out in public notice you for your clothes, give them a smile that says, "I know I look great, thanks."
That's a Wrap!
Enjoy your hunt for Daisy Jones fits, and good luck living your free-spirit girl Summer!