In all likelihood, you have probably heard about the infamous slap that occurred at the 2022 Oscars.
The renowned and acclaimed actor, Will Smith, delivered a slap across the face to the stand-up comedian and actor, Chris Rock. This came about after Rock made a joke in reference to Jada Smith's (Will's wife) lack of hair due to her Alopecia diagnosis. This dilemma has divided many people over who was truly in the wrong; however, for the most part, it seems that Will Smith has been allotted the primary blame given his unacceptable use of violence, let alone at the Oscars of all places.
Since then, the Smith family has been seemingly shunned by many people, but four months after the fact, Will Smith has recently posted an apology video to his YouTube channel that boasts over 9.8 million subscribers. Whilst many people have been quick to accept this apology and remark on Will's sincerity, others have been more dubious. This scepticism has only heightened after some viewers noticed something that has cast Will's candour into serious doubt.
Let's take a look, is there more to the video than meets the eye? …
1. Just Water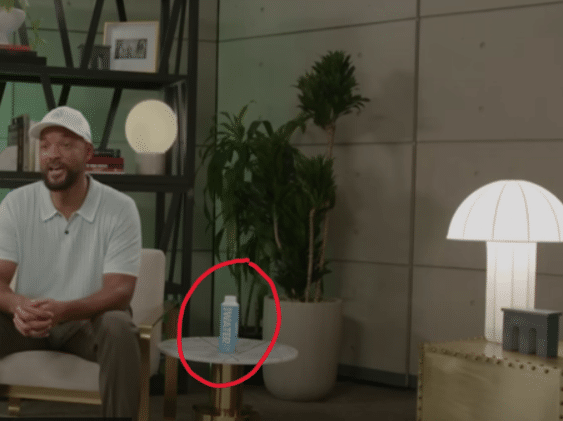 The main claim that is being made about the video comes as a result of the strategic placement of a bottle of water on the table next to Will. Upon closer inspection it can be seen that the brand is 'Just Water' and anyone vaguely familiar with the Smith family's affairs will know this is in fact Jayden Smith's water brand.
'Just Water' was launched by Jaden Smith when he was just 12 years old and the company's central goal involves attempting to create a water filtration system that's cheap and can be used in poorer areas and nations. Whilst the endeavour itself is both admirable and impressive; many people are not happy about Will promoting the brand in his supposed apology video.
One Twitter user wrote: 'Will Smith advertising his own bottled water company during his apology video makes it entirely disingenuous'. – @lukeburton0897
To add insult to injury, there are numerous long shots in the video that spans five minutes. The cameras seem to pan out fairly often and include the bottle of Just Water within the shot. Not only is this an obvious attempt to shamelessly promote the brand but arguably; the panning-out technique also damages the general tone of the video in terms of sincerity. Rather than maintain eye contact with his audience when delivering his apology; they are instead made to view the set his video takes place on a few too many times.
2. Signs of Staging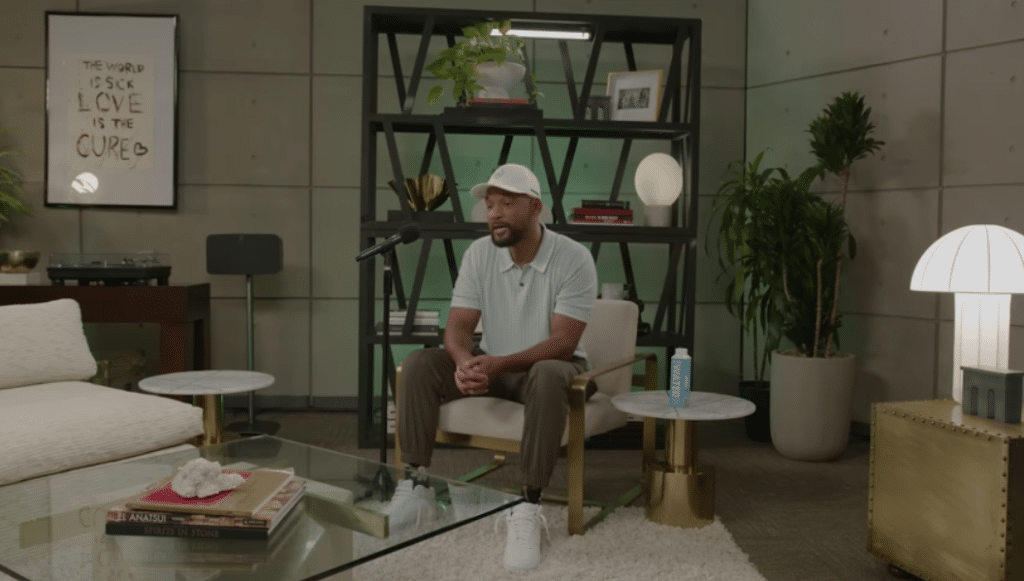 What's more, many have also commented about other signs in the video that create the sense it is staged and purely for PR purposes.
Firstly, there is an odd contrast between the orderliness of the set in which the video takes place in and the seemingly 'organic' or unrehearsed nature in Smith's answering of questions. The viewer is able to see how camera ready the room looks and yet Will's answers are peppered with fillers and pauses. Additionally, as Will is reading pre-prepared and selected questions it seems strange that his answers wouldn't also be rehearsed. This then begs the question as to whether the whole 'organic' and 'on the spot' nature of his answers is in fact part of an act.
Actor and director, Morgan Tremaine tweeted: 'This Will Smith apology video has PR team written all over it. They're testing the waters to see how the general public feels about him — nothing to do with Chris'.
Given the contrast between very obvious signs of staging and the approach Will takes when answering questions perhaps there is validity behind this statement
Moreover, Jesús Enrique Rosas or 'The Body Language Guy' who has over eighty-two thousand followers on Twitter, has posted a video further analysing signs of ingenuity and staging. Rosas believes that the video was most likely ordered by someone in charge of Smith's PR.
This evidence all points to the idea that the video was posted in favour of reasserting the Smith Family back into society as opposed to serving a legitimately apologetic purpose.
3. Guilt and Blame Alleviation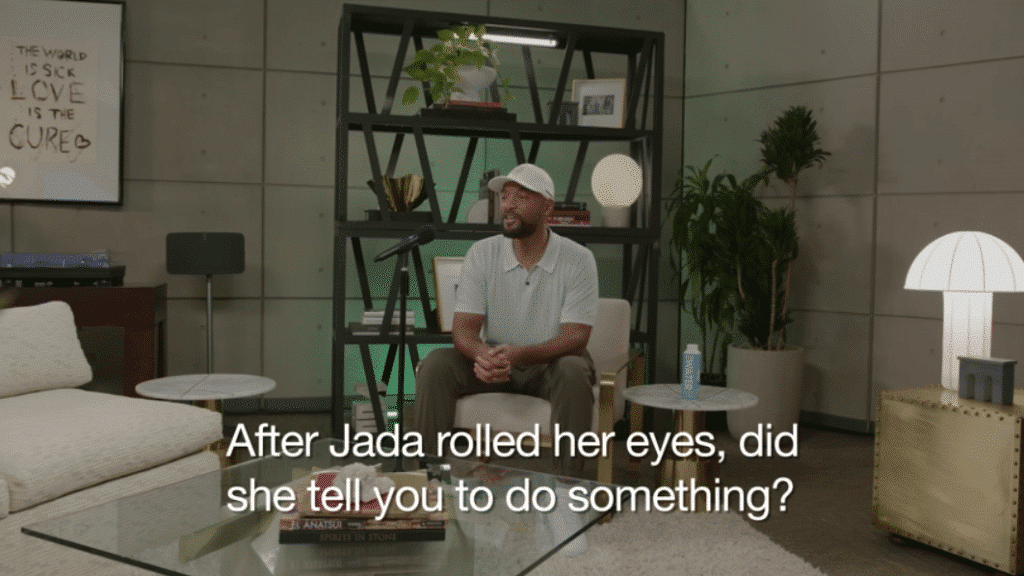 Finally, there seems to be some redirecting of blame and guilt in Will's video.
Whilst it is true that Will accepts that his actions were not acceptable and that perhaps Chris's joke was untoward; there are various instances in which Will appears to offload some blame onto Chris. For example, towards the beginning of the video he remarks on how he has attempted to reach out to Chris; however, it is Chris who is not yet ready or willing to speak to him. In response to this, one Twitter user also noted:
'Will Smith has Chris Rock's number so him making a public apology just tells me this was more for the companies that have him blackballed more than anything' @YalKnotsNick
It is indeed questionable that this apology is targeted to a general audience more than it is to Chris himself, as well as; the fact the video was made four whole months after the event itself actually happened.
Will also makes sure to alleviate his wife, Jada Smith, of any blame. At the time of the event, many people speculated that it was Jada who encouraged Will's reaction. In footage from the night, Will can initially be seen laughing at Rock's joke whilst appearing to be unimpressed. People have suggested Smith used his video to not only try and boost his own popularity again (it fell by 30% after the slap) but also promote Jada's and the families as a whole.
Finally, in the video Will makes a comment about his action based on various factors, one of which being 'From my history with Chris'. It is interesting to consider why Smith chose to say this and what purpose it serves. Some may say that he is trying to diminish his own guilt and responsibility by alluding to his previously good or close relationship with Chris or by suggesting he knew Chris well enough that he did not initially understand the severity of his actions
With all of that said, after the release of the video it seems, despite people's doubtfulness; the whole issue might at long last be put to rest.
But what do you think? Did Will owe Chris an apology or should it have been the other way around? Why not comment your thoughts down below?
And, if you're someone who has a hankering for celebrity gossip why not go and check out this story about DeuxMoi – an Instagram account dedicated to the cause?