The /rapper/designer/Artist/transgressive thinker "Ye" recently showed his YZY season 9 collection. Designed by Shane Oliver and Mr. West himself, one of the garments that have retained most of the internet's and public's attention is a shirt with the words "white lives matter".
The collection focused on garments that could be pulled onto the body, with no hardware — buttons, zips, or snaps — involved. An idea that Ye first began talking about back when his energy was focused on producing something with GAP. The show included bomber jackets, slim cut-out dresses, 3D-printed boots that went up to the shin's length, technical pants, shorts, ponchos with oversized sleeves, and more items that match the utterly contemporaneous state of garments and their silhouettes.
From Coperni's Bella Hadid dress stunt to Balenciaga's vast dimly lit mud pit, Paris fashion week was a sympathetic feist for fashion connoisseurs and consumers in every area of the specter. A spectacle. Full of commotion and "innovation". In a now-deleted post, Ye goes on to say "THERE WAS A MAJOR THING CALLED FASHION WEEK WHICH REALLY LAST A MONTH AND THERE WERE SOME VERY WELL DONE CRAZY OVERPRICED CLOTHES BEING SHOWN".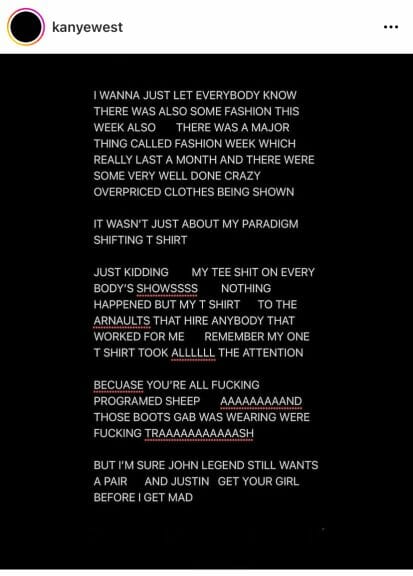 As to why he decided to send a message that has been tied with white supremacists in the past, backstage Ye declined to provide any theoretical framework. "It says it all," he said, of the shirt. But what exactly does it say? The New York Times says, "that he genuinely believes he can appropriate the language of racial violence with irony". Others, like Gabriella Karefa-Johnson, Vogue editor, says, "there is no excuse, there is no art here."
There's no purpose in rationalizing a man whose already been dismissed as having a manic episode. There is, however, some value born from a tan oversized shirt with a photo of Pope John Paul II and the words "Seguiremos tu ejemplo" ("We will follow your example") on the front, and "White Lives Matter" on the back; But one must squint their eyes really hard to see it.
The grand narrative is being put at risk
Lucien Smith, a multidisciplinary artist that launched Serving the People, goes on to say. "when I see these conflicts happening over and over again I see the persecution of the artist who is trying to be at the avant-garde for all of us". While it is true that grand narratives created by politics and media will always be in conflict with the artist, we must be aware that we are living in the age of cosmopolis.
Today, Western nations are vast, centralized, technocratic entities governed by oligarchies on behalf of big business, and Ye offers more confirmation of why this is true.
Balenciaga x Lays Bag (2022) pic.twitter.com/TWBy8cF5fw

— Outlander Magazine (@StreetFashion01) October 4, 2022
"White lives matter" is as inflammatory as it can get, but the combustion and gasoline that inflamed Twitter users fulfilling their Oedipus Complex also come from another source. Ye recently said that "Black lives matter is a scam".
Artists should not be judged for the form of their expression because they
have a dialectic way of articulating meanings. René Guénon writes that a nation without a spiritual purpose would inevitably be replaced in time by another which had one. Black Lives Matter is an example of a movement that oppressors tolerate, commercialize, and use to cleanse themselves from international and historical guilt.
We live in a "nation", where we "the people" overindulge in objects that extend larger than our own consumption. It's no longer about buying $12 jackets at a time when sweatshops exist and wages are criminal. We are now buying into a semblance globe culture of uniformity, a pipeline of product and corporate-progressive padding, and its proponents talk relentlessly about 'diversity' while maintaining the values of the machine. Kanye's ex-wife, Kim Kardashian, has now become a symbol of a structure that facilitates progress and profit, by which we mean uniformity disguised as difference.
The artist will always rise above the grand narratives. However, having an artist (Kanye) who's been rightfully labeled as "an absence to those who have had their lives stolen due to the very same system he is championing" is just another example of our society accelerating further into a soulless nation with oppressive consumption. The culture is slowly being replaced by simulacra and a commercialized version of the former "scene" if there ever was one post-Andy Warhol.