Renowned British designer Anya Hindmarch has strayed away from her traditional, fashion accessories route to instead delve into the world of grocery store carrier bags with her newest career move.
It's not quite as groundbreaking as a supermarket launching a chicken nugget into space, but Anya Hindmarch has certainly proven her versatility by creating more accessible high-end products. Only, instead of selling handbags, phone accessories and the like, she's created a fully recyclable shopping bag that is available through two separate food store chains.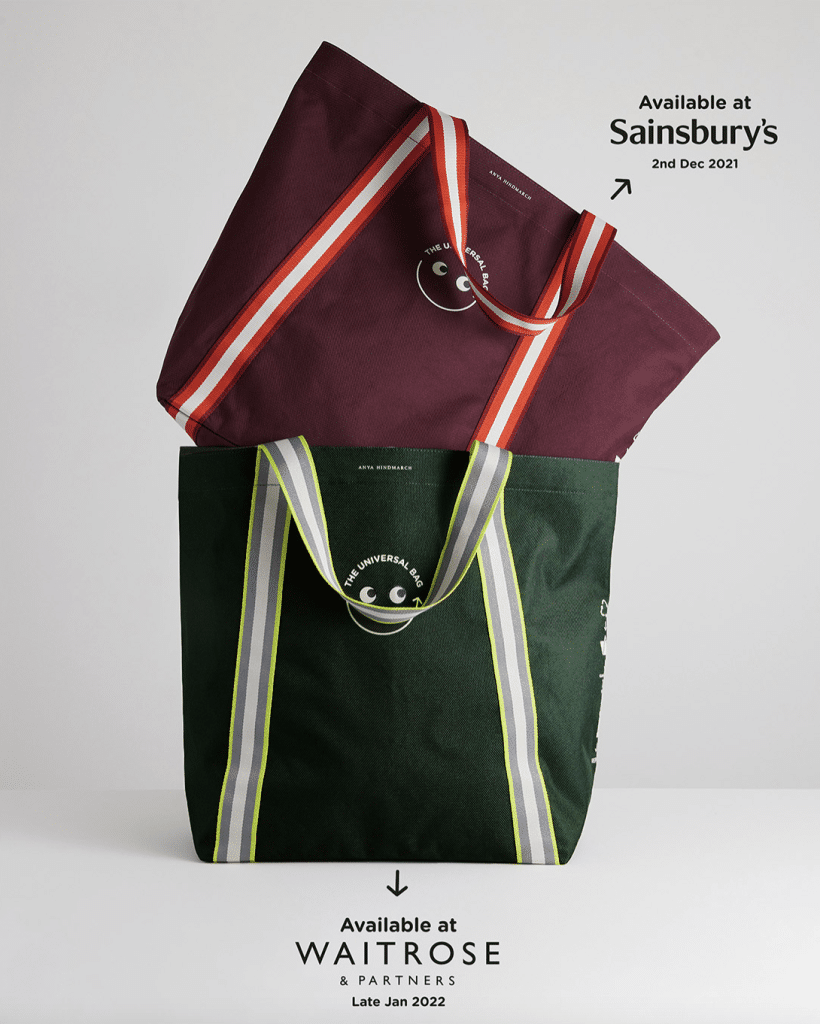 Each bag features the colours synonymous with the brand, with Sainsbury's colour palette revolving around red and oranges in contrast to Waitrose & Partners who have two different shades of green. The former was released in Sainsbury's supermarkets across the UK late last year, whereas Waitrose's edition is due to hit the shelves later this month on January 26th.
Hindmarch, an advocate for less single-use plastic, has designed the bags to be durable, reusable and is guaranteed to last a minimum of 10 years. It's definitely more sustainable than a plastic bag for life. The aptly named Universal Bag is made from 100% recycled material and is itself 100% recyclable once it's reached the end of its life. To recycle it, you simply roll the bag up and post it off, with further information to be found on the Anya Hindmarch website.
Whilst also being innovative and aesthetically pleasing, it sees shopping be a much less drab task than it was before. Who doesn't want to be seen with a luxury shopping bag after all?
On average, each household in the UK goes through 50 plastic bags a year, putting even more strain on already-struggling landfill situations. Even after 5 years of the plastic carrier bag tax implemented by the government to deplete this issue, we're still not helping our environment. But bags like this might just do the trick.
Instead of buying 50 (even though we suspect there's plenty more being bought by individuals each year) 10p carrier bags, spending £5 on pieces of plastic that you don't really care about, double your money and dish out £10 to carry your culinary dishes home in style. And, with a minimum usage time of 10 years, you'd be saving yourself at least £40 on flimsy carriers. What's stopping you?!
So for those of you who care about the environment and looking good whilst doing it, head on down to your local Sainsbury's or wait until the end of the month for the exclusive green edition in Waitrose and grab yourself a designer carrier bag. You'll never have to worry about your straps breaking ever again.