From July 3rd to the 6th, Paris hosted their Fall/Winter Haute Couture Collections showcase from the largest fashion designers in the world, including Dior, Schiaparelli, Chanel, Giorgio Armani, and more.
Although, riots broke out in France after police shot and killed 17-year-old Nahel Merzouk during a traffic stop. Due to this, some brands canceled their weekend parties, and one brand, Celine, pulled their show from the event. Many have also criticized the brands that did not pull their performances after the rise of civil unrest.
While one side of Paris is in hot heat, the other side is blazing up in fabric and creativity. Nonetheless, Paris' Haute Couture Week's shows continued, showcasing 2023's newest fall and winter haute couture fashions. Now, Let's take a look at some of the looks revealed on this year's runway.
Chanel Fall-Winter 2023/24
On July 4th, Chanel presented their Fall-Winter 2023/24 Haute Couture collection at the Port De La Conference. Their collection showcases the designs of creative director Virginie Viard and the inspiration of muse Vanessa Paradis. The collection pairs well with the colorful cobblestone and the ambiance of the riverbanks of the Seine. The venue complements the Parisienne theme and brings a refreshing touch to the show and the designs.
This collection displays a daring contrast through colorful and bright embroidery and simple and dark fabric. By doing so, the complexity of bold and elegant femineity shines through each piece in their haute couture fashions.
Staying true to its history, Chanel continues to use tweed fabric in their designs. Other fabrics, including silk, chiffon, and velvet, combine to create an abundance of textures and patterns. The variety of embroidery and beading throughout the collection represents a woman's bold and empowering spirit.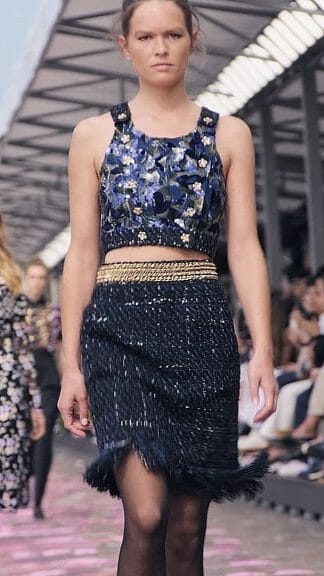 Chanel adorns their latest designs with various floral embroidery that highlights the feminity of the collection. Through this, Chanel channels the fierce yet delicate form of a Parisienne. The bold color of the embroidery attracts the eye and details the fiery nature of a Parisienne.
In addition, each look shapes the silhouette of a Parisienne with dark fabrics, which brings out the elegance of the haute couture collection. Although contrasting the black, Chanel incorporates bright colors in each look which displays the sensitive personality of a Parisienne.
Throughout the collection, fruit and floral embroidery are adorned, along with the occasional wicket basket of flowers in the hands of the models. The beautiful display of florals and fruits serves as an homage to French still-life paintings.
Chanel's Parisienne theme for this haute couture collection is inspired by Vanessa Paradis, a French figure and Chanel ambassador. This collection captures Paradis' Parisienne spirit and allure, which shines within every detail.
Giambattista Valli Haute Couture 25
Giambattista Valli held their Haute Couture N25 show on July 3rd at its new haute couture salon in Paris. Most designers chose extravagant venues for their haute couture shows, but Valli chose his studio to emphasize the importance of privacy in today's society.
Valli's collection is a nod to classic haute couture fashion with a modern twist. His voluminous and free-flowing collection expresses the timeless mastery of quintessential haute couture.
A few of the designs are paired with very bold statement jewelry, mainly in the form of earrings or bracelets. This draws attention to the outfit as a whole and completes each paired look. While the jewelry may be bold, it still ties in with the idea of classic haute couture fashion.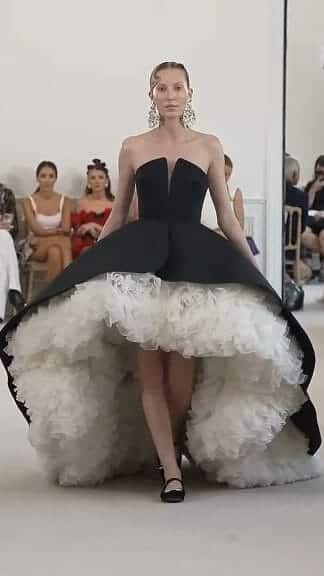 Valli chose a mostly black and white color scheme for the designs to further express the simple and elegant message he wants to convey about classic haute couture. These black-and-white gowns draw inspiration from vintage black-and-white photos that capture the essence of traditional haute couture.
Giambattista Valli's collection celebrates and acknowledges the history of haute couture. That is a timeless art form that does not belong to a specific period in fashion history.
Valli's collection creates silhouettes with voluminous and free-flowing depth. This brings out the unique characteristics and personality of each look. Altogether, the collection brings out a frivolous and carefree spirit that comes from the heart of a Parisian with influences from Valli's Italian heritage.
Schiaparelli Haute Couture Fall/Winter 2023-2024
Schiaparelli combines history, art, and fashion in their latest Haute Couture collection. The collection draws inspiration from Yves Klein, a prominent and controversial French artist in the mid-1900s. Klein developed the color now known as Klein blue, a deep and rich blue hue. Schiaparelli includes this color throughout the pieces in this collection and also paints it on some of the models.
Creative director Daniel Roseberry combines his influence from Klein and Elsa Schiaparelli to create a surreal collection of statement fashion. In doing so, Roseberry creates an impossible wardrobe through this surrealist's interpretation of a woman's closet. A closet with no restriction on what can and cannot be fashionable.
While most of these looks may not be conventional or wearable, they do describe how fashion is not defined by societal standards. Schiaparelli took haute couture to a new level of craftsmanship and innovation with this powerful statement collection.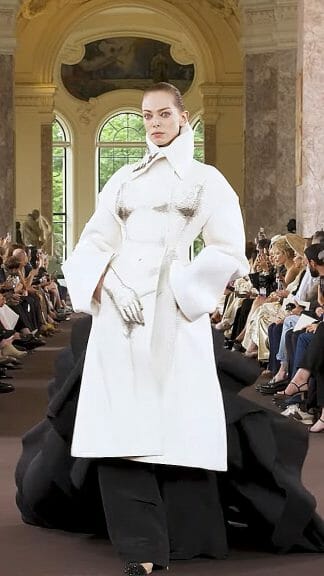 Klein's influence is seen throughout the collection by the splashes of Klein blue and the pairing of gold. Klein often paired his signature color with gold to create a harmonious piece of work. In this collection, Roseberry works gold throughout his designs in the form of gold accents, accessories, or even the clothing itself.
Each outfit is a grand display of skill and creativity that stands out and leaves a great impression. Accessories are also no stranger when it comes to this collection. Each accessory has a story of its own, and it elevates the art theme of the entire collection.
This year's Schiaparelli haute couture fashion show imitates a walking art museum filled with mesmerizing and avant-garde pieces of work. Every detail stands out on its own, which comes together to create an outstanding example of craftsmanship.
Elie Saab Haute Couture Autumn/Winter 2023/24
On July 5th, Elie Saab presented their Haute Couture Autumn-Winter 2023/24 collection at Le Musee des Arts Decoratifs in Paris. Saab brings the past back into the present through his Medieval Times-inspired collection.
Saab's haute couture collection for this season takes the audience to a fantasy realm through intricate gold and crystal beading, corsets, and dazzling jewels. These medieval period pieces are a true display of detailed and well-thought-out artistry.
These eye-catching gowns describe elegance and power within women and invoke the inspiration of strong female figures. Saab drew inspiration from powerful female leads in various films, including Cate Blanchette in Elizabeth, Kiera Knightly in The Duchess, Angelina Jolie in Maleficent, etc.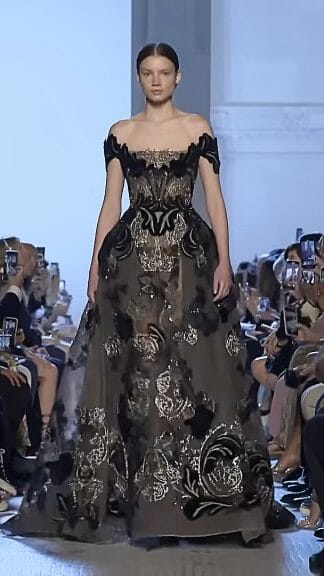 Saab's collection consists of mainly neutral colors of black and white, which help catch the details of each design. Following the medieval theme, the collection includes simpler velvet gowns that are equally as beautiful. Each design incorporates a breathtaking number of details that compliments the style of each piece.
In the collection, one can spot multiple design features inspired by medieval clothing styles. Capes, hoods, and even gowns that resemble shining armor captivate the audience with their dazzling display of creativity.
While these designs may look beautiful, they are also empowering pieces of strength, wit, and tenacity. Various pieces in the collection include sequined Tudor roses and flowers, which bloom among vines and branches of passionate strength. All in all, the entirety of the collection radiates the boundless power of femineity.
Thom Browne Couture Collection
Thom Browne takes his audience on a journey with this mix of classic American sportswear, haute couture fashion, and his signature gray palate. While most fashion shows lasted around 10 to 15 minutes, Thom Browne's show lasted around 30 minutes. During those 30 minutes, not only did Browne showcase his latest designs, but he also put on a performance that pulled the audience into the show.
The audience is accompanied by thousands of two-dimensional figures dressed in Thom Browne suits sitting in the auditorium. The guests of the show sat on the stage along with the show. This idea came from Browne, who wanted to turn the tables on traditional haute couture fashion shows.
Browne's show opens with a wandering passenger who roams into a train station. Two porters in roped shoulder jackets and pleated skirts accompany the passenger carrying her luggage. While the solo passenger waits with her luggage, various passengers enter the station. These passengers include pigeons, gargoyles, time, mermaids, the train conductor, and more.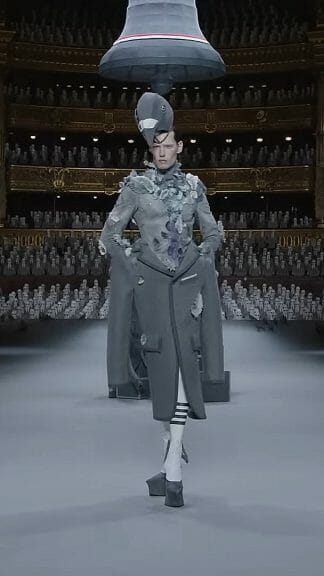 Each passenger walks with the sound of a chime, which represents time. This contributes to the length of the show itself, but it also allows the audience to catch every detail of Browne's intricate designs.
Throughout the collection, embroidered designs of various ocean animals, including whales, seashells, and coral, decorate Browne's collection. This adds a very well-thought-out detail that expresses the craftsmanship that went into each piece of this collection. Even with the minimal color scheme, Browne is able to create incredibly complicated pieces of art.
Overall, this year's haute couture fashions challenged the creative minds of many high-end designers. Although, in the end, the designs came together and created incredibly thought-out shows that took the runways by storm.
To check out other collections from this year's Paris Haute Couture Week click here. To learn more about high fashion in everyday life click here.