In the past few years, we've seen the world of fashion open up to trends that embrace the virtual and cyber world. From the resurgence of y2k fashion to augmented reality clothing and MSCHF's Big Red Boots, our virtual world seems to be leaking into reality.
But for many, especially gen-z, the line between the virtual and real world has always been a little thin. Tenshi kaiwai and mizuiro are two styles gaining popularity online that embrace the blending of the virtual world and reality.
Mizuiro or mizuiro kaiwai
Mizuiro, or mizuiro kaiwai, is a Japanese aesthetic that translates to "watercolored" or "aqua." The aesthetic gets its name from its light blue color palette. However, white, silver and darker blues are also common colors. Mizuiro is often associated with a cold, pessimistic tone and antisocial behavior.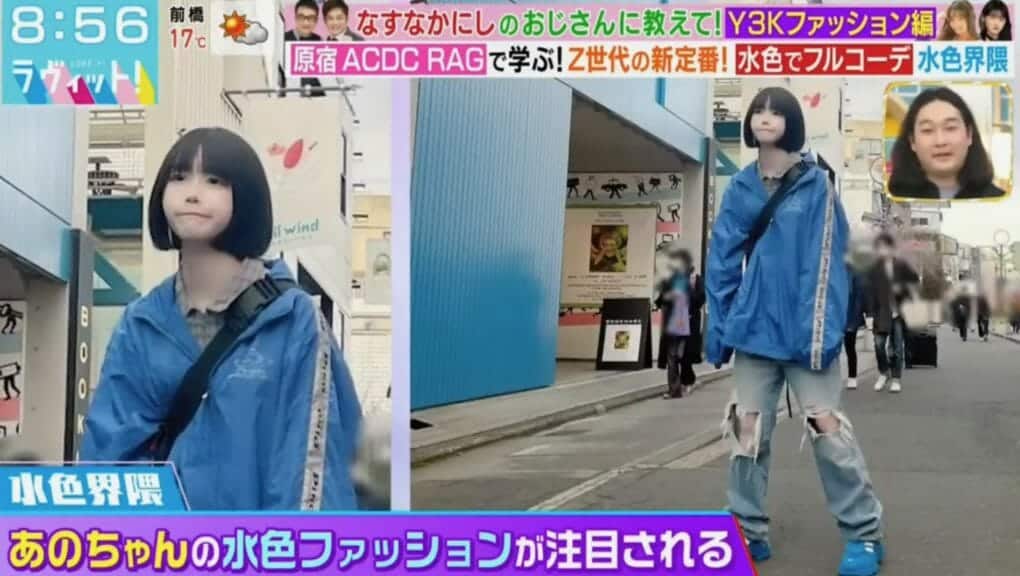 The mizuiro aesthetic originated in the 2010s and was often associated with Ano from the Japanese girl group, You'll Melt More! Each member of the group had a color that they were associated with, and Ano was the light blue member of the group. She was known for being a social outcast and for her tracksuit, both of which are recurring themes in mizuiro.
Along with having influences from online culture, mizuiro also has an otaku influence. Characters like Rei Ayanami from the anime Neon Genesis Evangelion and Sanrio's Cinnamoroll show up in many photos and mizuiro outfits. Arcades and gamer set-ups are also common backdrops for a mizuiro photoshoot.
If you want to create an outfit that fits in the mizuiro aesthetic, it's quite simple. Common accessories and clothing items include headphones, tracksuits, chunky shoes (usually white or blue), leg warmers, windbreakers, and any type of oversized clothing. Almost anything could fit in the mizuiro aesthetic, the most important thing is the blue color palette and cold tone.
Tenshi kaiwai
A relatively new style, tenshi kaiwai is a name used predominantly by people who live outside of Japan to describe a style that features a light blue and white color palette. The name translates to "angel community" and comes from a fanmail hashtag used by the online magazine Tenshi Zyoshi. Tenshi Zyoshi is a magazine dedicated to the mizuiro aesthetic and used the hashtag to build community among followers.
Similar to the mizuiro aesthetic, tenshi kaiwai is less defined by specific articles of clothing and more by its light blue color palette and overall tone. While the mizuiro aesthetic has a darker, more pessimistic tone, tenshi kaiwai maintains an angelic, innocent tone. Leg warmers, oversized clothing, frilly accessories, skirts, and chunky shoes are common in tenshi kaiwai fashion, but most light blue accessories also work.
While some may consider tenshi kaiwai its own distinct style, there is a bit of controversy surrounding the style. Because tenshi kaiwai takes so much inspiration from other styles and aesthetics, such as mizuiro and cyber fashion, many are hesitant to consider tenshi kaiwai its own fashion category. To some, it's not distinct enough.
There's also controversy surrounding the tag #tenshikaiwai. The magazine Tenshi Zyoshi and its followers have brought up how many people will use the tag #tenshikaiwai wrongly. This floods the tag with irrelevant posts. As a result, the tag loses its intended purpose of bringing together a community of angels who want to share similar fashion and aesthetic posts.
The line between virtual and real
Regardless of if you consider tenshi kaiwai its own distinct style or an extension of the mizuiro aesthetic, both mizuiro and tenshi kaiwai reflect how our current environment has influenced the world of fashion. Similar to how mecha fashion reflects the relationship between humans and technology, mizuiro and tenshi kaiwai reflect how our experiences online influence our life. Being online means that we have access to an infinite amount of information, good and bad. Mizuiro and tenshi kaiwai reflect both of this.
Mizuiro reflects on how isolating being online can be, with limited physical contact and an overload of information. However, tenshi kaiwai reflects how beautiful being online can be. We find community online and make new friends with similar interests. For better or for worst, the line between virtual and real has become incredibly thin. We'll continue to grow and evolve, and our style will continue to grow and evolve alongside us.