Image via
The anonymous, England-based graffiti artist known as Banksy recently offered to send free prints of his artwork to those who vote against Conservatives in the UK's 2017 general election.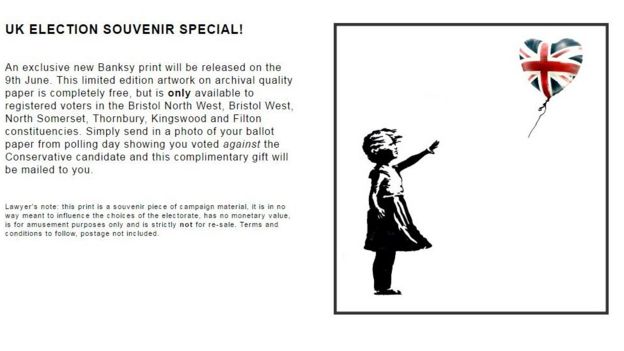 "Simply send in a photo of your ballot paper from polling day showing you voted against the Conservative candidate and this gift will be mailed to you," Banksy posted on his website and Instagram account last week.  Citizens of the six constituencies near Banksy's Bristol home who voted against Prime Minister Theresa May's Conservative party would receive a print of a twist on his famous, "Girl With Balloon."  In honor of the election, the balloon is a Union Jack.
However, the Electoral Commission put an end to Banksy's plan, deeming his request for photographic evidence of votes as a criminal offense.  A spokesperson of the Commission told BBC, "Given the risk that someone taking a photo inside a polling station may be in breach of the law, whether intentionally or not, the commission's advice is against taking any photos inside polling stations."
In addition, Police noted that under the Representation of the People Act of 1983, it is a criminal offense for a voter to accept a gift in return for biased voting.   So, is Banksy using his clandestine charm to take political action?  Or is he just–trying to get away with bribery?
Evidently, the Lawyer's note Banksy included in the fine-print of his post was not a good enough disclaimer for the police.
"I regret to announce this ill-conceived and legally dubious promotion has now been canceled," said Banksy in his most recent internet-post.
The UK's streets may still be bedecked with Banksy's satiric graffiti–but no hipster newly weds will get free prints to decorate their walls with.  He tried, guys.
Fan of graffiti?  Check out dope shots here.