Sabina Nessa. 28. Primary school Teacher. "She honestly was the most caring person, kindest, sweetest girl you could meet. Sabina's heart was as good as gold…"
Last week, on Friday 17th September 2021, Sabina Nessa was walking the short, five-minute route to her local pub in South-East London. At 8:30pm she crossed Cator Park to reach her destination; the following day, in the same park, her body was found. 
Police have arrested a 38-year-old man who they believe to be involved in Nessa's murder. He remains in custody after being spotted on CCTV in SE3 on the night Nessa was killed and police have instigated a murder inquiry.  
Whilst the facts of this case are important, it is also not difficult to recognize the similarities between this case and the Sarah Everard case earlier this year, which gained enormous traction from the public. Both women were walking home alone in the evening.  Both were walking through parks. Both were cautious and careful, taking routes that they were familiar with. Both should have been able to do this without fear or concern, and still; both were attacked. 
These cases are becoming gradually more common and Nessa's case has since gone viral with women sharing posts, "to all my girlfriends – stop walking home alone at night", placing emphasis on women to be careful as the number of attacks against girls and women is rising exponentially. However, we must stop to question why we are so quick to limit the actions and liberties of women? To protect ourselves, of course, to take our safety into our own hands and be responsible for our own lives, absolutely, but when will enough of these incidents occur for men to take a stand with us? 
In the aftermath of Sarah Everard, it was largely women sharing infographics on social media, exposing their own stories, sharing contact details for helplines. The aftermath of Sabina Ness does not look dissimilar. 
The safety of women is constantly in jeopardy and remains completely out of our own hands, with attacks occurring not just in the early hours of the morning or late at night but at 8:30pm! We place such emphasis and critique on women that have chosen to take routes through parks or walk alone late at night, but, timing, location, clothing should not matter; it is the men that must change!
According to an ITV News survey, since March, 77 women have been murdered at the hands of a man. Yet, it somehow feels our sole responsibility to protect ourselves, despite the fact that these violent attacks against women are becoming so increasingly popular that the cry for help is fierce and deafening. How many times can we say "enough is enough" and sound convincing enough to be offered support?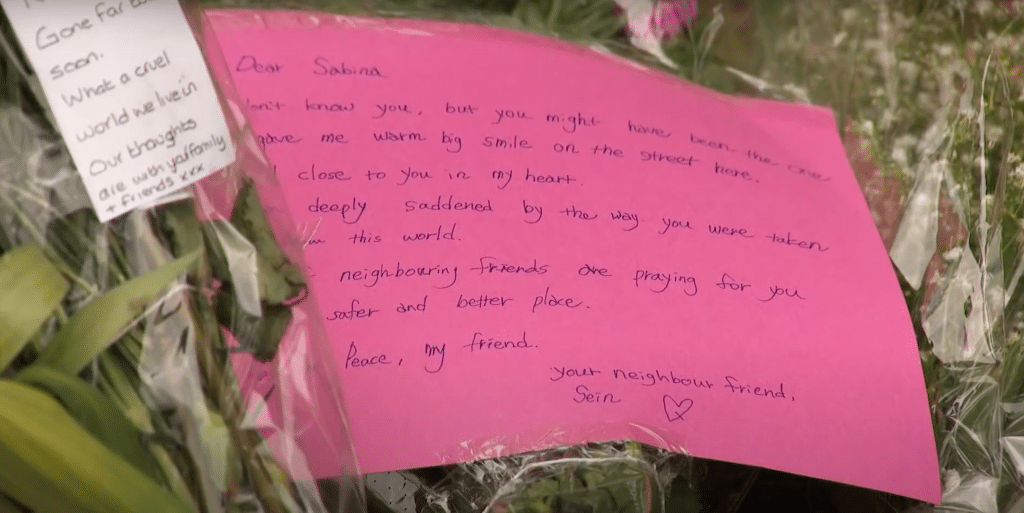 Members from the Women's Equality Party are calling upon the government to "stop managing the issue, and start preventing it". Body politics expert, Mary Morgan, stated that "the government cannot merely come together every several months to slap together false solutions". She went on to state that the "elimination of violence against women and girls must be recognized as a core issue." "Popping up some more lights in parks and sending undercover police into bars grossly misses the mark in addressing the roots of issues." The Women's Equality Party also want the violence against women to be recognized as a national threat and to be handled with the same urgency as we treat terrorism. 
Whilst both Nessa and Everard's cases are just two examples of the gross injustices occurring against all women, we must also recognize the lack of media response in comparison to the Sarah Everard case when discussing Nessa's attack. Victims of color receive a lack of support from media coverage and to not discuss this bias would be incorrect journalism: "it would be naive to ignore the repeated pattern of discrimination in the way media and police treat victims of color. The disproportionate coverage and attention are in equal parts appalling and disheartening" (Voices, The Independent). The discrimination against victims of color within the media is a key issue to be acknowledged in the discourse of gendered violence.
As we discuss the ineffective government response to these issues and the lack of support for women, these incidents are still occurring, becoming more frequent. Subsequently, they are creating a more terrifying world for women. It will require a huge effort by the government and a committed male response in order to even begin to eradicate the presence of violence against women in our society.
This Friday (24th September 2021), a vigil will be held in honour and remembrance of Sabina Nessa. The vigil begins at 7pm in Pegler Square in Kidbrooke, in coherence with St James' Church who will also encourage people to offer prayer and light a candle.