With every passing year, we come that much close to science fiction being science fact. Elon Musk's latest invention won't take you into space or drive you around by itself, but it could potentially cure your anxiety and depression. The latest labor of love from Musk is called Neuralink and it is a microchip that would be implanted in your brain.
Now before we all start freaking out, let's talk about what this chip is supposed to do and how it would be implanted. This is arguably a bigger challenge than sending people into space — the way a human processes thoughts and emotions is almost an unknown process. Even though we already have technology that can help paraplegics communicate (think of Steven Hawking) and the ability to restore some motor function to those who have lost limbs, implanting something in the brain is entirely new.
There is a lot to unpack in that video, so let's discuss some of the finer points of what Neuralink can do. These chips are referred to as brain-machine interfaces (BMI) and they help your brain communicate to either phones or computers — this tech is already used in treating Parkinson patients. And these chips aren't like what you'd find inside a desktop computer, each chip is 4×4 mm big with about 1,000 electrodes of working power. The procedure would be just like a Lasik visit and require little to no downtime. Basically, with the aid of these chips humanity could compete with ever-evolving and improving A.I. (You can read a super in-depth explanation of Neuralink here.)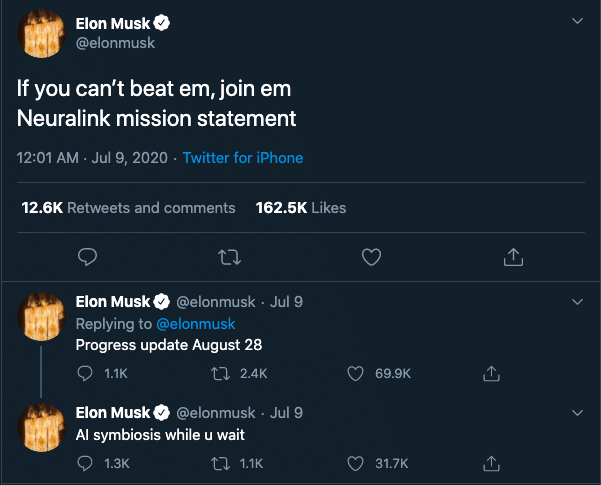 Naturally, there are already conspiracy theories and de-criers about fusing humans with technology… no surprise there, I suppose. "Transhumanism" isn't a new concept, but apparently people get really upset at the thought.
Musk will share more about when Neuralink will roll out in August. And while this type of tech could be used to treat and heal many ailments, it could also be used to direct stream music into your brain. The latter part sounds fine, I suppose, but it just reminds me of the episodes of Doctor Who where they are on a parallel Earth and everyone is upgraded to Cybermen. (I guess being a Cyberman is better than being a Dalek…) What do you think about Neuralink and Musk's plan for the future of humanity? Would you get the implants or will you remain 100% organic? Let us know in the comments and as always, from all of us a Trill!: stay safe, wash your hands, and don't forget your masks!