Roly poly goalie, Wayne Shaw, was shut down for being videotaped for eating a meat pie. Seriously? England's soccer team Sutton United ridiculed this 46 year old legend turned internet sensation simply because eating from the sidelines is too unsightly for the posh team's performance record.
He resigned his position but it doesn't help that he was also allegedly partaking in a gambling scandal. The man also is cited as the stadium caretaker; can you say "awkward" for the team's next game at the stadium?
There is more to the story than originally suspected. According to CNN "Sun Bets — which controversially replaced Sutton's normal sponsor just for the Arsenal game — had 8/1 odds on Shaw being caught munching on a pie on the sideline". So as it turns out, the illegal bet was that Shaw was going to eat a pie during the game.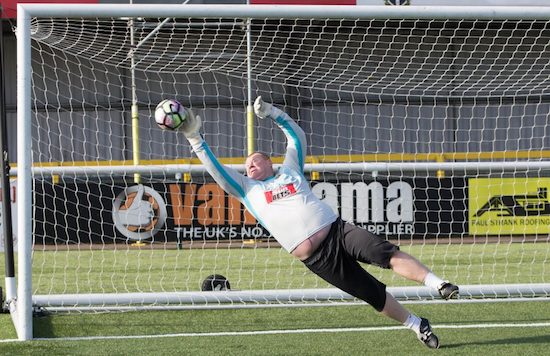 In the same article goalie Shaw states "'A few of the lads said to me earlier on: 'What is going on with the 8-1 about eating a pie?' I said, 'I don't know, I've eaten nothing all day, so I might give it a go later on,'" he said.'" Not only that but Shaw argues that it was really a "patsy" not a pie; which is like a pastry. Pie, pastry, what's the difference? Although he knew about the betting he thought it was just some random fun.
His large appetite sparked quite the controversy during the 2-0 losing game because fixers, or illegal betters, tend to bet on small things these days like a specific goal at a certain time. So when a bet on a goalie like this started it raised some money as well as some eyebrows.
However, the snack shouldn't be a surprise since he was caught at the bar with some fans. He looks rather proud to be recognized for his skill rather than his fill. He is a decorated member of the community, and from fan to player this is a devastating turn of events for Shaw.