After photos of a series of fish statues in the Moroccan town of Mehdia went viral, local authorities have now started demolishing the pornographic sculptures.
Located in Mehdia, near Kenitra in central-west Morocco, these statues feature two pink fish that bear a striking resemblance to large, erect penises, and were quite rightly termed "pornographic".
Naturally, as these photographs were circulated on social media, Moroccan commenters exhibited a range of emotions across anger, disdain, and even amusement.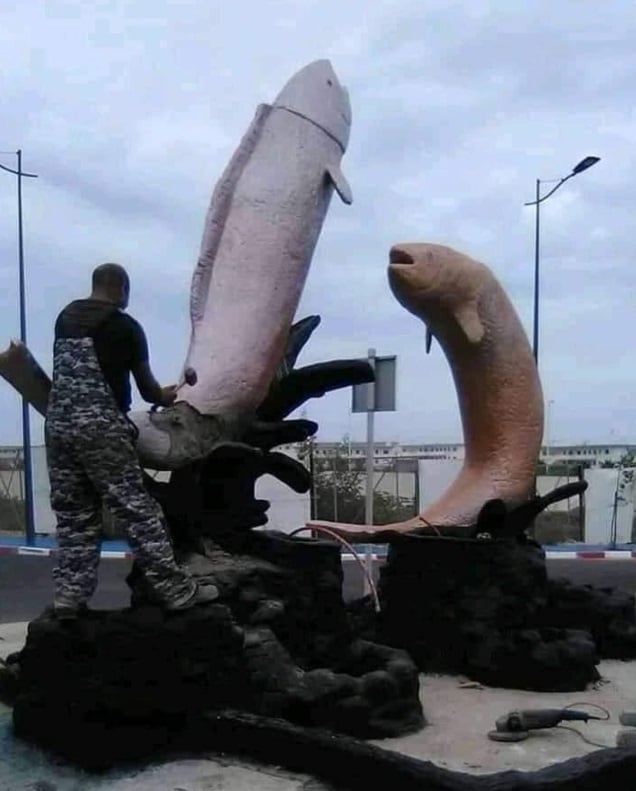 According to Morocco World News, one social media post read, "People in Kenitra and Mehdia told local authorities they want reforms in the city. And authorities bring them these statues."
Another noted: "Pornographic fish. People in Kenitra requested for reforms, authorities [gave them this]." Clearly, this is not what people had in mind while requesting reforms.
In fact, some people have gone as far as to suggest that erecting these statues (pun intended!) was a horrific blunder and a waste of money.
Indeed, the situation got so out of hand that local authorities sent workers to demolish the installation on Thursday (27 September).
Although the sculptor's identity remains unknown, some of the residents of Mehdia suspect it may have been the brainchild of municipal council president Abderrahim Bouras of the Istiqlal Party, who was elected in August 2019.
Given the provocative nature of the controversy, officers from nearby Kenitra were so eager to denounce any connection they may have to statues they took to Facebook to lay out their statement.
The City of Kenitra announced on Facebook: "In response to the numerous complaints from residents asking for the demolition of the sculpture representing two fish and situated on one of many roundabouts within the town of Mehdia."
"We inform the general public opinion of Kenitra, that the town of Kenitra has no relation with this topic, and that the sculpture in query will not be situated on its territory," it added.
After enduring such mockery, let's hope the Mehdia authorities will scale back their efforts (pun fully intended!) to conduct artistic reforms in the future.