The UK gambling industry is worth billions. Within this, 5% of customers are responsible for 70% of its revenue. It's always been a real issue that is only getting worse.
The Cost of Living Crisis, or a fall in 'disposable' income, is something that has affected the UK since 2021. All sectors have been hit somehow, but I bet you hadn't considered the consequences for the gambling industry.
As a way to feel like you are in control and regularly "winning," the reports of Gambling during this unstable financial time have increased. GamCare, one of the UK's leading charities, has said, "Many gamblers still think gambling activity will help improve their finances despite rising pressures due to the ongoing cost of living."
Young Adults, like so many, face the stress of not having enough funds and worry about the future. In turn, drinking, gambling, and drug issues are expected to have all increased. When these three factors are prevalent together, the damage becomes more harmful. According to the Responsible Gambling Council, "22-40-year-olds are more likely than any other age group to gamble when drunk".
As well as young adults, teenagers can be exposed to the harmful side of Gambling. The rise in technology, specifically social media, means many teenagers are being exposed to Gambling sometimes without even realizing it.
The gaming industry has a direct link with gambling problems. With tools such as in-app purchases, teenagers are exposed to gambling much younger than many may think.
Equally, adverts have a lot of power and influence:
Common Signs of Gambling Issues
Skipping social activities, work, or class to gamble
Spending less time with family or friends
Lying about how much time and money is spent on Gambling
Increased feelings of anxiety
Poor nutrition, sleep, and mood
Borrowing/ stealing money to gamble
Grown drink and drugs use
Young People and Online Platforms
According to the Responsible Gambling Council, Online Gambling is among the strongest predictors of gambling problems in young adults.
Studies show that gambling participation typically increases during adolescence and peaks in adulthood.
The UK Gambling Commission completed a survey amongst 2,559 pupils aged 11-16 in July 2022.
They found that 31% of 11-16-year-olds spent their own money on any gambling activity in the 12 months before the survey. Out of this, 78% spent it because they thought it was a fun thing to do. One in five (21%) agreed that Gambling made them feel happy, yet more (29%) acknowledged that it made them unhappy.
Among these statistics is that children as young as 11 are aware of Gambling and actively getting involved in It or at least being able to discuss it.
3 in 10 said they had seen family members they live with gamble, of which 7% indicated that it had resulted in arguments or tension at home. With the cost of living pressures, the increase in Gambling among adults directly affects future generations.
For parents, increasing social media use among young children is a worry. How easy is it for young people to get involved in gambling online? How easy is it for young people to ignore an age limit or quickly lie about their date of birth?
GamCare's Findings
GamCare and YouGov conducted an online survey in February to assess how much the cost of living crisis impacts gambling behaviors. Their sample size was 4,202 adults ages 16 and over.
The survey found that 1 in 6 people gambling at harmful levels had visited public places to avoid escalating energy costs. The cost of living isn't stopping people from Gambling; those who face an addiction will always be more likely to find new ways to fulfill it rather than eliminating their habits.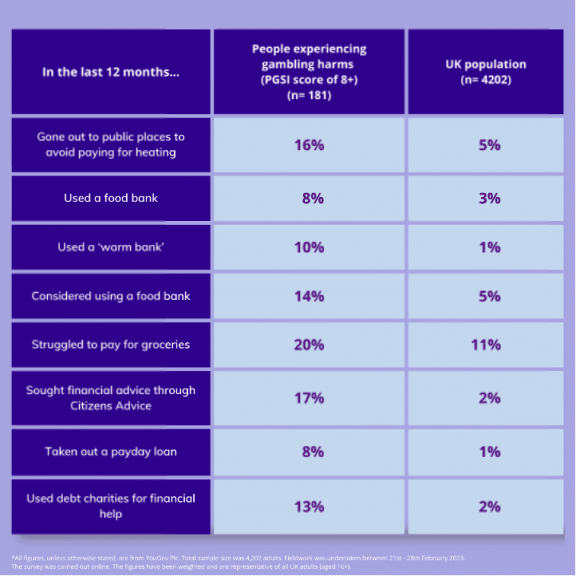 As well as parents being fearful of gambling issues starting when they are younger, GamCare highlights the impact gambling during the cost of living crisis has on parents.
The data highlights that parents with gambling issues are particularly feeling the impact. Half (50%) who had gambled at harmful levels said they had gone without essentials like food or washing clothes to afford something for their child in the past 12 months compared to 20% of UK parents overall.
4 in 10 (42%) believe that Gambling will help improve their financial situation in the next 12 months, compared to just 7% of UK adults.
Anna Hemmings, the CEO of GamCare, said, "What we are still seeing is a proportion of those who are hit the hardest by the cost-of-living crisis being the ones looking towards Gambling to ease their money worries.
GamCare is a National Gambling helpline that is open 24/7. They aim to "work with people who have been financially impacted by gambling to help them get back on track." The Freephone number is 0808 8020 133, or via a web chat at www.gamcare.org.uk.
Video game gambling, technology, and the cost of living all mean that Gambling is on the rise.