Ever get lost in HGTV or any home improvement show and think, 'I wish I could afford this place or do this to my house?' With rising costs for almost everything, this is more of a thought than something that can exist for most people. This is where TV comes to the rescue. Take tours of expensive houses and design ideas you can only dream about. Come take a tour of the world's most expensive home in New York City.
Standing 1550 feet in the air, towering over New York City, the penthouse at Central Park Tower is the largest in terms of square footage and is luxurious, with no expense spared in decoration and design. The penthouse is three floors plus a fantastic terrace with views. All of New York is in view, including New Jersey and beyond. It is even said that one can see the curvature of the Earth from there.
The penthouse's square footage is 17,545 between the three floors, the terrace is a separate measurement. And, being so high up in the air, there is no sound; the busy street noise below is not even a faint whisper. You have the view without the noise, that's a game changer.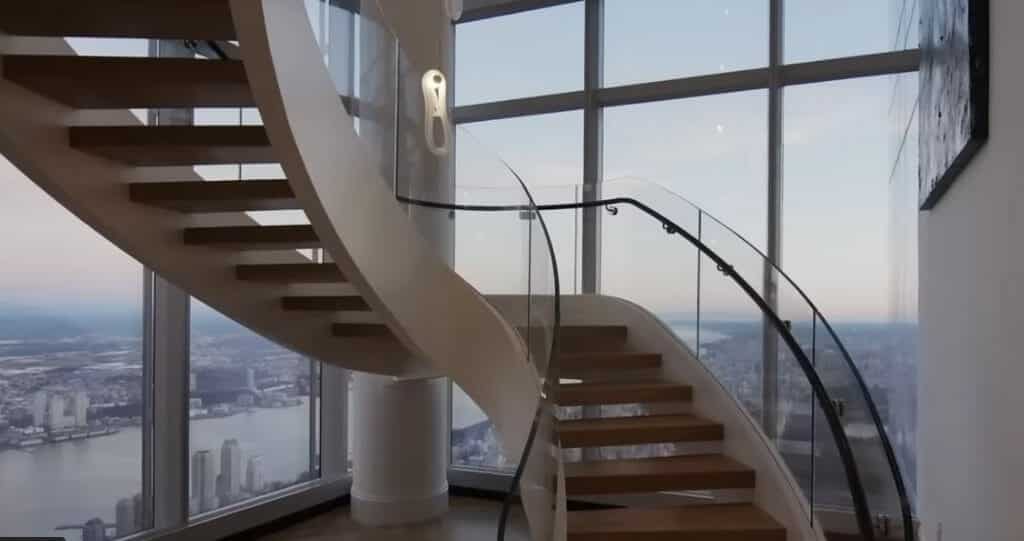 With 360-degree views from anywhere in the penthouse, you can see the sun rise and set across the city from almost any room in the house. There are also two kitchens: a family kitchen, a luxurious one, to say the least, and a chef's/catering kitchen, where you guessed it has every high-end appliance, high-end marble countertop, and technology you could imagine, and then some. The staircase pictured above winds throughout the apartment and is held together to look like it's floating but is reinforced by the pillars that also hold up the entire building.
Take Your Tour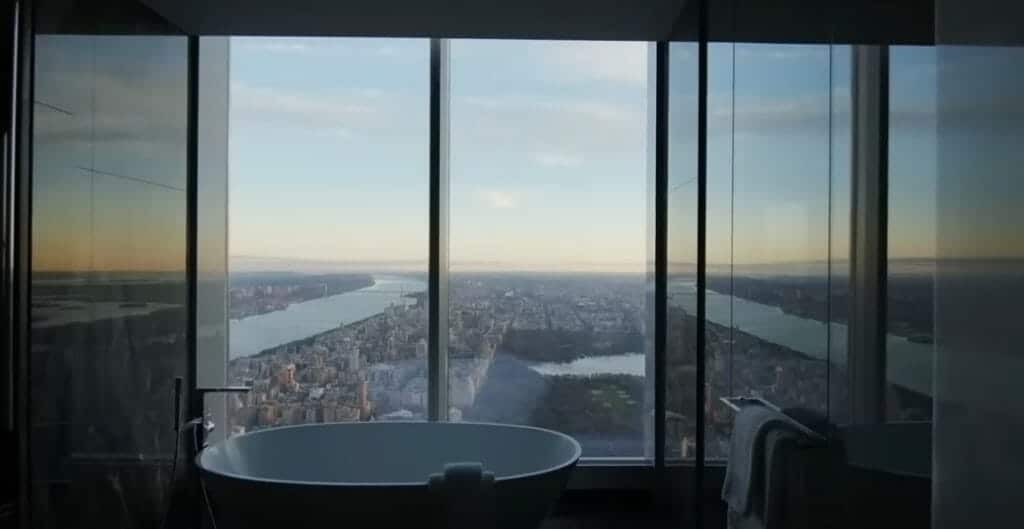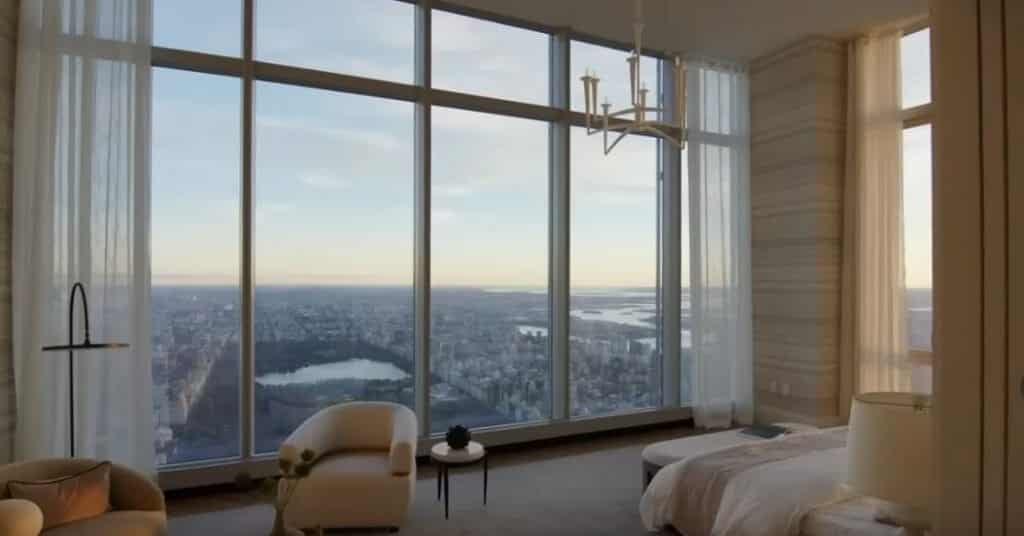 How would you like that to be your view while taking a bath? Or sitting in one of the living spaces with these views? You are looking down on everyone. Throwing a New Year's Eve party from here and watching the ball drop from not just the TV or being in Times Square but inside this penthouse and with whoever you want to be with. You are seeing all of the excitement from the privacy and security of home.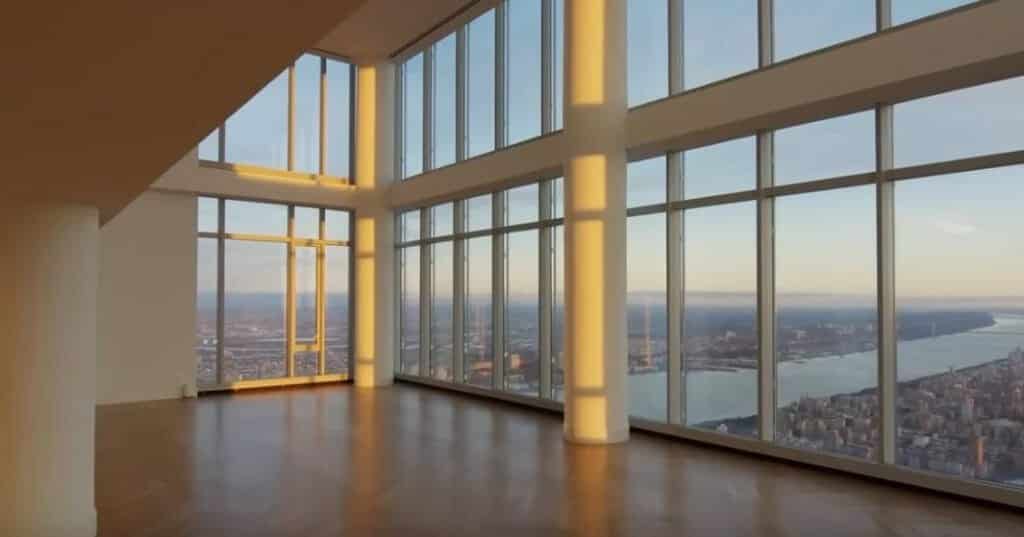 The entire third floor is a basketball court-sized ballroom/great room with even more impressive views and more space to entertain. This is a great space to throw a party, benefit, or event. It could also be another huge living space where the owner can relax and have family and friends. The room is so big it could be both or whatever their heart desires.
The building itself has tons of amenities that are for residents only: a movie theater, several indoor pools, a gym, a spa, a squash court, a basketball court, and the restaurant on the 100th floor that has incredible views and menus created by three Michelin star chefs that rotate throughout the year. Again, all for the rich who can afford all this, no matter what floor they live on.
Whoever buys this home is certainly in for an exquisite home, but let's be honest, the buyer will be affluent and hardly ever be here to live. This is a purchase to tell the world I can afford it, so I bought it, and it's mine. Sadly, this place will probably be empty for most of the year except for staff coming in to keep it clean and maintained. Even renting out would cost a fortune, and maintaining the security for this place and all of the other residents would also be an issue. Well, we all can only dream and admire from afar.
Click here to see the Bel Aire house known as 'The One,' which is also a work of art in luxury and class.