Super Nintendo World was initially set to open in the summer of 2020 but has been pushed back until autumn or winter due to the coronavirus pandemic. 
It is one of two Nintendo theme parks planning to open this year, with one of the same name currently awaiting an official opening date in Japan.
The franchise's fans have been excited to see photos released of the initial construction underway in Universal Studios Hollywood.
An industry led Twitter account posted an official update including a photo of that seems to be large green hills.
Construction is clearly still in very early stages, so this doesn't give away too much, but it's enough to get Nintendo fans excited.
The new park is due to have a large focus on the industry's hugely popular Super Mario franchise, in particular the Mario Kart game. Sources have claimed that the park will have Power Up bands for visitors that allow them to collect coins around the park. So, if you were hoping for themes of Nintendo's Animal Crossing or Zelda, you might be slightly disappointed.
The Japan based theme park that is awaiting opening contains a huge Bowser's Castle that takes up one corner of the park, and Peach's Castle in the opposite corner. There are also a number of Yoshi themes and Mario Kart rides dotted around the park.
Photos of the unopened park have circulated the internet, and it looks jam packed with fun. The park is relatively small in size, but really looks as if you're going into a whole new Super Mario world.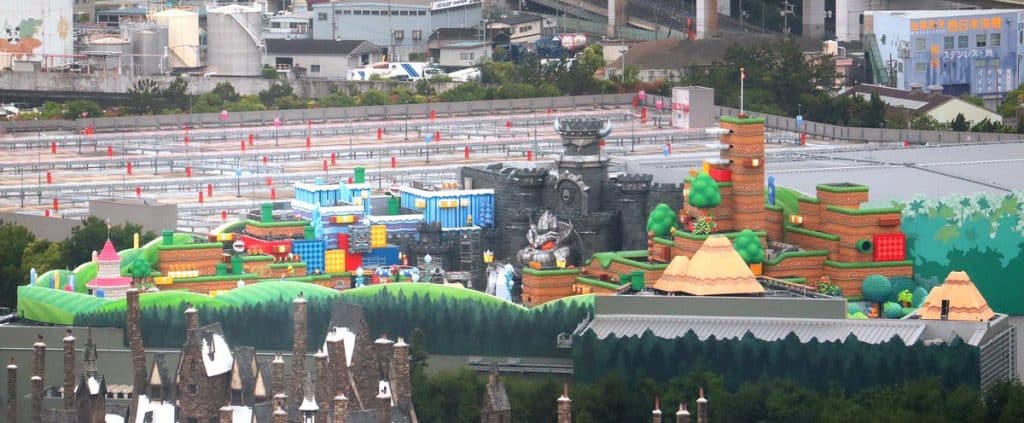 These photos have gotten American Nintendo fans very excited to see what will be done with the Hollywood park.
The 2020 opening of the parks were set to coincide with the 35th anniversary of the Super Mario series. The franchise is still the best-selling video game franchise of all time, and that doesn't look set to change any time soon.
In addition to the best selling games, there is an animated film based on Mario set to be released in 2022. The screenplay is still in the early stages of discussions, but is set to be co-produced by Shigeru Miyamoto and Chris Meledandri.
If you can't wait for the new park for your Super Mario Fix, check out everything we know about the new Mario Kart mobile game set to release next month….
Featured image via Twitter/ @Universal__Core