Students of Notre Dame University have reported their president on a site designated to report fellow students when flaunting social distancing rules.
President Fr. John Jenkins tested positive for COVID-19 after attending a White House event on September 26. The event was attended by more than 150 guests, many of whom were not wearing masks. Photos of the event show irresponsible behaviour among attendees who started mingling and hugging. While prominent figures have been telling the public to adhere to socially distancing protocols, they seemed to have no problem flaunting the rules themselves including Jenkins, the president of Notre Dame University.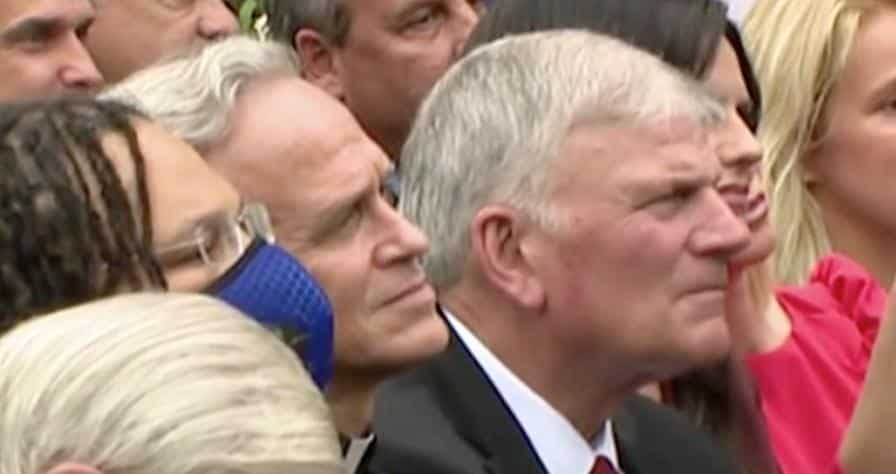 Notre Dame Safety Protocols
Back in July, Jenkins urged Notre Dame students, faculty and staff to follow safety protocols to keep the university campus open. Protocols state that members must wear masks, wash their hands and practise social distancing. In addition, the university set up a website where students can report other students if they were found breaking COVID-19 safety measures.
In August Jenkins failed following COVID-19 protocols when he was seen taking photos with students on campus. He apologised for the incident but when he attended the White House event and flaunted the rules again, three students decided to report the incident. For this, they used the website of Jenkins' own university designed to police people who weren't adhering to the rules.
for posterity pic.twitter.com/7JgdJ0soEw

— Phoenix (@internetphi) September 26, 2020
While Jenkins has now published a written apology it is unlikely he will resign or face any disciplinary action and the students are aware of this.
"I think the most important part of this is to send the message that his actions are unacceptable and not a good demonstration of leadership, especially when he made us a national example with reopening."

Ashton Weber, one of the three university students who sent the report.
Leaders Around The World Flaunt Social Distancing Rules
Notably, Jenkins hasn't been the only public figure failing to lead by example. In May Dominic Cummings, Boris Johnson's top senior advisor sparked outrage by travelling 264 miles to a home in Durham. At the time, government regulations instructed people not to travel and stay at home.
To name a few, in Germany the leader of the liberal FDP party was seen hugging a friend outside a restaurant in Berlin. In Spain, the vice president continued to go to work while his partner had tested positive for COVID-19 The Polish prime minister attended a commemoration service without wearing a mask or social distancing and in the Netherlands, a politician in charge of enforcing social distancing rules broke them at his own wedding.
It seems like leaders think they're above the law and it's problematic, as it can cause the public to do the same. Rightly so, the public and the media call these public figures out, which has once again been evident by the action that the Notre Dame students took.
'Don't Pass Coronavirus To Those You Love' – Scottish Government Video Shows How COVID Is Spread.