Online, the battle between Gen-Z and Millennials has covered various areas of debate. Gen-Z has ruled that the Millennial wardrobe staple of skinny jeans is fashion suicide, side-partings are terrible and that Millennial memes are just not funny. The most recent area of dispute is emojis. Despite Millennials having made claim to emojis long before Gen-Z, the younger generation has firmly decided that they are using them wrong. Especially the cry-laughing face.
Millennials may have been the first to use emojis, but Gen-Z has revolutionized their use and meanings. The main difference between the two generations is that Millennials use emojis as they were intended; to depict an emotion they're feeling. The ironic, sarcastic, and almost metaphorical way Gen-Z uses them is the complete opposite to this. Gen-Z's emoji use has sparked confusion amongst older generations who just don't understand their cryptic meanings.
Gen-Z's odd use of emojis mostly stems from Twitter and TikTok, where emojis are given a new meaning, become popular and begin to spread to other social media. Emojis got used to death during the height of Facebook and the beginnings of Instagram, making them a little redundant in their meaning. In turn, Gen-Z assigned new meanings to emojis, such as 🤠 signalling awkwardness. They also use combinations of emojis to create a whole new emoji, such as 👁👄👁, which portrays shock or surprise.
Additionally, Gen-Z uses emojis as direct visual representations to express things that aren't represented exactly with the emojis available. They also use emojis which literally replicate verbal slang, especially slang used on 'stan Twitter' or by the LGBTQA+ community online. For example, 🔥 means 'it's lit' and ☕ means 'that's tea' (gossip).
Gen-Z makes use of the more weird, lesser-known emojis to create combinations that depict a certain feeling or action. On Twitter, a string of positive emojis, like stars, rainbows, and fairies, is often paired with a negative message, conveying a mocking or sarcastic tone. Older generations get confused by this, as their emoji use tends to stick to the common 'face' type emojis to depict a feeling. Gen-Z's chaotic, sarcastic, and nuanced use of emojis is like a foreign language to those outside the generational bracket.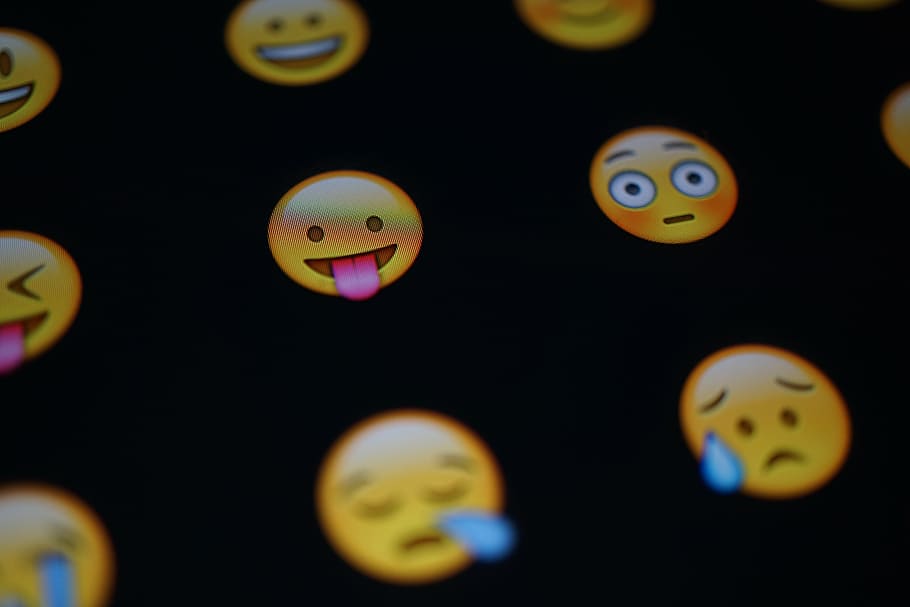 To 😂 Or Not To 😂, That Is The Question
The vast difference between Gen-Z's and Millennial's emoji use has, of course, lead to fiery debates online about which emojis are 'acceptable'. In particular, the generations are deeply divided about two of the most popular emojis: the smiling face and the cry-laughing face.
According to Millennials, the simple smiley face just means you're happy. It's an easy way to show whoever you're texting that you're in a good, light-hearted mood. However, Gen-Z views it as very passive-aggressive. It's more of a side-eye or fake smile, which adds an undertone of sarcasm to whatever message it's used in. The smiley, despite being one of the oldest ways to express emotion in picture form, is one of the least used and most despised emojis amongst Gen-Z.
The cry-laughing emoji has long held its place as being one of the most popular emojis. It is currently the most-used emoji on Emojitracker, a website that shows real-time emoji use on Twitter. It topped Emojipedia's list of the most used emojis on Twitter in 2020. Yet it has become the most hated emoji for Gen-Z. To them, it's bland and cringey, due to its overuse by Millennials. Instead, they opt to use the 💀 as a replacement for conveying laughter. It's the visual version of the slang phrase 'I'm dead' or 'I'm dying', which signifies something is hilarious.
Whether you're an emoji fiend or phobic, you can certainly marvel at the fact that the meanings of simplistic pictures have changed in such a short space of time. What was once an easy way to express how you're feeling has now become an entire internet dialect. It baffles those who aren't fluent and allows those who are to communicate far more than just 🙂 or 😟.