Ever wonder about what authors do when they have writers block and need to come up with ideas? Well for Stephen King, he is an absolute troll, especially towards the Commander in Chief himself, Donald Trump.
After tweeting about Trump's cabinet, calling them suck ups and his daughter, Ivanka, the POTUS had nothing better to do than block the renowned author. But, it seems as though the "Authors Alliance" have rallied to help King as another famous author decides to troll Trump as well: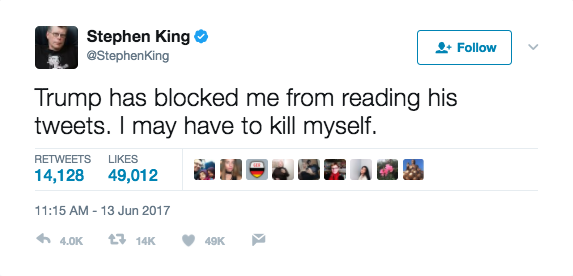 King and J.K. Rowling are only two of the plethora of people in this nation that has messed around with social media to try and push our Nation's Leader to his breaking point. In reality though, many are speaking out about the president blocking people on social media because he is violating the First Amendment, freedom of speech. It makes Trump look ever so awful because he is our president, he should be abiding by the natural rights of people of the country as well.
It's understandable if Trump, as a celebrity were to block King for his doing but he is now the president of an entire nation, it shows immaturity, lack of confidence and strength, and he now looks like even more of a rule breaker. It is safe to say Trump sounds like a 5 year old kid. Needless to say, you can't trump president Trump…because he'll just block you from all social media.
Maybe, just maybe, this is the spark Stephen King needs for a new horror story: A story of a president who wanted to control all and rule the world and slyly make people lose their voice and have them unheard forever with no one to help them… sounds like reality to me.
If you think Trump blocking people their rights of Freedom of Speech is insane and uncalled for, read about how Madrid banned "manspreading" from public transport.