Introducing the NYU dropout who's successfully turned his lifelong passion for well-sourced, delicious organic foods into a business
NYC Native Farm to People Michael Ray Robinov didn't always know he'd start his own company, but given how well it's gone with his first ten years into managing one, you might think he possesses an MBA from an elite business school somewhere.
On the contrary, Michael decided to "press pause" on his academic career only a year into his undergraduate studies at NYU Tisch's School of the Arts to chart an entirely different course, without knowing exactly where it'd take him.
Before he was ever able to ever entertain the notion of one day becoming an entrepreneur, Michael had to take his own exit off the academic highway he'd been on his whole life and choose to travel to India, Thailand and China for 5 months with his girlfriend and eventual business co-founder Anina von Haeften instead.
Such perspective altering trips, in tandem with a passion for organic food that stemmed from yearly class trips to the biodynamic Hawthorne Valley Farm in Upstate NY as a Waldorf student growing up (not to mention his years of work at the Union Square Farmer's Market since high school) put Michael in a uniquely privileged position to be someone who could bridge the gap between sustainable agriculture and urban food shopping.
Although the original farm-to-table movement stretches as far back as 1971 with Alice Water's Chez Panisse restaurant in Berkley, California, the more recent founding of the initially online-only but now in-person too Farm to People in Brooklyn, NYC dates back to 2013.
That was the year when Michael, Anina, and Michael's dad David who's been a food entrepreneur since before Michael was born decided they had what it takes to become another main character on the organic NYC food supplier stage, beginning as a humble enterprise and since evolving into the city's current best grocery delivery service, according to GQ.
If that weren't enough positive media attention, Michael and Anina were also both featured in the Forbes 30 under 30 North America Food & Drink category in 2021, highlighting the company's unique capacity to pay its farmers back $.50 for every dollar sold on average, and its decision to only sell sustainable meats, seafood, produce and dairy products all the while still generating revenue.
Though Farm to People has successfully been humming along as an online marketplace for precisely a decade now, the extra step to offer an in-person dining and community gathering space has taken more time.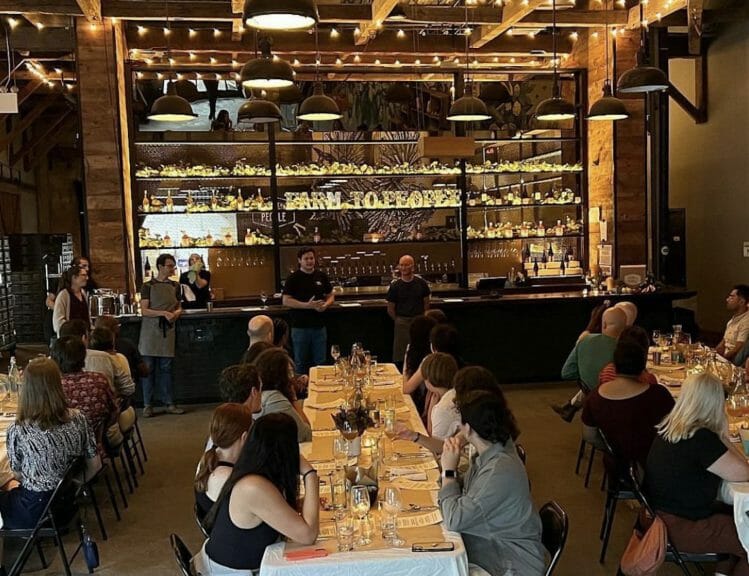 "We have always longed to be more than an 'online-only' brand since our beginnings," says the 30-year-old CEO Robinov.
"We have done holiday pop-up markets, dinners and events to bring our community together around good food. Like many other online businesses, we were very fortunate to grow a lot during the onset of the pandemic as people remained home."
Despite this fortuitous boost to business brought on by the pandemic, Farm to People still had to move more than a few times from March 2020 before settling down into their current warehouse space on 1100 Flushing Ave in Bushwick.
Having found a home for now means that Farm to People is currently able to employ upwards of 60 people, from office, to warehouse staff, to bar and kitchen staff, etc.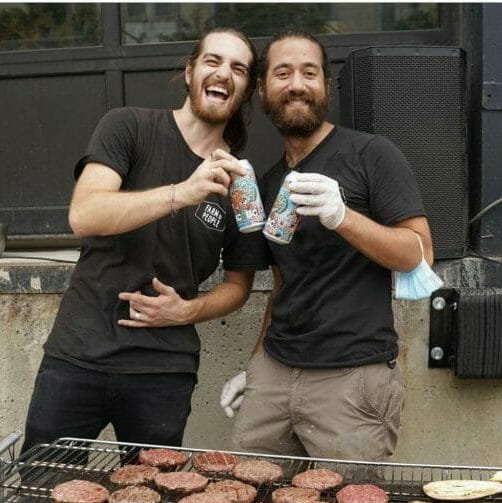 Any New Yorkers who've struggled with gift ideas in the past to tempt a foodie soul can breathe a big sigh of relief now that this ten-year old business appears to have finally found a home.
For more information on just how productive the produce team got last year, check out the company's 2022 retrospective reel with some mind boggling statistics on goods sold and causes supported both online and in person (since July 2021) at the Kitchen & Bar which even the more established major food distributors would struggle to beet.