If you love potatoes, you need to check out these amazing potato recipes from some of your favorite TikTok cooks!
You don't have to love potatoes enough to be one, but if you do, even better. By potatoes, I don't mean mashed potatoes or plain ol' baked potatoes.
I'm talking fancy potatoes, college-budget potatoes, and potatoes suitable for all times of the day. Crispy potatoes, potatoes with cheese, and potatoes with chili—You name it, there's a recipe for it!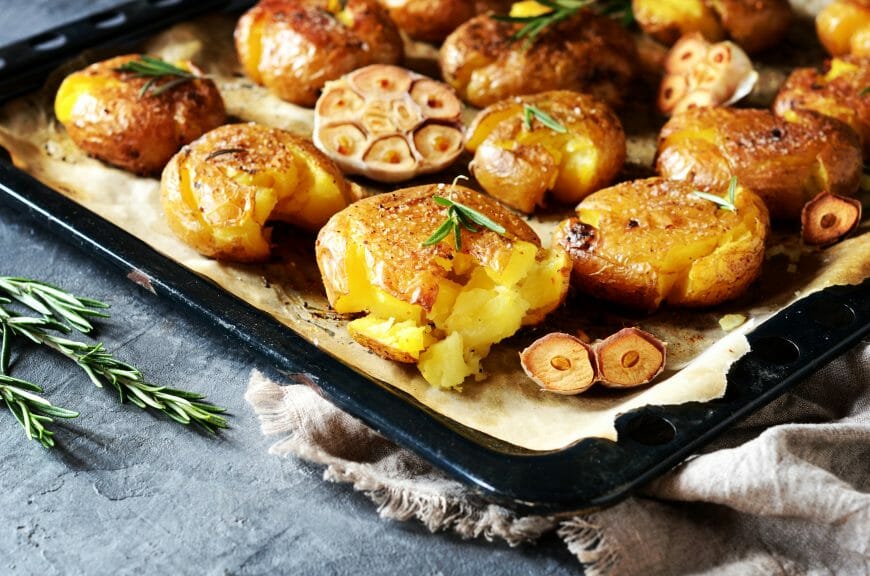 Whether it's for yourself or for a gathering, you'll be the star of the show with your TikTok-inspired potato piece.
Without further ado, check out these 12 mouthwatering recipes for your next potato party.
1. Potato Boats
It's like an elevated version of a baked potato.
Everybody does it a little differently, but the general outline is the same. You bake your potatoes whole, slice them in half lengthwise, and carve out the inside. After mashing the inside in a separate bowl, you mix your other ingredients in.
Some have added broccoli and spinach to sneak those vegetables in, while others have added eggs, ham, and bacon for more protein. Green onions and cheddar cheese are also popular additions.
Bake again until the cheese gets bubbly, and you have yourself a potato boat! It's also an easy make-ahead breakfast.
2. Cheesy Potato Scallops
Cheese and potatoes are some of the best combinations in the kitchen.
If you haven't tried this yet, you've got to put it on your to-do list. Scalloped potatoes (aka potato au gratin) are always a family favorite dish.
It's not as complex as you think, and Shereen runs through the recipe with precise instructions. Cooking is a forgiving activity, which means you shouldn't be afraid to make some substitutions if you need them.
While Shereen uses Chardonnay, it can be switched with any stock if you're looking to avoid the alcohol. Gruyère cheese can be substituted with mozzarella and cheddar, or just any cheese that melts well.
You can find boxed mixes in some stores like Walmart or Ralphs if you're not too keen on cooking. But whichever way you go, the smell will have your mouth watering.
3. Fondant Potatoes
If you need to impress someone, this is the way to do it.
At first glance, they appear to look like scallops but don't be fooled. The potatoes are cut into cylindrical shapes (scalloped shaped), and the ends are browned in a pan with butter and stock.
Carolina uses rosemary and garlic, but some have used thyme; in the end, it always comes down to preference. Garlic and butter can't steer you wrong, so it's definitely something to try.
4. Bubble Potato Pillows
Soft on the inside, crispy on the outside.
Sound good? After you fry your potato pillows, you have free rein on your style of seasoning. Since it's only made of potatoes, potato starch (or cornstarch), and salt and pepper, you can always choose to omit the seasonings to give you more leeway.
For example, you can dust them with cinnamon and sugar to make them sweet instead of savory. Whether you eat them with ketchup or dust them in other spices, make sure to fry a large batch.
You just might end up sharing with someone else.
5. Smashed Potatoes
Delicious and easy has never sounded better.
It's simple to make and doesn't require a super long list of ingredients. After you boil your Yukon potatoes, you give them a cross score and smash them with the bottom of a cup or a small plate. Sprinkle it with salt and pepper, and bake until it's crispy.
Look at that; you're already halfway done!
Carleigh uses the green goddess dressing, which you can find here, but you can keep it simple and use ketchup. Or you can add spices (prior to baking) and eat them like a chip.
6. Loaded Potato Poppers
No béchamel, no roux, and very little prep work. Interested?
After slicing your potatoes widthwise into quarter-inch thick slices, mix with olive oil, salt and black pepper. If you like it spicy, you can always toss a little cayenne powder in the mix.
Pop them in the oven until they're fully cooked, and add on some cheese, bacon bits, and green onions. You can always play around with the combinations, but after you're done, put them back in the oven for a few minutes to melt the cheese.
Perfect finger food for parties.
7. Cheesy Potato Pancakes
Potatoes, cornstarch, sugar, and cheese.
If you have these four ingredients, you need to try Jasmine and Tea's cheesy potato pancakes. Crispy on the outside and cheesy on the inside; what's not to like about that?
You only need about one potato for this recipe. After boiling until soft, mash it up with some cornstarch and sugar (you can omit the sugar if you want), and flatten a little ball in your hand.
Place cheese on the inside and close up the potato ball to make a rounded pancake. Pan-fry both sides until crispy, and you're done!
Make sure to eat it hot for that cheese pull!
8. Spicy Potato Noodles
You've heard of rice noodles, egg noodles, and wheat noodles, but how about potato noodles?
It's much simpler to make than you may think. For the noodles, all you need is potatoes, water, and cornstarch (some use potato starch instead).
As for the shape, it's totally up to you. While Zeinali uses a bottle to create a mushroom shape, others have done a thick noodle shape.
Zeinali uses chili powder, soy sauce, and hot oil, but you can always use any combination you like.
9. Sichuan Shredded Potatoes
You might know the dish under a different name, tǔdòu sī (土豆絲) or stir-fried shredded potatoes.
In a stir-fry, it's common to use noodles or just vegetables as the main ingredient, but in this case, it would be potatoes. This particular dish uses sweet, spicy, and sour components thanks to the sugar, chilies, and vinegar.
Kenny also mentions you can add Sichuan peppercorn, garlic, and ginger to give it that Sichuan touch.
You can adjust the ratio to your liking to make it sweeter or less spicy, since stir-fries are recipes that are easy to modify.
10. Potato Egg Breakfast
Hash browns are always a good breakfast option, but you know what makes it better? Eggs and ham, of course!
All you need are potatoes, eggs, a little bit of flour, green onions and some seasoning. After prepping the potatoes, all you need to do is throw the ingredients together and pan-fry them.
As pinkbunny does, you can add an extra egg or omit it. Totally up to you.
11. Extra Crispy Potato Pancakes
Extra crispy? Sounds good to me!
And it's super easy, too. All you need are potatoes, cornstarch, and salt and pepper. It's the same concept as Jasmine and Tea's cheesy potato pancakes, but you don't need cheese.
In this recipe, you grate the potatoes and stick them in ice water. Squeeze out the water and add seasoning. All you have to do now is pan-fry.
Although the recipe shows one large pancake, you can always make a smaller version if it's more convenient. Some have opted to add shredded zucchini to make a healthier version, but of course, the ultimate decision lies in your hands.
Don't be afraid to change it up a bit!
12. Potato Cheese Sticks
Nothing beats a meal when it's delicious, cost-efficient, and easy.
All you need is one large russet potato, mozzarella cheese, cornstarch, salt, garlic and onion powder, and paprika.
If you want to take it up a notch, you can place some cheese inside the mixture and form it like a mozzarella stick. It might help to have mozzarella sticks on hand for that, but it's worth it!
The TikToker fries the sticks in oil, but you can always air-fry if you prefer an alternative way.
In Conclusion
Is your mouth watering yet? Mine is.
Potatoes are some of the most versatile ingredients in the cooking world. There are a million other potato recipes to try, all just as delicious as these are. As a certain Hobbit knows:
"Po-tay-toes! Boil 'em, mash 'em, stick 'em in a stew."

– Samwise Gamgee, The Lord of the Rings: The Two Towers
So what are you waiting for? Don your apron and pick up a potato. It's time to get cooking!