In a society where only running forward is allowed, Luo Huazhong took it upon himself to pioneer a movement revolting against the cult of ambition in the People's Republic of China. How'd he do it? He lied down.
Before becoming a revolutionary, Huazhong was a factory worker in China, where the only compensation for your work is lost fingers and low pay. It was in the factory where he discovered his burning desire to do nothing.
He quit his job and moved to Tibet, where he decided he could get by on odd jobs and $60 a month from his savings. He called his new lifestyle "lying flat" and posted about it in his blog.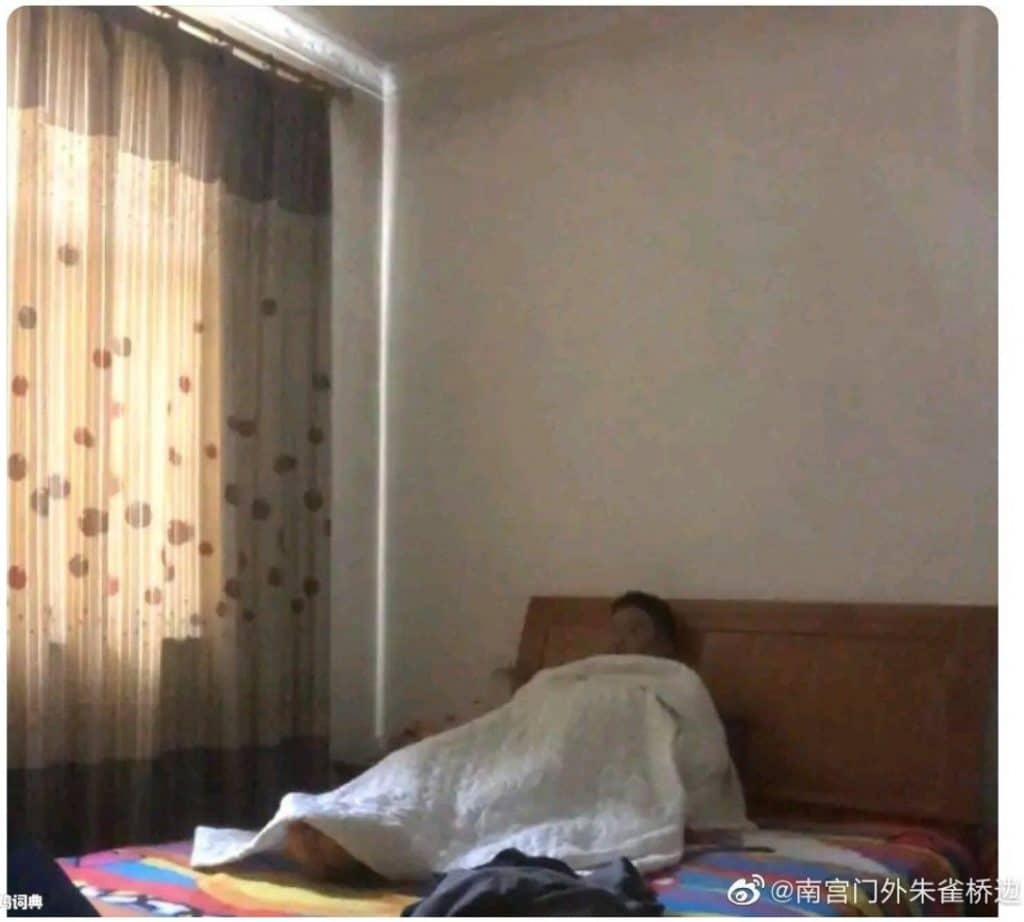 The definition of "lying flat" goes as follows: "Lying flat does not mean being lazy and irresponsible, but not pursuing more material or reputation while guaranteeing the necessary expenses and taking up the responsibility of parenting parents."
As the definition says, this is not about lazy young people being lazy young people. Since its inception, the lie flat movement has been a resistance to "a cycle of horror" from high-pressure Chinese schools to jobs with seemingly endless work hours, novelist Liao Zenghu wrote in Caixin, the country's most prominent business magazine.
"In today's society, our every move is monitored and every action criticized," Liao wrote. "Is there any more rebellious act than to simply 'lie flat?'"
An article from Caixin succinctly encapsulates the lie-flat philosophy:
"Interest in 'lying flat philosophy' shows the rising prominence of an alternative way of thinking among young people who have decided to stop striving for mainstream goals such as buying a house, getting married, and having a child. Instead, the philosophy's proponents dream of living a low-key lifestyle in a smaller place, where they won't end up as wage slaves consumed by consumerism."
How Has This Movement Affected Americans?
Since its inception, Americans have been taking note of the lie-flat movement, and some are participating in it. Frankly, to say that Americans are just interested in this philosophy is an understatement.
The tweet above, posted by American user @hollabekgrl, amassed over 400,000 likes. That is viral af. In both America and China, there was a time in which the "norm" was to work hard, get married, and have children.
However, as housing prices skyrocket and work hours increase, both culture's young people are yearning for the simpler things in life, whether it's sitting on our porch or lying flat.
After graduating from my private high school in 2018, the first thing I wanted to do was lie down. Now, as I approach my final year of private university, I expect to do the same thing after receiving my degree. A lot of people my age share the same sentiment – we're burnt out, and we haven't even entered the workforce yet.
China's message in response to the lie-flat philosophy was stern. "Struggle itself is a kind of happiness," the newspaper Southern Daily, published by the party, said in a commentary. "Choosing to 'lie-flat' in the face of pressure is not only unjust but also shameful."
Final Thoughts
I'm not saying that the solution to the adversity of growing up and making something of yourself should be avoided. However, the grind and hustle culture isn't the answer either.
All I know is, I'm going to work hard, play hard, and buy a house with a FIRE porch🔥
Read More: Japanese Work Culture is Deadlier Than Most Americans Realize