The coronavirus continues disrupts normal life. Hospitals report more confirmed cases every day. US universities are closing traditional classrooms and moving to online programs for coursework. The president suspended American travel to Europe. Essentials like hand soap and paper towels leave the shelves quicker than they can be stocked. The sudden panic may leave you wondering: did no one see this coming? 
With almost 700 episodes, movie and video game adaptations, and a span of over 30 years, few things have lasted longer than The Simpson's run on television. It is the longest-running American sitcom…with a strange knack for predicting the future.
According to some viewers, the beloved TV show anticipated the presidency of Donald Trump, Disney's purchase of 21st Century Fox, and smartwatches, to name a few examples. But what else?
Twitter users insist that The Simpsons predicted the 2019 Coronavirus outbreak. They cite the 1993 episode 'Marge in Chains,' where Homer receives a package from an infected worker in Japan. The box contains a visible virus cloud that spreads through the town. Following this escaped disease, the Springfield News cautions the public on a Coronavirus outbreak.
At this point, The Golden Globes need to make a "Best Prediction" category for the Simpsons writers who again predicted something decades in advance. Or did they?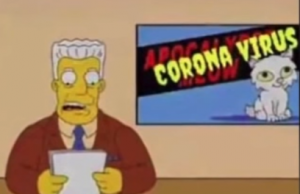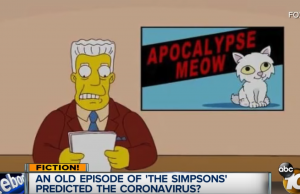 According to a source on Mirror, the hype is fake. The images referred to in Tweets were changed to support this theory. Someone faked the pictures. The newscast that read "Corona Virus" on its television graphic actually said "Apocalypse Meow" when the episode aired. Though convincing with a passing look, the altered screen is obvious when given a second glance.
People familiar with the episode caught the fake heading in the Tweets. One flaw in the logic is that in the episode, the virus comes from a factory in Osaka, Japan, rather than Wuhan, China, like in reality. Only a small amount of people noticed this blatant inaccuracy, and most Twitter users gladly shared the theory.
This is yet another example of the importance of due diligence. Even joke theories like this one have the ability to shape society. When presented with information with questionable origins or too-good-to-be-true characteristics, do a quick fact check. A simple search will usually suffice.
Featured image via: Fox