Sped-up songs are anything but a new concept. Its popularity and increased use on TikTok had become the new normal. It wasn't until I saw Steve Lacy's official release of "Bad Habit – Sped Up" on Spotify that I realized that these altered songs were becoming more than just a trend.
Beyond Social Media
Avid TikTok and social media users are participants of the sped up music phenomenon. This "phenomenon" alters the way a song originally sounds into a newer and quickly digestible form; its high pitch, fast, and bouncy sound is very appealing. Users use these audios for any type of content. It is typical in vlogs, fan edits, dance challenges, lip syncing videos, makeup routines–you name it. This audio trend has grown so viral that it started racking up millions of views and began to transform beyond TikTok and social media.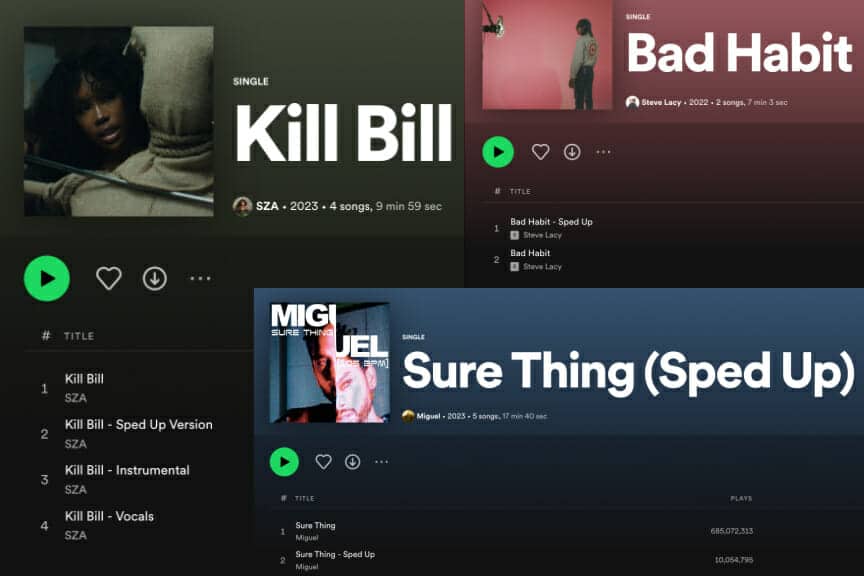 Recently, artists' labels are using this trend as an opportunity to generate more streams for their music. Because they recognize the virality of their songs, artists such as SZA, Lucky Daye, Cafuné, and Miguel are releasing/re-releasing sped-up versions of their songs on official music platforms. Spotify has even created sped-up focused playlists containing all sorts of sped-up songs. Here you can see which artists have contributed to the trend and successfully enough, increase their streams. Having these official releases makes it more accessible and easy to contribute to their songs' success.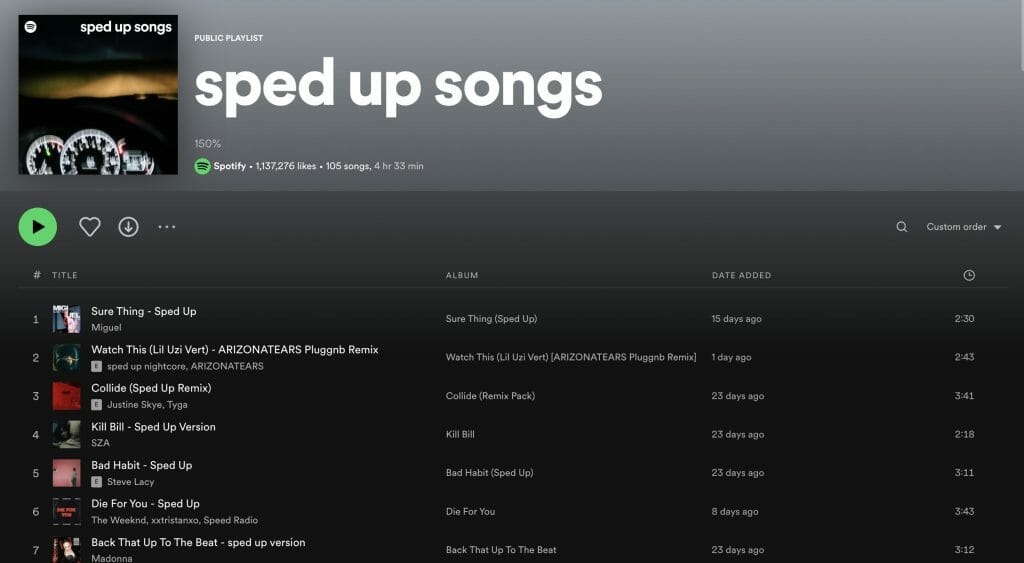 TikTok holds a powerful influence in the music industry today. What plays on TikTok most likely plays on the radio regardless of when it was released. The app has a habit of reviving old songs to even get them on music charts again. According to the Billboard Top 100 Chart this week in February 2023, The Weeknd's "Die For You" lies at number eight, despite the song's release from seven years ago. Additionally, Miguel's "Sure Thing – Sped Up", the song originally released in 2010, has become his fourth most popular song according to Spotify. These are the results of trending audios reaching beyond social media and really impacting the music industry.
The Sped-Up Renaissance
However, the music alteration concept has always been around. Sped-up music has grown since the early to mid 2000s. Trends such as 'nightcore music' and 'chipmunk version' of songs were already so popular at these times. Like today's sounds, they were fast and always high pitched. These are often found on Youtube and, unlike today, never actually released as official versions from the original artists. Yet, there was a small, but solid community of people who really enjoyed this quick, bouncy, and high pitched sound. So, why is it now that this music trend is managing to change the music industry?
With a new generation of listeners, especially one that has grown with the internet, it's no surprise that social media has affected their habits, including their attention spans. Everything today is essentially "sped up"–the way we get information, news, and even our groceries have become a much faster process. Today, the average attention span for adults is about 8 seconds (this is less than a goldfish!). Yet, having a quick consumption of content has become so normalized, that even sped-up music has grown successful. It could be satisfying in the way it sounds, or simply the fact that it allows listeners to absorb the music as fast as possible.
Steve Lacy vs. TikTok
On another note, the sped-up music phenomenon has also changed the way people come to know and become fans of artists and new music. Although TikTok could be a way of discovering new artists and music, the virality of music on the app has become a double-edged sword.
Steve Lacy has been in the music game since 2013, yet gained mainstream popularity after he released "Bad Habit". The song grew extremely popular to use on TikTok and as a result, so-called "fans" attending his concerts would only sing his popular songs, ultimately disregarding and disrespecting him as an artist.
Video clips of Steve surfaced online of him speed singing on purpose and talking back to fans solely due to the frustration he feels for simply being viewed as just some trend. And although it gave him lots of traction, this just shows that people love to value the surface level of what they're known for and nothing more.
TikTok has definitely changed the way people listen to music and the way the music industry wants to work. Nowadays, the popularity of the song on social media has equated to industry success. Sped-up music is enjoyable for its sound, but it can lead to compromising the artists' work as a whole. With sped-up songs on the rise, who knows where the music industry will go from here.