Mahershala Ali and Kevin Feige (Marvel Studios President)
Source: Forbes
Marvel Studios has announced that it will be remaking the Blade franchise with actor Mahershala Ali taking the reigns from the original Blade, Wesley Snipes. If Ali looks familiar, you may recognize him from his roles in Moonlight (2016) and Green Book (2018); both of which, he won Oscars for. For those that don't know about Blade, the series centers around half-vampire Eric Brooks, better known as Blade, who possesses all of a vampire's strengths with none of its weaknesses. Using his abilities and martial prowess, he hunts vampires to defend humanity. One of the most groundbreaking facts about this announcement is the fact that Ali will be the first ever Muslim actor to play a lead character in the Marvel Cinematic Universe (MCU).
As Marvel enters its new phase of movies, diversity is strong. From the cast of the upcoming The Eternals featuring Pakistani-American actor Kumail Nanjiani, Mexican-American actress Salma Hayek, and deaf actress Lauren Ridloff, to Black Widow, Marvel's second female-led franchise (Captain Marvel being the first), and Shang-Chi and The Legend of the Ten Rings, Marvel's first Asian-led title. It would appear that the MCU is only growing in diversity, which is a welcome sight for many.
Wesley Snipes, who portrayed the character from 1998 to 2004 across three movies (Blade (1998), Blade II (2002), and Blade: Trinity (2004)), has shared his absolute delight over hearing the news of Ali's casting. A former Muslim himself, Snipes congratulated the actor using common Muslim terms such as salaam (peace) and inshallah (God-willing):
"Congratulations and Salaam [sic] to Mahershala Ali, a beautiful and talented artist whose expressions I look forward to experiencing for many years to come. Inshallah, we will someday work together."
Muslim characters do exist in Marvel's comic universe. Arguably, the most notable being Kamala Khan, a teenage Pakistani American from Jersey City, New Jersey with shapeshifting abilities who assumes the mantle of Ms. Marvel after her idol Carol Danvers, the current Captain Marvel. Now that Captain Marvel has been introduced to the MCU and Marvel has made clear their intention of expanding diversity in their films, could we see Kamala Khan in the flesh? It would be nothing short of lovely seeing her fighting side by side with the other heroes.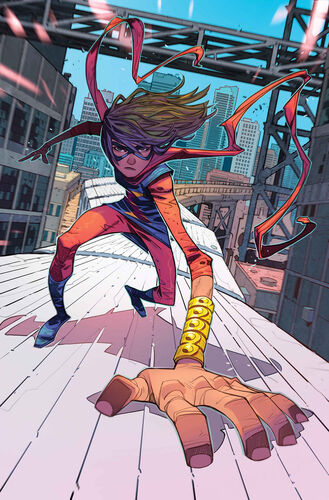 As always, Marvel has given us tons of projects to be excited for. I, myself, cannot wait to watch ever single one of them. Cheers!