The news of Meghan Markle and Prince Harry parting ways with Spotify marks another shift in their evolving media endeavors. The joint statement from their production company Archewell Audio and Spotify expressed mutual agreement in the decision, and they expressed pride in the series they created together.
While no specific reasons were provided for the split, it was mentioned that Meghan Markle is continuing to develop content for the Archewell Audio audience on another platform. This suggests that the couple is exploring different avenues to continue sharing their stories and connecting with their audience.
Meghan's podcast, "Archetypes," had a successful first season on Spotify, garnering widespread attention and earning the distinction of being the number-one podcast in several countries. The show delved into discussions about stereotypes and barriers that hold women back, featuring notable guests who shared their experiences and insights.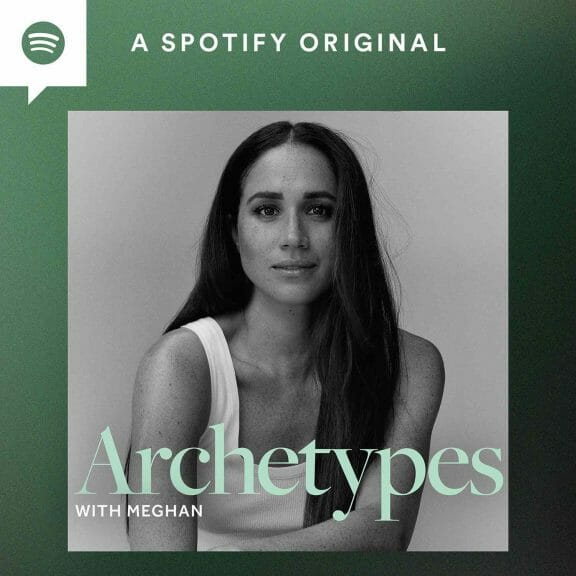 The podcast received positive reviews and even won the People's Choice Award for pop podcast of 2022. Meghan expressed gratitude to the supporters and fans of "Archetypes" and highlighted the collaborative efforts that brought the series to life.
Since stepping back from their roles as senior members of the royal family, Meghan and Prince Harry have ventured into various media partnerships, including Netflix and Spotify. These platforms have allowed them to explore different storytelling formats and amplify voices and stories they believe in.
As Meghan and Prince Harry embark on this new phase of their media journey, fans eagerly anticipate the unique perspectives and projects they will bring to the table. The couple's ability to engage and connect with audiences has been evident, and it will be intriguing to see how they continue to use their platform to foster community and drive meaningful conversations.
While their departure from Spotify marks a change in their media landscape, Meghan and Prince Harry's commitment to sharing authentic stories and making a positive impact remains steadfast. As they explore new opportunities and platforms, their message of growth, resilience, and the power of shared experiences will undoubtedly resonate with their audience.
It's important to note that Meghan and Prince Harry's departure from Spotify comes amidst the platform's announcement of employee cuts. Spotify recently revealed plans to reduce its workforce by approximately 2%, affecting around 200 employees. This shift in strategy reflects the evolving landscape of the podcasting industry and the need for platforms to adapt to changing market dynamics.
The Duke and Duchess of Sussex initially entered the podcasting space in December 2020 with their holiday special episode, which featured notable guests and even a cameo by their son, Archie. This foray into podcasting showcased their ability to engage listeners and deliver meaningful content, setting the stage for the launch of "Archetypes" and subsequent projects.
With their production company, Archewell Audio, Meghan and Prince Harry aimed to create a platform for diverse voices and stories that fostered community and shared experiences. Their podcasting endeavors have allowed them to explore important topics and challenge societal stereotypes, all while connecting with their audience on a personal level.
While the end of their partnership with Spotify signifies a new chapter in their media journey, it also presents an opportunity for Meghan and Prince Harry to explore different platforms and expand their creative endeavors. Given their multi-year deals with Netflix and other potential ventures, it's evident that the couple is committed to using their platform to effect positive change and amplify voices that often go unheard.
As they move forward, Meghan and Prince Harry will continue to shape the media landscape with their unique perspectives and storytelling abilities. Their influence reaches far beyond their royal titles, and their dedication to making a difference in the world remains unwavering.
Fans and supporters eagerly await their next projects and the impact they will have, both within the media industry and in the larger context of social change. Meghan and Prince Harry have shown resilience and determination in carving out their own path, and their departure from Spotify only signifies the beginning of an exciting new phase in their media journey.