Hold onto your hats, folks, because there's some big news in the music world! Kesha and Dr. Luke have put an end to their courtroom drama. That's right, they've reached a settlement in their long and bitter defamation battle, finally closing the chapter on this tumultuous saga.
Now, the details of this settlement are as elusive as a cat chasing its tail. We don't have the inside scoop on what they've agreed upon, but hey, at least they've found some common ground. It's been a winding road, my friend, nearly a decade of legal wrangling. Do you remember when Kesha accused Dr. Luke of an alleged 2005 rape back in 2014? Oh boy, it sparked a firestorm, with denials and counterclaims flying left and right.
But today, Kesha, the songbird with a voice that can move mountains, has something to say. In her statement, she reveals that only the Big Guy upstairs truly knows what happened that fateful night. She's been consistent all along, sharing that she can't fully recount every single detail. It's a reminder that some things remain shrouded in mystery.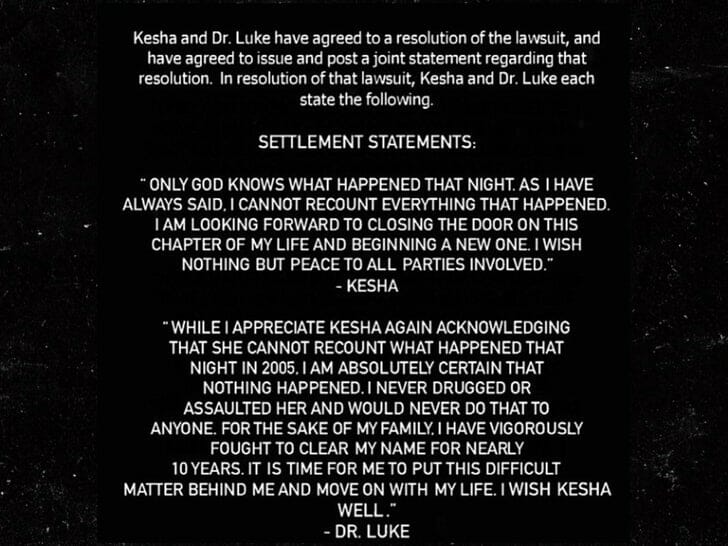 With grace and a touch of relief, Kesha looks forward to closing the door on this turbulent chapter of her life. She's ready to turn the page, to embark on a fresh new journey. In her heart, she wishes nothing but peace to all parties involved. That's the mark of a resilient soul, my friend.
Now, let's hear from the man himself, Dr. Luke. He appreciates Kesha acknowledging that she can't provide a comprehensive account of what transpired that night she made her claims. And he stands firm, vehemently denying any wrongdoing. In his words, he never drugged or assaulted her, nor would he ever harm anyone. For nearly a decade, he has fought tooth and nail to clear his name, all for the sake of his family.
And now, it's time for Dr. Luke to put this heavy burden behind him. He's ready to forge ahead, to move on with his life. There's a tinge of hope in his voice as he wishes Kesha well. It's a glimpse into the complexities of human emotions, my friend, even amidst the stormiest of legal battles.
Imagine, just a few weeks before the trial was set to commence, they found a way to end this battle. It's like a surprise twist in the plot, a resolution that nobody quite saw coming. The music industry breathes a collective sigh of relief, knowing that this dark cloud has dissipated.
So, let's raise a glass to closure, my friend. Here's to Kesha and Dr. Luke, two artists who've navigated the turbulent waters of fame and found a way to settle their differences. As the curtains fall on this legal drama, let's hope that both of their paths lead to brighter days and harmonious melodies.