There is hope that the award-winning AMC series, Breaking Bad is not yet over. Rumors about there being a potential movie has had all us Heisenberg and Jesse lovers on our toes, but confused as to whether or not we'll be seeing our beloved Bryan Cranston again, after having watched him supposedly die in the last episode. 

A light shone down when both Bryan Cranston and Aaron Paul posted a photo on Instagram of mules in the desert.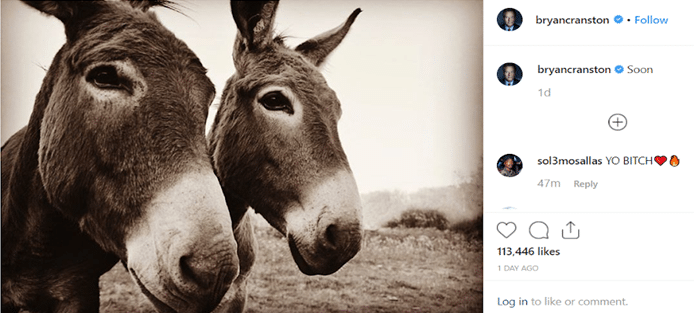 A picture says a thousand words and fans are perceiving these mules in all sorts of ways. Also, just that simple word "soon" has got me anticipating. This sneaky act between the two must have some secret meaning, and I'm going to assume we'll be seeing Cranston in the company of Paul…soon.

Unfortunately we're left only with this, and are still waiting for a release date and official trailer. In the meantime, I guess we rewatch the series–it's still on Netflix!–put on our old merchandise, and pray that the movie is real and that the real Heisenberg will be playing a leading role. Let's be honest, a Breaking Bad movie could not survive without Cranston.

Want to know who else is to supposedly star in the new movie? Check out the other characters who will be making a comeback.