Way back in 1965, a young 18-year-old began an epic journey to become Mr. Universe. The enviable mountain of muscles would eventually become a blockbuster movie star, fitness icon, and politician. We are of course talking about the one and only Arnold Schwarzenegger. Now it seems he can add a new hat amongst all his others as Earth's chosen defender from an alien invasion.
BLAZE TV in the UK polled around 2,000 people during their UFO Week asking them who they thought best equipped to handle an alien invasion. Surprisingly, the list was full of A-List Hollywood celebrities, but very few politicians. (Goes to show who might actually be running the world, huh?) BLAZE compiled the list to show the Top 20, and the list is pretty amazing:
TOP 20 CELEBRITIES WHO WOULD BEST DEAL WITH AN ALIEN INVASION via BLAZE TV
1. Arnold Schwarzenegger
2. Will Smith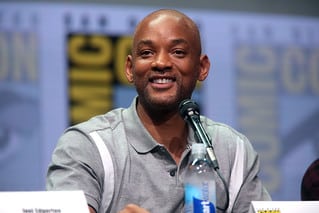 3. Sir David Attenborough
4. Bruce Willis
5. Tom Cruise
6. Harrison Ford
7. Sigourney Weaver
8. Donald Trump
9. Gillian Anderson
10. Nicola Sturgeon
11. Chris Pratt
12. Boris Johnson
13. Piers Morgan
14. William Shatner
15. Simon Pegg
16. Tommy Lee Jones
17. David Duchovny
18. Mel Gibson
19. Kamala Harris
20. Joe Biden
When he got the news that he was top of the list, Schwarzenegger tweeted:
What do you think about this list from BLAZE TV? Who surprises you on this list and who do you think should be in the Top 20? Let us know in the comments. And as always, from all of us at Trill!: don't forget your mask, wash your hands, and go get your COVID vaccine ASAP.