From escaping the world and embracing confidence in femineity to honoring the history of fashion, this year's Fashion Week collections come from the hearts of the designers.
While the underlying meaning behind these collections may not be apparent at first glance, they are inspiring and touching the hearts of the audience.
Embracing Feminity
Throughout the various collections this year, feminity is a prominent theme as the designers look toward the woman's spirit within their designs. For one designer, Paul Costelloe, reintroducing the essence of femineity became the goal of his collection. For this year's Milan Fashion Week, Costelloe's collection aims to create a different idea of the essence of romance and feminity in the fashion industry. In doing so, Costelloe returns to the old styles of beautiful fashion shows and models.
Angels grace the runway as Bluemarine's enchanting collection details the moody and sensual Bluemarine girl. In their Milan Fashion Week show, a butterfly motif dances throughout the collection, representing the Blumarine girl's free actions based on her whims. The designs consist of flowing fabrics surrounded by a golden atmosphere, which expresses the mercurial lightness in which women move.
Slim-fitting silhouettes move down the runway, although still free, expressive, modern, and strong. Bustiers, corsets, and short dresses made of PVC are studded in crystals and rhinestones. In contrast, flowing sashes and tunics wrap around breezy blouses, emphasizing the lightness within women.
The Designs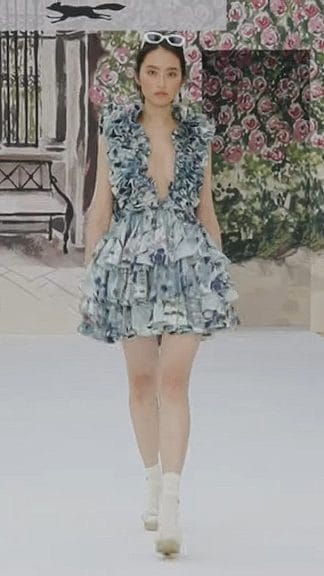 Fierce, scintillating, and mystifying encompass the women of Marco Rambaldi's latest spring collection. There is one word to describe Rambaldi's spring designs, "Malafemmina," which is the title of his collection. The Italian word refers to a mischievous woman of ill repute who is irrevocably free in herself. Rambaldi is giving a positive connotation to the term that is typically used as a derogatory term against women whom men usually fear.
This collection includes leather heart-shaped bodices, slip-dresses, and suggestive long skirts that hint at lingerie-inspired style. The brand's recognizable heart-shaped stitching is brought back this season as the brand aims to start where the first began and then reach towards what will be. In addition, hand-applied chains crystals combined with Priscilla Anati Studio jewelry represent the allure of headstrong women.
During Paris Fashion Week, Elie Saab creates a collection through the eyes of women. A collection of day and night that has no limit to what a woman can wear, Elie Saab creates a collection that women want to wear and what women like to wear. In doing so, undeniable femineity shines through and captivates the spirit and personality of a strong-willed and vibrant woman. Accordingly, Saab designs a colorful collection of breezy designs perfect for any occasion for all women to embrace themselves fully. This year, Saab envisions the Elie Saab woman with an effervescent spirit as she is colorful and vibrant.
Escapism
Getting away from all the worries of the world may not be possible in actuality, but through clothes, the impossible may not be so out of reach. For Michael Kors' Spring 24 collection, a vacation can last forever as the memories will always stay with you. Traveling can be more than just a fun time; it can transport you and create everlasting memories. This collection comes from Kor's most memorable times with his late mother, traveling.
Traveling is all about kicking back and having the time of your life. Accordingly, Kors creates a mood of barefoot glamour, where one can have fun with fashion. A vacation is when one feels the most joyous, ecstatic, and romantic; it's an escape from the problems surrounding us. Whether it is a physical vacation or a vacation of the mind, this collection embraces all the joys of traveling.
A beige color palette embodies the romantic and carefree sensations of vacationing while creating a suggestive nude concept. Sheer kaftans, mini dresses, and mesh and knit designs create the perfect wardrobe for any traveler. The multiple variations of lace, from delicate overlays to intricate patterns, contribute to the flirtatious allure of the subtle hints of skin and suggestive nude.
The Designs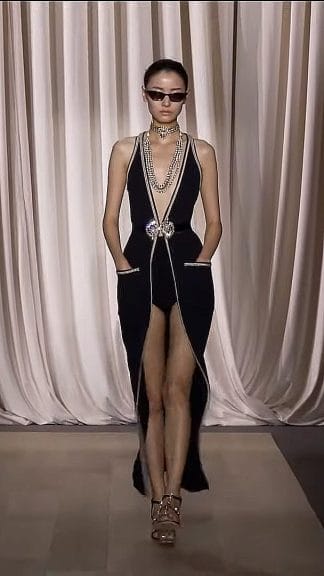 Giambattista Valli's Spring 2024 collection pulls inspiration from the Grand Tour for his latest escapist collection. From the 17th century to the early 19th century, the Grand Tour was a custom of traveling around Europe to the primary destination of Italy. Valli's inspiration came from the idea of exposing oneself to various cultures and the journey of self-discovery through this form of escapism.
For Valli, the Grand Tour is almost a metaphorical journey of introspection. It's a quest for self-improvement and knowledge while also appreciating the beauty of Italian culture over time. A time when young people embark around Europe to discover and experience different cultures. Overall, Valli details the journey of self and cultural discovery as he blends timeless masterpieces and contemporary styles.
Valli's collection reminisces on the cultural journeys of the past, which shape the future. Throughout the collection, Valli incorporates souvenirs one may pick up during their travels, including printed mini-Roman mosaics on white cotton fabric. Subtle both details decorate a porcelain white belted dress with an open front, an off-the-shoulder halter dress, and a floor-length low scoop neckline dress. The transparency of the white macrame lace creates a whimsical allure that captures that of a Valli girl.
Preserving the Past
This year many designers honor the history of classic fashion in various forms. During London Fashion Week, designer Erdem Moralioglu looks back on British history with picturesque experimentation using signifiers of Britain's past. Erdem's biggest inspiration for this collection is the late dowager Duchess of Devonshire, Deborah Cavendish.
Erdem was granted access to Deborah's archives and selected a few fabrics from the late Duchess's antique textile collection. Throughout the collection, Erdem upcycles Chatsworth Houses' 1940s floral chintz curtain remnants. The curtains became trapeze coats with an open neckline that captured a couture-like essence. Erdem also upcycles the fabric into the skirts of evening dresses and waxed jackets that pull the pieces together.
Honoring cultural history became a central theme for Chinese designer Hui Zhou Zhao's Spring 2024 collection. Zhao dedicates her recent collection to the women of the Miao tribe, one of the oldest ethnic groups in China. The Miao are known for their colorful clothing and intricate embroidery. This type of embroidery is often one that mothers teach their daughters to do at an early age and is passed down from generation to generation.
The Designs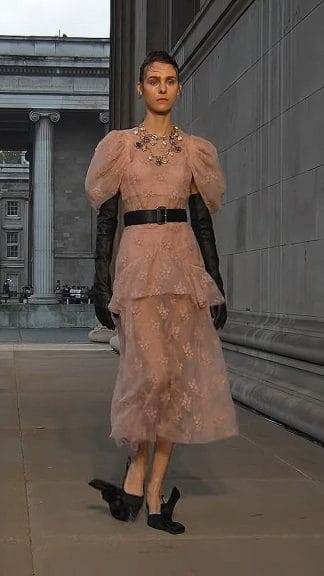 Throughout the collection, Zhao intertwines Western and eastern styles. Hints of modern western styles combined with traditional Mandarin collars, subtle designs that resemble Japanese kimonos, and pajama-style designs. Delicate fabrics of silk twill, chiffon, and cotton drill combine into an elegant display of cultural remembrance. This collection details the idea of 24-hour fashion with a grand display of prints and embroideries that bring in the ancient function of certifying the spiritual essence and identity of the wearer.
For Schiaparelli, honoring the madness of the ingenious Elsa became their intent as they drew inspiration from her most famous designs. In doing so, the collection includes an off-white dress with the house's name covering the center of the dress in bright red letters. This dress pays ode to Schiaparelli's 1937 off-white silk organza dress with a lobster painted by Salvador Dali. This year's spring collection also incorporates this lobster motif through various creative directions. Accordingly, a gilded lobster necklace and off-white lobster embroidered over the crotch of a draped jersey skirt reinterprets Elsa's classic design.
Fashion Month is now complete for the rest of the year, but the story behind each collection stays with us forever. To look back at the most recent Paris' Spring 2024 Fashion Week, click here. To discover more about Fashion Month, click here.