Hannah Bragman is not your average university student. Bursting with enthusiasm for all things in life, it is no surprise in her second year at university studying Spanish and linguistics (she is even adding Arabic this year too!), she has her own radio show every Thursday evening and is producing a musical this term in York.
What is exciting for Hannah and lots of other students looking to carve career paths in the entertainment industry is that since the pandemic, lots of productions had to be put on hold – and now we are seeing a boom in employment and projects as the entertainment industry gets back on its feet.
"Everything was a challenge last year, I started joining societies on zoom, and this is an industry that depends on being an in-person activity, for example, I started my radio show online."
However, being locked inside her university campus for the majority of last year it was still not able to stop Hannah from seeking inspiration:
"In terms of theatre, a socially distanced production of Lungs recorded last year at the Old Vic Theatre inspired me to take theatre in a new direction and stay alive in the pandemic."
"When we were socially distancing rehearsals and having most meetings online for a musical I produced it really did give me fresh eyes for how theatre can move forward in 2021."
As restrictions have been lifted over the last few months, Hannah has been the exciting changes happening in her field.
"Even though I had been doing radio for nearly three months, where I was taught on zoom, I contacted my local radio station and visited their studio and each time I go it's a huge thrill and I suddenly feel very professional with the studio equipment in front of me."
"With the news that Covid passes will not be needed for large events, this is really an exciting time for students to join in theatre, especially if they haven't had the chance to be vaccinated yet."
Hannah will be producing a musical production of 9 to 5 in York early next year and we speak a huge grin appears on her face with excitement.
"We have booked the Joseph Rowntree Theatre in York to put on a musical production of 9 to 5 in February 2022, we're having a live band and I am producing the show."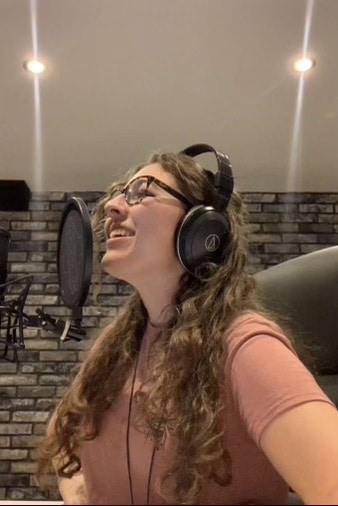 Hannah wants this to be a delightful experience for her audience as this may be the first live performance they've been to since the pandemic.
"I want to bring to this production a relatable feeling, with this being the audience's first show since the pandemic, I want the audience to see talent, raw emotion and enjoy the vivacity of the performance – I want them to feel like a million dollars when they walk out of that theatre."
This is a very exciting time for those in the performing arts and in entertainment. The world is ready to celebrate talent again. And Hannah will be leading the way as entertainment makes its comeback.