CBD oil has become a rather new way to help people deal with several symptoms coming from inflammatory diseases. CBD-based products have also become a pretty effective way to deal with anxiety, pain, and insomnia.
Pet owners have started to use it, too, since it can help their pets deal with pain, and recover some of their mobility. This is especially the case when we talk about senior dogs since they are prompt to suffer from inflammatory diseases as they get older, and even lose some of their mobility due to joint and kidney complications, or even cancer. The pain caused by joint inflammation makes it harder for them to move properly, and this can be treated with CBD oil.
For cats, on the other hand, it's a really good alternative to help them deal with anxiety and the pain that comes from different illnesses, like cancer. Over here you can check how effective it is.
But of course, it has its downsides, yet when compared to other drugs and medicaments to help pets deal with pain and inflammation, the side-effects are pretty harmless.
What Is CBD, Though?
Before we get into it, let's talk a little about what CBD actually is. CBD is the short name for cannabidiol. As you may have already guessed, cannabidiol is directly linked to the cannabis plant, although products derived from cannabidiol are produced from the hemp plant.
This is important to know because of how cannabis and cannabidiol are different but similar. For example, the cannabis plant is well known for containing THC. Tetrahydrocannabinol is the compound found on the plant that gets both humans and animals high. The more THC the plant contains, the stronger the effect.
With that said, THC is well known for being toxic to animals. The intoxication can last a few hours, but in some cases, it can last, even more, lasting for days. It depends heavily on the type of intoxication. Usually, animals intoxicated because of the smoke tend to get high for less time than the ones that eat a cannabis-derived product, like the famous happy brownies.
But here's the catch. Cannabidiol contains way lower levels of THC, making it pretty safe for pets, and more specifically for cats. In fact, it is actually required for CBD products to have less than 0.3% levels of THC on it, along with other requirements.
Is It Effective?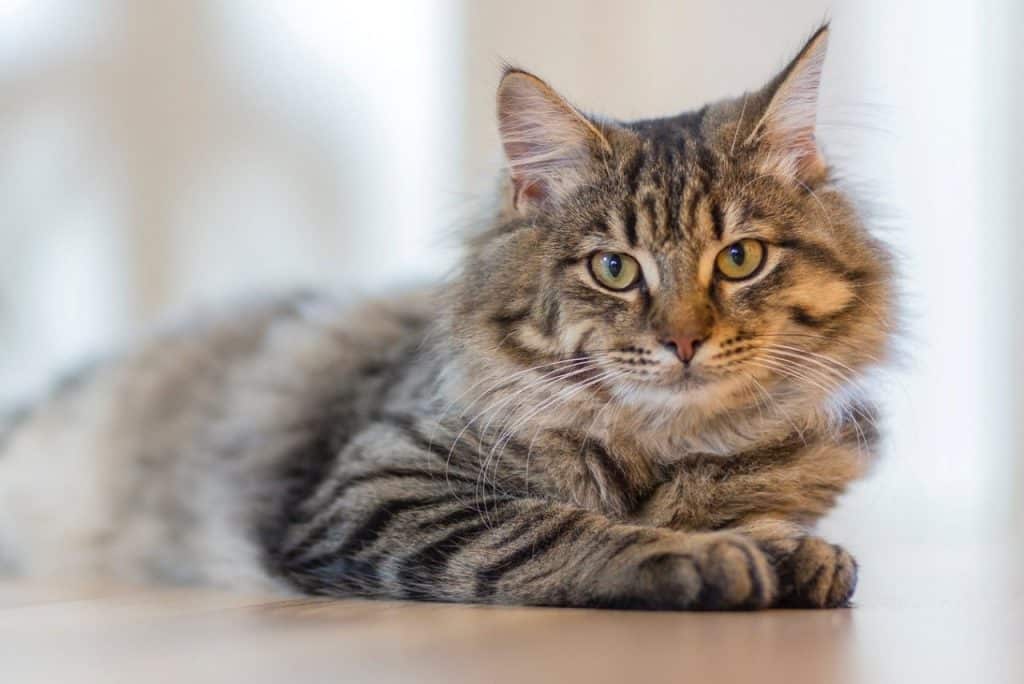 Here's when the discussion gets a little complicated. You see, research on the effectiveness of cannabidiol to help both humans and animals deal with pain, inflammation, and anxiety, is quite lacking. As it is right now, there's no actual scientific proof to prove that it works as effectively as people claim. 
But that's the thing: people on the internet reviewing and giving testimonials on different websites and stores have portrayed CBD products as a miracle for both themselves and their pets.  
When it comes to inflammatory diseases, products containing cannabidiol (and even other types of related products) reduce the inflammation and pain quite effectively. If you look for reviews and testimonials online, you will find people with different types of diseases claiming how grateful they are for cannabidiol. 
With animals, the stories are practically the same. For cats, you can find different types of products, from oil to snacks. It's especially good to help them with anxiety since it calms them down.  
The thing is: you gotta have a goal in mind to use it properly and decide how to approach the whole process.   
The difficult part of using CBD on pets it's that finding the right dose can be difficult. The effectiveness of the product will depend on the dose you use. For example, to treat pets with pain, you'll have to use a bigger dose than the one you should when helping your pet with anxiety.  
There are too many factors to consider, but the ones you should take in mind the most are the age, weight, and size of your pet. You should visit https://www.catological.com/cbd-oil-cats/#How_Does_CBD_Oil_Work for more detailed information. 
It's Mostly Legal 
And that's a fact. All around the United States, most places allow the use of cannabidiol based products as long as they stick to the law. The most important thing when it comes to their legality is to have less 0.3% THC, and the hemp plant used to create the product should be produced in one of the licensed farms.  
You should still do your research to know whether it is legal where you live or not. If you look for the Cannabis Regulation Map on Google, you'll find a map showcasing the states where cannabis is legal, where only cannabidiol products are legal and the states where you can't use either of them. 
Where to Get It 
Normally, pet owners buy these products online. The reason for that is that it's easier to find, and you can find more variety of products.  
Things like supplements, cat and dog treats, catnip spray, oil, creams, and ointments are easier to find online. I myself recommend Holistapet site.  
Is It Worth It? 
To put it simply: Yes. 
What's so great about cannabidiol is that it causes harmless side-effects in comparison to other types of treatments. The worst side-effects are diarrhea and dry mouth, and this only happens when you consume too much. 
Still, you have to remember that side-effects research has only been performed in humans. Most side-effects are the same in both animals and humans, though. To ensure your pet is safe, you should start with a small dose, keep it hydrated and well-fed. The benefits should show after a couple of weeks. In some cases, your pet will get better after trying it, so be sure to notice it!