Today, there are a number of ways to access nicotine, whether it's a pack of cigarettes, a traditional tobacco pipe, or a vape device. But what about cannabis? You can't exactly walk around in public with a bong, even in states where cannabis is legal. So, what's the next best thing? Enter the One Hitter. If you're a smoker yourself, then you likely know that cannabis can lose that fresh hit after it's been burning long enough; sometimes, it begins to taste acrid or generally loses flavor. The One Hitter pipe accepts an amount of cannabis that's perfect for a single hit, thus ensuring a fresh, quality hit every time. Some higher-tier versions feature built-in ash ejection mechanisms.
Unlike traditional cannabis smoking methods, One Hitter's are incredibly discreet, with a slim profile similar to cigarettes. Some designs actually look like cigarettes, while others are more like pens. They're lightweight and easy to transport, too, making them a convenient option.
While using a One Hitter might be easier than other smoking devices, there are still a number of factors to understand before using one.
Step One: Acquiring Cannabis
There are a number of different strains of cannabis. If you're a novice, then the easiest way to remember the difference is: sativa is an upper, while indica is a downer. If you're prone to heart sensitivity or issues such as an elevated heart rate, then maybe Sativa is not the best option. On the contrary, indica acts as more of a relaxer and does more to calm the body than sativa. If you're unsure of which to try, there are a number of different hybrids to explore—it really just depends on your preference. Talking to an expert at your local shop could help enlighten you on which strain would be best for you, as well. The more research the better in this circumstance.
Step Two: Packing The One Hitter
Let's say, you've decided on an indica strain, and are using a One Hitter as your means of smoking. What's the next step? Well, naturally, it would be to bring these two together. Once you've ground your cannabis and it's a desirable consistency, it's time to pack the One Hitter with the indica, making sure the amount is tight and packed well. Using a container with a flat bottom would be best, so you can bring all of the cannabis to one part of the container. Then, bring the bowl of the pipe straight down onto the cannabis. Avoid doing this at an angle as this isn't an efficient way to pack your bowl. Sometimes it helps to try a twisting motion when packing the pipe, but don't apply too much pressure. Once the pipe has been packed with the hit and you're ready to try it out, the next part should come naturally. Time to light up!b
Step Three: Smoking With The One Hitter
If you've smoked before, then you probably have vague memories of your first time, the hit you took, whether big or small, and whoever you were hanging out with telling you how to smoke properly. Realistically, the way you smoke is completely based on your own preferences—whether you hold it in or let it out immediately should vary depending on your tolerance. With a One Hitter though, it's easy to take your desired hit. Once the bowl has been packed and you're ready to light, bring the mouthpiece to your lips, light the bowl and inhale. It's as simple as that.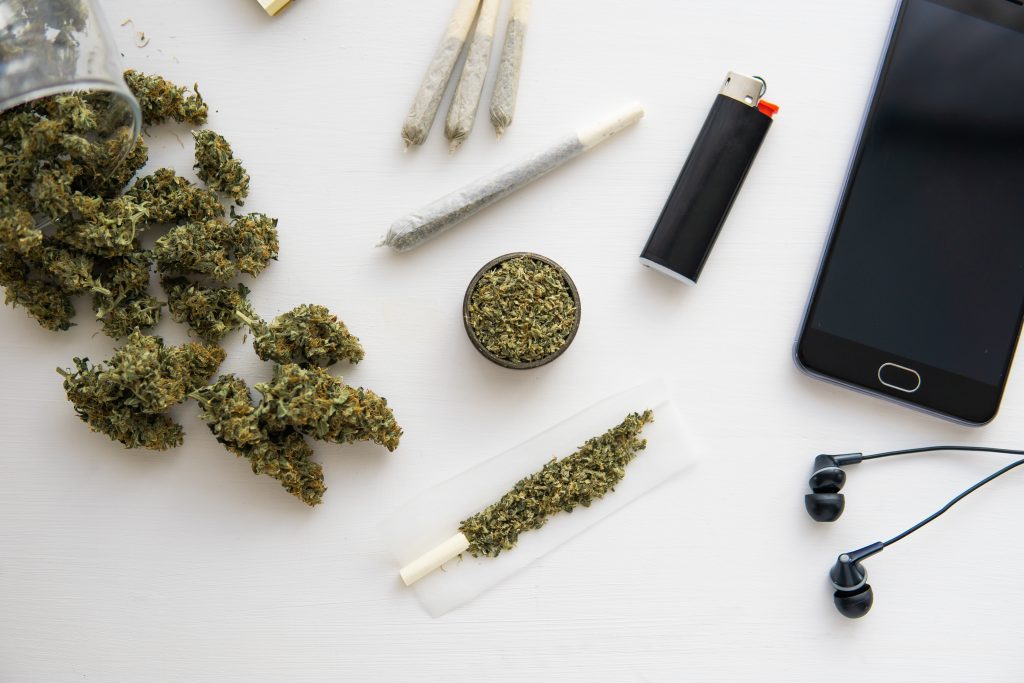 Step Four: After The Hit
If you've taken the hit and everything has gone well, you should be ready for your next hit. With models such as the traditional cigarette pipe you'd need a thin item like a paper clip to help clean out the bowl. Other, more advanced models feature handy built-in ash ejection mechanisms. This won't clean out the entire bowl, but it should eject the majority of what's remaining in the pipe so you can move onto the next hit with ease. Be sure to pace yourself in this step though. Overheating can occur, and you don't want to burn yourself while enjoying a bowl.
Step Five: Cleaning
With products like the One Hitter, the maintenance is extremely important to extend the life of the device. Once the ash has been ejected from the pipe, whether done manually or using a built-in mechanism, it's important to clean up what remains inside so it doesn't build up and affect the performance of the pipe or the flavor of your cannabis. There are specialized tools available to clean One Hitter devices, however cheap alternatives like Q-Tips and paperclip can be just as effective. The thin geometry of paperclips, for instance, allows them to reach anywhere in the bowl with ease, and break up any built-up residue. Q-Tips, on the other hand, can help soak up and catch any residue if it hasn't dried out.
If the residue is stubborn and won't come off, there are a number of tips online to help. Some recommend boiling it, others recommend putting the pipe in a baggie with rubbing alcohol, hot water, and salt. If you do choose this route, then ensure the pipe is submerged in the ingredients, seal the bag, and shake well. You can repeat the shaking as you see fit, or leave it to soak for a couple hours. It really just depends on which practice works best for you and your pipe.
Conclusion
With the vast number of products on the market, from cannabis strains to smoking methods, it can definitely be a chore to find which ones work for you. Just as everyone is unique, so are their preferences. Whether you smoke cannabis recreationally, or for medical reasons, the One Hitter is a discreet and easy-to-use smoking device. While online reviews and guides are a beneficial aid when it comes to the research aspect of shopping, sometimes the best thing you can do is get your hands on a One-Hitter and try it for yourself.