Technology has been changing the events industry in various ways.
Event planners and organizers use different software programs, websites, and apps to plan, manage, and promote their upcoming events. Conferences, seminars, trade shows, and concerts draw more crowds and are now more memorable and unique, thanks to modern AV equipment and VR technologies.
Event presenters are also relying greatly on different forms of technology to excel at their job. From writing their scripts and rehearsing them to boosting audience engagement, emcees and hosts use a variety of tools to do all these and more.
Best Apps for Presenters
As a presenter, you can use your smartphone or tablet to prepare for and manage the event itself. However, you need to have the right apps to accomplish all of these.
A well-known Dubai-based presenter shares below the top apps you should have that can help you plan and run an event successfully:
1. Dragon
If you find it easier to create scripts and long speeches by saying what you're thinking out loud rather than writing it down, a voice dictation app can make everything easier. Dragon is one of the best voice dictation tools around.
Dragon is a specialized voice-to-text app that transcribes text from uploaded audio files. It is one of the most accurate dictation tools available. Moreover, the basic features are free, which means you won't have to pay any amount to use it.
To use this app in your prep work, record your script or speech and go over the content through various renditions of the recording. Next, find the flow that you think is best for your presentation and hosting duties.
2. Ummo
Even the most seasoned presenters, emcees, and hosts are prone to using filler words such as "um" and "ah" accidentally or out of habit. You can get rid of or minimize this distracting practice by installing the Ummo app on your device.
Ummo works as your mobile personal speech coach. After downloading this app, specify the filler words and phrases that you want to track. While recording your speech or script, it will listen and analyze the content.
Once you are done, Ummo will generate a transcript of your speech or script, highlighting the parts where you used the filler words. You will then remember to omit them during the event.
The app also has other features that can help you polish your delivery. You can also track the length of your pauses and where they often appear, as well as their pace and volume. You will also get feedback on your accent, pronunciation, and overall clarity.
3. Toastmaster Timer
If you have the habit of speaking too long, you can put a stop to it by using Toastmaster Timer.
This app allows you to keep track of the duration of your speech or spiel while practicing. It follows the traffic light system, so you know when to start wrapping up your talk.
You can also connect the Toastmaster Timer to an external light using Bluetooth so that you can see and heed the alerts during the event. You can use it to guide the other speakers during their time on the stage as well.
This app is free so you can use it any time before and during the event.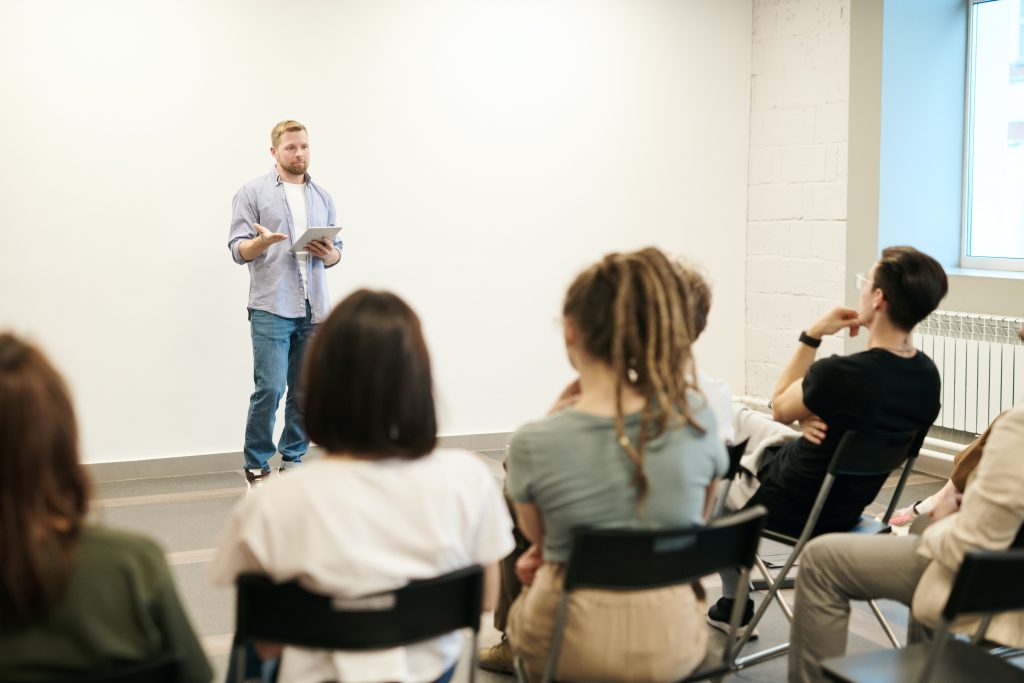 4. Teleprompt +3
Teleprompter apps give you prompts with a visual text of your presentation. It enables you to read the text word for word, resulting in a consistent and accurate speech without the use of cue cards while appearing spontaneous at the same time.
Teleprompt +3 is currently one of the top teleprompter apps. With this tool, you can practice your talk easily. You can also use it as a visual aid during the event itself.
The app has timer tools that ensure your session runs on time. Its other features include an audio and video recorder, rich text editor, and intuitive speed control — tools that can help make your talk look and sound natural.
Teleprompt+3, unfortunately, is not a free app. However, its uses and features make it a handy app for emcees, presenters, and speakers, and is thus truly worth its price.
5. Mentimeter
As an event presenter or emcee, you may be asked to conduct polls during the event. You can go through this process faster and more efficiently by using an app.
Poll Everywhere is the most widely used polling app. However, Mentimeter is another tool that you can consider.
Mentimeter allows you to create polls in different formats such as multiple-choice, open-ended, rating scale, and word clouds. You can also include branding elements in the forms or surveys.
Your audience will have an easier time answering the poll with this app. They simply visit the website and type the code assigned to your presentation. They can then watch the stats tally instantly on their devices or the stage screen.
Once the voting time is over, Mentimeter can show the results with eye-catching real-time graphs and charts that are easy to understand.
6. Slido
You can also use an app for the Q&A section of the event. One of the most popular tools you can use is Slido.
What sets Slido apart is that it has a fascinating take on its Q&A feature. The audience can vote for the questions they want answered.
With this option, you can boost audience engagement and narrow down the questions to the most important ones, thereby making the most of the time spent on this portion of the event.
Moreover, you give your audience the feeling that they are connected to others since they share the same thoughts.
7. Public Speaking with Andrew Johnson
Standing in front of the crowd can sometimes be nerve racking, even if you are a seasoned emcee or presenter. You can use an app to calm down and build your self-confidence.
Currently available only on Google Play, Public Speaking with Andrew Johnson is an app that can help you overcome anxieties that you may feel before going on stage.
This app is the brainchild of Andrew Johnson, a mindfulness therapist, coach, and expert. It features short meditations, inspirational sessions, mindfulness stories, and relaxation techniques that can help you stay calm, relaxed, and focused before and during an engagement.
It can also aid in building your confidence and get you in the right headspace, which you will need to run a successful event.
Since most of these apps are free, don't hesitate to use them. With these tools, you can be a better presenter regardless of the type of event you will book.
AUTHOR BIO
Hisham Wyne is an internationally recognized MC, broadcaster, presenter and moderator who helps the world's best-known brands create memorable occasions. He regularly hosts conferences, panel sessions, gala dinners and award ceremonies for some of the world's best brands. With 150+ events under his belt, Hisham is the professional speaker that brands and agencies turn to when wanting to interview, engage and entertain government VVIPs and Hollywood celebrities.