On Friday, December 11, over 50 tornadoes arched over at least eight states in the United States' Midwest, killing and injuring dozens.
The most recent death toll estimates 74 deaths, but Kentucky governor Andy Beshear expects the state's number to rise above 100 as more missing residents are recovered. Among the lives lost in Kentucky are two infants and several young children and adolescents. Beshear worries that state hospitals and morgues don't have the capacity to host the bodies of the people who died.
While Beshear failed to provide a precise count for the number of Kentuckians still missing, he noted that the list of those still missing is eight pages long for Dawson Springs alone––single-spaced.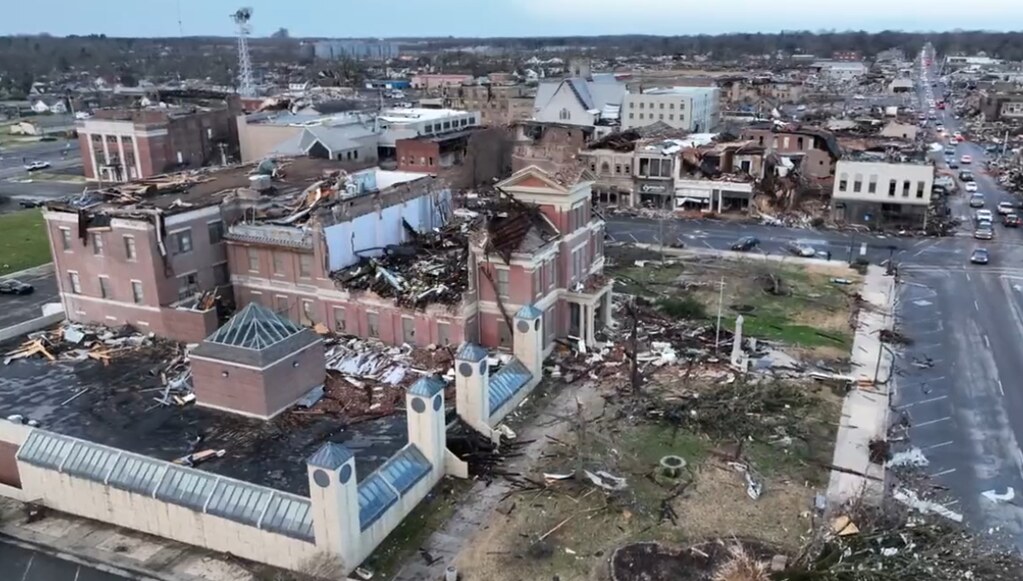 Kentucky governor calls Friday's storm "the deadliest tornado event that we've ever had" and directs assistance efforts to the Team Western Kentucky Tornado Relief Fund, where people can donate money to those affected by the storms in Kentucky.
As winter approaches, freezing temperatures are a cause of concern for the people still unaccounted for. There is no water and over 50,000 Kentucky residents remain without power. Beshear described the storm as "devastation like none of us have ever seen before." He continued to explain, "When this tornado hit, it didn't just rip off a roof. It obliterated houses."
Professionals speculate that Friday's storm may by the largest in recorded history, with the storm track spanning approximately 217 miles. Michael Dossett likens the aftermath to "a war zone. This is an event where we had commercial and residential properties literally stripped clean from the earth." Entire buildings are missing in western Kentucky, with one Kentucky locale estimating the loss of 75% of the town.
One of such destroyed locations was Arkansas' Monette nursing home. Arkansas governor Asa Hutchinson described the events there as "a miracle… As I went to that facility, it was like heaven sucked up the roof and all the contents of it." Of the home's 67 residents, only one died. Hutchinson attributes this to the dedicated and effective response of the staff.
Also in the tornadoes' path was Edwardsville, Illinois' Amazon warehouse, where employees were only given 11 minutes warning and forced to shelter in place. As of now, it is known that 6 people at the facility were killed during the storm. The only room for safety available at the facility was not a "safe room," but a "take shelter" room.
Mayfield's candle factory also experienced extreme destruction and loss of life. 110 people were working at the facility at the time of the storm. As of now, it has been confirmed that 94 of those 110 are alive. Of the outstanding 16 people, eight people are confirmed dead and eight people remain missing.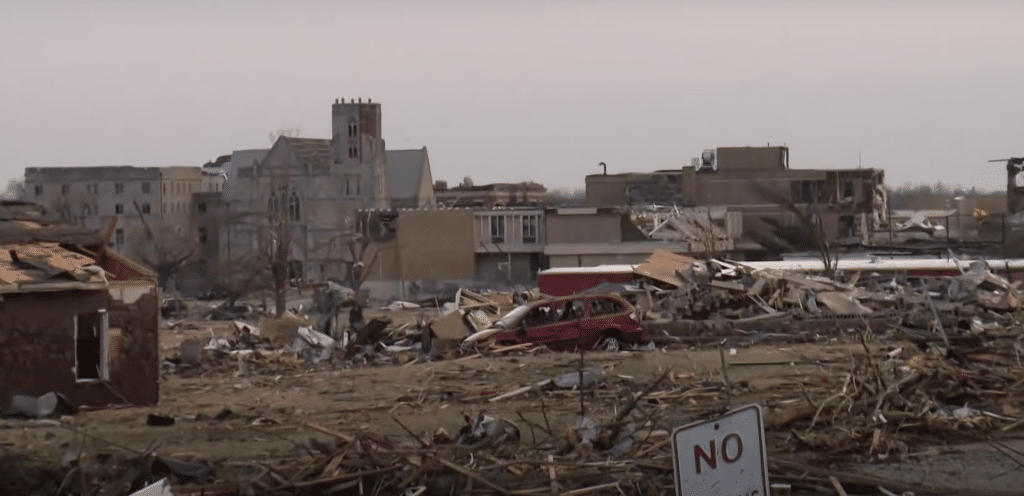 In the wake of the disaster, Kentucky reached out to the White House to request a declaration of emergency. The National Guard has been deployed and is visiting local sites to provide immediate assistance.
President Biden approved major disaster declaration for Kentucky. FEMA has set up 11 shelters in Kentucky and three in Tennessee to provide 30,000 meals, 45,000 liters of water, cots, blankets, and other emergency supplies for displaced residents. Biden also announced that he will be visiting Kentucky on Wednesday, December 15 to assess the damage and provide support. Biden commented that he is in communication with local Kentucky government and assistance efforts to ensure that his visit doesn't disrupt or distract recovery efforts.
FEMA administrator Deanne Criswell muses that extreme storms such as Friday's will become "our new normal… The effects we are seeing of climate change are the crisis of our generation." Severe weather events have been increasing in severity, duration, and magnitude in the past year, as climate anxiety increases in turn.
Interested in reading more about environmental events? Click here to read about the latest Chernobyl recovery efforts.