I have always assumed that the MI6 recruiting process to be very Tokyo drift sort of drag race in some super expensive car that only a hand full of people own.
Apparently, most of our assumptions are wildly incorrect according to the recruitment website. Yes, that is correct. There is a website specifically recruiting for MI6. Even you can simply check it out.
26-year-old, TikToker, Elise Lamsdale, posted a video recording her reaction to the 'geek' oriented website that recruits members for MI6. While it would have be assumed that the whole thing would be super James Bond-ish, Lamsdale described it as 'the cringiest thing I've ever seen in my life'.
The video went viral, racking up almost 70,000 views at the time. Elise Lamsdale was flabbergasted as she made her comments on the topic:
'You need to see the MI6 recruitment website. Because if I had to find out that this is the way we're hiring for one of our most important security forces, so do you.'
The strange website is 'geekslikeyou.co.uk' of all things which include an animation of what would be a 'geek'. As someone who does not necessarily look like a super model but definitely like someone who spends their free time in the library I am a bit taken back. 
Lamsdale questions,'I have nothing against geek culture, but why are there cartoons?'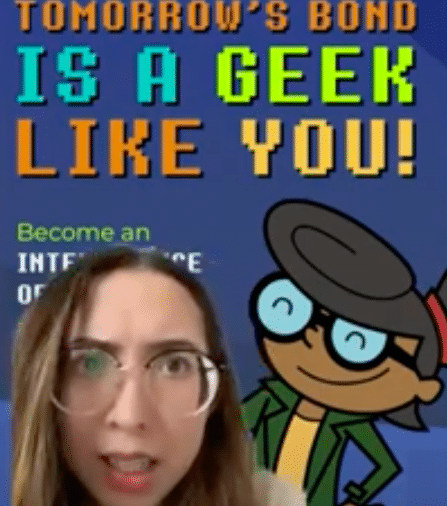 To many of our relief, the site is not aimed at '13-year-old boys' but at university graduates. The video end with someone who had made it onto the site by waving around a lightsaber.
The site is ultimately being compared to 'the spy themed library challenge I did when I was like 8; and a '2005 internet safety campaign for schools'.
While dreaming about living out your James Bond fantasies may not be as exciting after this viral video, there is something you can do to see if you are up for a challenge.
Are you brave enough to participate in challenges inspired by Squid Games at Cafe Strawberry?